New York — Real estate mogul and businessman Donald Trump announced he's running for president at a private event in his own Trump Tower on 5th Avenue in New York City on Tuesday in front of dozens of reporters and media outlets.
Trump took the stage and promised to be a different type of candidate. While other presidential candidates have provided rhetoric, he promised to implement policies. "If I'm elected president," he announced, "we will make America great again."
To begin with, "we have to repeal Obamacare," he said, adding that Obamacare's biggest effects won't begin until President Obama is safely out of office and, Trump says, on the golf course. That said, he also noted he owns several golf courses, and he invited President Obama to feel free to retire early and play them instead of finishing out his term.
He promised to bring jobs back to the United States, and crack down on illegal immigration from Mexico. Trump promised to "immediately terminate President Obama's executive order on immigration." And that's not all.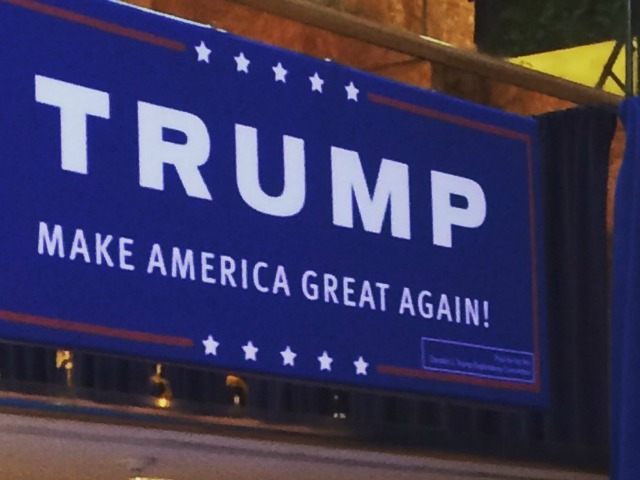 "I would build a great wall on our southern border," he added, "and I will have Mexico pay for that wall. Mark my words."
He also promises to beef up the military by finding "the guy, the Gen. Patton or Gen. MacArthur" to lead it. He also vows to get tough with Iran. Unlike Secretary of State John Kerry, Trump says he knows how to negotiate a good deal.
He also took a jab at Jeb Bush. "Education has to be local," Trump said, announcing he'll staunchly oppose Common Core. Bush, who just announced yesterday, has supported Common Core.
"Our country is in serious trouble. We don't have victories anymore," Trump warned.
Trump said America needs him to beat China and keep the crime and drugs from over the border outside of the United States.
He said Islamic terrorism is eating up large portions of the Middle East.
"So now ISIS has the oil and what they don't have, Iran has," he warned.
Trump said he wants to have the strongest military and that America needs it now.
He also touted his business expertise, warning about the unemployment rate, GDP and America's economy.
He also took a jab at Obamacare and the increasing deductibles which make it "useless" and "a disaster" waning that doctors are quitting.
Trump joins the already crowded field of GOP presidential candidates vying for the 2016 nomination.
His campaign message will be that he can make America great again.
"They will never make America great again," Trump said of the career politicians, but suggests he can.
Trump chose to announce his formal 2016 White House run in Trump Tower because it's symbolic. He says it shows his personal success and shows he can do the same for America. he says he's proud of his success, and has employed "tens of thousands of people" over his career. When his financial statement is filed, Trump says, it will show he has $9.240 billion in assets. His net worth, after all debt, he says, is upward of $8.7 billion.
His daughter Ivanka Trump – who has followed in her father's business footsteps – introduced him before he took the stage. She has publicly supported her father's run for president, telling the Daily Mail recently that she supports him "wholeheartedly."
She said he has employed tens of thousands of people and motivates them to achieve the impossible – leading everyone by example.
"My father is the opposite of politically correct," she said, adding he is the best negotiator she's ever met and bold, what America needs.
Following Trump's formal announcement, he conducted one on one interviews with only a few reporters including Breitbart News' Matthew Boyle.
Trump will also appear on Fox News with Bill O'Reilly this evening.