SIMI VALLEY, California — Hundreds – many with union and left-wing advocate connections – are planning to rally and protest outside of CNN's GOP presidential primary debate in Simi Valley, California on Wednesday to stand "up against the racist, xenophobic rhetoric that has fueled the Republican primary," according to the event's press release.
Roughly 40 local and state organizations, many of which advocate against anti-immigrant policies, are getting together to bus protesters out from Los Angeles to Simi Valley, California – where the debate is being held – to protest there.
Prior to the debate protest, the organizations will hold a pre-debate press conference in Los Angeles.
The press release states that nearly 60 groups sent a letter to CNN's Jake Tapper, Dana Bash and moderator Hugh Hewitt earlier this week "calling on the network to prohibit any further bigotry or attacks by candidates during the debates and to urge each candidate to stop the hate and instead focus on issues affecting African Americans, immigrants, and working families."
Many of these organizations are union- and Democrat-aligned and have been protesting GOP presidential candidates and policies nationally.
For example, Voces de frontera is the group that organized an illegal immigrant family that hit GOP presidential candidate Gov. Scott Walker in Iowa a few weeks ago. Breitbart New's Lee Stranahan covered the protest and also revealed the group has union connections.
Another example, Alabama Coalition for Immigrant Justice, which is the first organization listed on the letter, suggests it defends immigrants rights in Alabama, but its Facebook page suggests it's funded by left-wing advocates.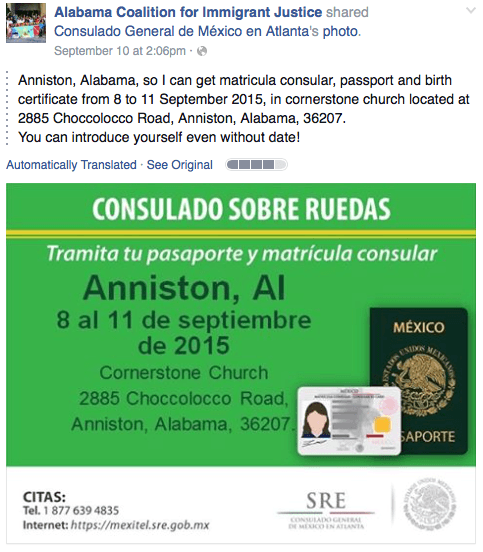 One review by Facebook user Chris Cook states, "Organization is funded by left-wing advocacy "non-profits" and trade unions. Also advocates disregard and circumvention of duly enacted immigration laws of the United States."
Another organization, Alliance for a Just Society, has Gary Delgado on its Board of Directors. Delgado is the initial organizer of the organization ACORN – an organization that was put into the spot light by James O'Keefe after he caught employees on undercover video advising how to run a prostitution ring and break the law, leading to a number of investigations into the organization.
The letter's headline reads "#NoHateDebate" and was signed by the following organizations:
Alabama Coalition for Immigrant Justice (ACIJ)
Alliance for a Just Society
Alliance for Citizenship
Arkansas United Community Coalition (AUCC)
Border Angels & Gente Unida
CASA
Casa Latina
Causa Oregon (CAUSA)
CDN-California Dream Network
Center for Community Change Action
Center for Popular Democracy (CPD)
Central American Resource Center (CARECEN-LA)
CHIRLAction Fund
Coalition for Humane Immigrant Rights of Los Angeles (CHIRLA)
Colorado Immigrant Rights Coalition (CIRC)
Commuidades Unidas (CU) /Communities United
Council of Mexican Federations (COFEM)
CSA San Diego County
El Centro de Igualdad y Derechos
Florida Immigrant Coalition (FLIC)
Georgia Latino Alliance for Human Rights (GLHAR)
Human Agenda
Idaho Community Action Network (ICAN)-Alliance for a Just Society (AJS)
Illinois Coalition for Immigrant and Refugee Rights (ICIRR)
Iowa Citizens for Community Improvement (ICCI)
Junta for Progressive Action
Korean Resource Center
Koreatown Immigrant Workers Alliance (KIWA)
LAANE
Latin American Coalition (LAC)
Los Angeles County Federation of Labor, AFL-CIO
Maine People's Alliance
Make the Road NY (MRNY)
Massachusetts Immigrant and Refugee Advocacy Coalition (MIRA)
Mi Familia Vota
Michigan United
Mobilize Immigrant Vote
Montana Organizing Project (MOP)–Alliance for a Just Society (AJS)
Movimentio Estudiantil Chicano de Aztlan de Bakersfield College (M.E.Ch.A)
National Immigration Law Center (NILC)
National Korean American Service & Education Consortium (NAKASEC)
National Partnership for New Americans (NPNA)
National Peoples Action
New Hampshire Alliance for Immigrant Rights-MIRA
North County Immigration Taskforce of San Diego
One America
Palabra Santa Barbara
Pennsylvania Immigration and Citizenship Coalition (PICC)
PICO California
Pilgrim United Church of Christ
Pilipino Workers Center
Pineros y Campesinos Unidos del Noroeste (PCUN)
Progressive Leadership Alliance for Nevada (PLAN)
Promise Arizona (PAZ)
Rights for All People (RAP)
Salvadoran American National Association, SANA
SEIU United Service Workers West (SEIU-USWW)
Service Employees International Union, California State Council (SEIU)
Somos Un Pueblo Unido (SOMOS)
Sunflower Community Action
Tennessee Immigrant and Refugee Rights Coalition (TIRRC)
Texas Organizing Project (TOP)
The New York Immigration Coalition (NYIC)
Trinity Episcopal Church
UFW Foundation
UndocuMedia
UNITE HERE
UNITE HERE, Local 11
Voces de la Frontera (VOCES)
WashingtonCAN!
Workers Defense Project