A poll of Republican voters who saw Wednesday night's debate found Carly Fiorina the clear winner and suggests Donald Trump did not help himself with viewers.
On the question of who won the debate, Carly Fiorina pulled away from the pack with 33 percent. Behind her was Donald Trump at 21% and Marco Rubio at 16 percent. All the other candidates were in single digits.

Fiorina's dominant performance also led to this surprising result. Asked who they would vote for if the election were held today, respondents were evenly split between Fiorina and Trump at 22 percent. Marco Rubio came in third place with 15 % and Ben Carson just below that at 12 percent.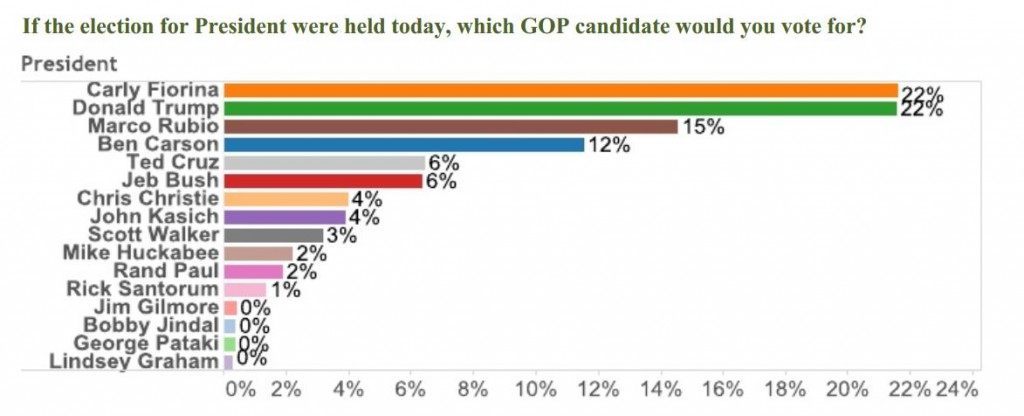 Perhaps the most interesting part of the poll are the results showing who helped themselves most and least last night. For each candidate, Gravis asked respondents if they felt more or less favorable after watching the debate. The following chart shows the net favorability calculated by subtracting the 'less favorable' response from the 'more favorable' response.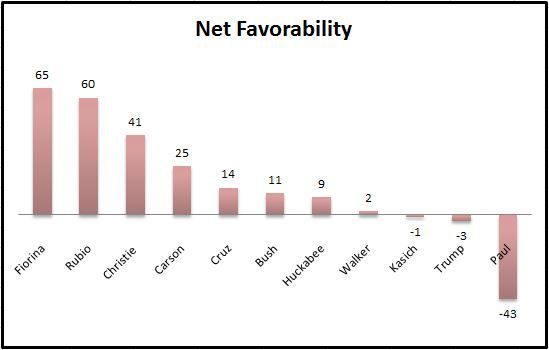 Carly Fiorina was the clear winner in terms of net favorability. That tracks with the strong positive reaction to her overall performance. But beyond that the chart suggests Marco Rubio had almost as strong a night as Fiorina, which could lead to a surge in his numbers in future polls similar to the boost Fiorina got from the first debate.
The biggest positive surprise may be Chris Christie. Christie has been near the bottom of the pack in national polls with a lot of Republicans seemingly still angry about his decision to let President Obama tour New Jersey in the wake of hurricane Sandy in 2012. There's no telling if voters have put that behind them, but Christie did get a strong positive reaction from viewers last night. Carson also seems to have helped himself, though probably much less so than he did in the first debate.
On the other end of the chart, Rand Paul was judged the clear loser and the only candidate whose favorability was significantly underwater. Both Donald Trump and John Kasich also seem to have done themselves more harm than good according to this poll.