This weekend a new governor without ties to any political party took office in the industrial state of Nuevo Leon, which has seen a great deal of cartel violence. His priorities include tackling corruption, auditing the previous governor, and stopping government funding for corrupt media.
Jaime Rodriguez Calderon, more commonly known as "El Bronco," made headlines last year in Mexico when he successfully won his bid for governor as an independent by successfully beating out the establishment. At the time, scholars and journalists attributed the victory to the public's discontent with the out-of-control violence and the rampant corruption synonymous with Mexican government.
Over the weekend, Rodriguez Calderon took office in a ceremony where he called out the multiple acts of corruption of the former governor Rodrigo Medina and called out the corruption of Mexican TV networks, SinEmbargo.Mx reported.
The newly elected governor said his predecessor had ransacked state moneys and he would begin to audit and hunt down corrupt officials.
"The devil is here and will damn to hell some for their sins," the man known as the Bronco said. "The house is dirty, the columns are crumbling and to top it all off it is mortgaged. The corruption without end of those who felt they were kings and not governors left us like this."
El Bronco said he would take on government corruption head on and work to end bribery by public officials.
"The party is over for those bandits," Rodriguez Calderon said. "Don't be getting ideas, the 'moches' (bribes) and dirty dealings are over; if you want money earn it the right way."
As part of his big welcome, Rodriguez Medina said that his office would not spend in advertising with the corrupt TV stations in Mexico. He further singled out his predecessor by stating that he spent upwards of $94 million in advertising and promoting his image.
As a closing blow to the previous governor Rodriguez Calderon had a sign placed on the previous governor's chair that reads "Do not sit in this chair, it makes you sick with power and ego."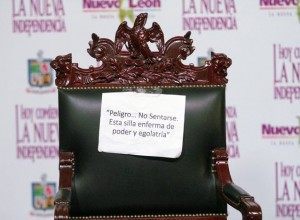 Ildefonso Ortiz is an award winning journalist with Breitbart Texas you can follow him on Twitter and on Facebook.