Sen. Harry Reid (D-NV) filed a lawsuit against the manufacturer of an exercise band that he claims "broke or slipped" while "mounted to a sturdy object in his bathroom" as he used it on January 1, causing injuries that blinded him in one eye.
"The lawsuit is really going to open the doors if the company's defense counsel wants to go after Harry Reid," an attorney and expert on product liability tells Breitbart News.
"Through the discovery process they can get access to his bathroom (where this allegedly happened) medical records, records from his protective detail and much of Reid's personal information such as bank records," the expert says.
The civil liability complaint in which the 75-year-old Reid and his wife, Landra Gould, are suing Hygenic Intangible Property Holding Company, The Hygenic Corporation, and Performance Health, LLC, three intertwined corporations that manufacture and distribute the TheraBand exercise band, was filed in Clark County, Nevada District Court by Reid's attorney, James M. Morgan of the Las Vegas law firm Lanzone, Morgan LLP on Wednesday.
It is an "action for damages which exceeds the amount of $50,000, exclusive of costs, interest, the expenses of this litigation, and attorney fees."
One of the damages claimed by Reid's wife is loss of marital consortium.
"At the time of the accident complained of in this Complaint, Plaintiffs were married and continue to be married. As a result of the negligent act(s) of the Defendants, Plaintiff, LANDRA GOULD, was caused to suffer and will continue to suffer a loss of consortium," the complaint reads.
"Loss of consortium damages may include not only a loss of intimate relations, but also a loss of the emotional support, companionship, and the mutual benefits presumed to exist within a marriage," Nevada attorney Michael C. Mills wrote in 2008.
In other words, Harry Reid's wife wants the exercise band manufacturer to pay her for the damages caused by her "loss of intimate relations" with her 75-year-old husband, among other things.
As Breitbart News has reported extensively, Reid's story about the accident just doesn't add up.
By filing this lawsuit, Reid now allows the manufacturer of the TheraBand exercise resistance band to undertake extensive discovery that will likely include the deposing of Reid and several witnesses, as well as the use of subpoena power to compel the production of documents which Reid has, until now, been able to keep private.
The retiring Senate Minority Leader may not like what comes to light when these depositions and documents are made public.
You can read the 16 page complaint here:
In the filing, Reid claims "on or about the morning of January 1, 2015, Plaintiff HARRY REID was using a TheraBand, heavy resistance exercise band, to exercise in his home. The TheraBand was mounted to a sturdy object in his bathroom. While in use, the TheraBand broke or slipped out of Mr. Reid's hand, causing him to spin around and strike his face on a cabinet."
The filing fails to specify, however, what that "sturdy object" was. As the photograph of his bathroom taken one month before he purchased his current house in July 2014, obtained by Breitbart News, clearly shows, there were only two possible options for that object, and neither are sturdy.
The first is a glass enclosed shower. And the second is a flimsy towel ring.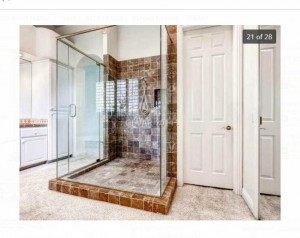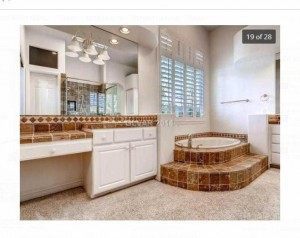 Reid's attorney probably used the "mounted to a sturdy object in the bathroom" language in the complaint because he's trying to demonstrate Reid used the exercise band in compliance with the manufacturer's instructions, as stated on its FAQ web page:
How do I connect the bands or tubing for exercise?

Always secure the bands or tubing to a sturdy, non-movable object. The Thera-Band Door Anchor should be used to secure one end of the bands or tubing for exercise. It isn't advisable to tie the exerciser to a door knob or to "close" them in a door; this leads to early breaking. The Thera-Band Exercise Handles and Assist can be used to grasp the exercisers. To connect to the legs or arms, use the Thera-Band Extremity Strap. (emphasis added)
Since Reid claims the incident took place in his bathroom, attorneys for the defendants will be allowed to physically inspect his bathroom and take extensive photographs to find the "sturdy object" Reid's attorneys claim he mounted the exercise band to.
But that's not all.
Reid himself may be required to re-enact the incident on video camera and under the direction of the attorneys for the defendant, at which point he will need to demonstrate:
1. The specific "model" of Thera-Band resistance band (they vary by strength–each different strength has a different color) he was using,

2. Where he was located specifically in the bathroom when the incident occurred,

3. The "sturdy object" he claimed he attached the Thera-Band to,

4. Whether or not he used the manufacturer recommended Thera-Band attachment device at the time of the incident,

5. Where his wife was standing in the bathroom, as he claims she was, at the time the incident took place,

6. Why he was not wearing protective eyewear at the time, as the manufacturer's instructions recommend,

7. How he was "spun around" and where specifically his face hit the cabinet in the bathroom, as he claims.
The YouTube of that particular re-enactment by Reid of his accident is likely to be an internet sensation, if it is ever released to the public.
Reid himself could be deposed, as could his wife. Among other things, they will have to specify the time of day and date at which the incident took place, and will have to confirm that they were both in the bathroom of his Nevada residence when it occurred.
In addition, other key witnesses likely to be deposed by attorneys for the defendants include:
The two (possibly three) members of his Capitol Police security detail, whose identities have not yet been disclosed, who were with him at his Nevada residence at the time of the January 1 incident.
Doctors who treated him at St. Rose Dominican Hospital in Henderson, Nevada on January 1 as well as the subsequently at University Medical Center in Las Vegas, including Dr. Darrick Neibaur.
His current chief of staff, Drew Willison, who at the time of the incident was the Senate Sergeant of Arms and one of the three members of the Capitol Board to whom the Capitol Police Chief reports.
Embattled Capitol Police Chief Kim Dines, to whom Reid's security detail reports.
The attorneys for the defendants can also use subpoena power to require the production of the following documents by Reid:
Personal bank records from Reid to demonstrate whether he paid for a contractor to modify his bathroom to install the "big metal hook" he told Univision's Jorge Ramos he attached the Thera-Band resistance band to.
Medical bills related to his injuries, from Reid and from the hospitals and doctors who treated him.
Medical records related to his injuries, from Reid and from the hospitals and doctors who treated him. These records would include the time of day when the incident took place and the time of day and date he appeared at the Emergency Room at St. Rose Dominican Hospital and then subsequently at University Medical Center in Las Vegas.
The Capitol Hill Police report of the January 1 incident, which Breitbart News has unsuccessfully attempted to obtain.
Reid will also have to explain numerous discrepancies of his evolving story about the incident.
As Breitbart News reported previously, Reid's staff first claimed "the exercise band was attached to the shower door" in the bathroom and Reid himself first claimed "one of them broke and spun me around and I crashed into these cabinets and injured my eye."
On January 22, three weeks after the incident, Reid told reporters on Capitol Hill this version of how he obtained those injuries:

I know there are a lot of rumors as to what happened, but that's very simple. My wife and I were in our new home. I was doing exercises that I've been doing for many years with those large rubber bands and, uh, one of them broke and spun me around and I crashed into these cabinets and injured my eye.

It didn't knock me out but it sure hurt. And, uh, I was taken to the hospital, and, uhm, we came back here after a couple of days. I have some bones broken around my eye.

"Sources familiar with the incident said Reid was exercising in his bathroom, with the exercise band attached to the shower door," Politico reported that same day.
After Breitbart News reported that using an exercise band attached to a shower door would have shattered it, Reid changed his story.
In an April interview with Jorge Ramos of Fusion (a joint venture between Univision and ABC News), Reid said:
I was, you know, trying to maintain my, uh, firmness, and, uh, that was my weight training. I was doing that in my new home here in Nevada and a big metal hook that came out from the wall that was hooked there that the strap had no handle on it, slipped, spun me around, uh, about, oh I guess four feet (Reid points with his right hand to the wall of the interview room) and so I smashed my face into a cabinet so hard that uh…
In that interview, Reid did not place the "big metal hook" in any particular room in his house.
Later that month, Reid personally confirmed for the first time that the incident took place in the bathroom of his Nevada home in an interview with CNBC's John Harwood:
"Why in the world would I come up with a story that I got hurt in my own bathroom with my wife standing there? How could anyone say anything like that? I think a lot of people that I read kind of don't like me as a person. I think that's unfortunate," Reid says. . .

This marks the first time that Reid, in his own words, has claimed he sustained his New Year's Day injuries in the bathroom of his Henderson, Nevada home. ..

In his CNBC interview, Reid adds a new detail to his story, claiming "I got hurt in my own bathroom with my wife standing there." (emphasis added).
As photographs of his bathroom, taken approximately one month prior to the date he purchased the house in 2014 clearly show, there was no "big metal hook" in his bathroom at that time.
Perhaps Reid and his wife hired a contractor to install such a metal hook in the bathroom. If he did, there will certainly be discoverable bank and financial records and receipts to confirm when it was installed, and a physical inspection of the bathroom by attorneys for the defendant can
Lawyers for each side can then debate whether such a "big metal hook," if it does exist, meets the standard of a "sturdy non-movable object" specified in the manufacturer's instructions.
In addition to questions about the existence of a "sturdy object" in Reid's bathroom, there are also serious questions as to whether the incident could even have taken place in his bathroom, as Reid claims. As Breitbart News reported:
A Breitbart News investigation of Reid's home exercise accident has uncovered facts that appear to discredit Reid's version of the home exercise accident for three very specific reasons:

1. The shower door in his master bathroom, as well as two of the other three sides of the shower itself, consists of a glass panel that extends from floor to ceiling and is not sturdy enough to be used as the anchor for an exercise band.

2. The distance from the shower door to the cabinets in the bathroom is at best a mere 3 feet, an insufficient width to conduct the type of resistance band exercises Reid says he was performing when one of the bands broke and he hit his head on the cabinet.

3. Even if Reid had attempted to conduct his exercises in this very narrow 3 feet passage, the force of the exercise would not have been sufficient to "spin him around" and crash him into the cabinets of the master bathroom, as he claims.
Breitbart News has contacted Senator Reid's attorney, James M. Morgan of Lanzone Morgan LLP of Las Vegas and one of the defendants, the Hygenic Corporation of Akron, Ohio, for comment. Neither have responded.
It remains a mystery why Reid has chosen to file the lawsuit and expose himself to yet another round of public humiliation as his exercise band injury story will now be subjected to even greater scrutiny, both in the court room and in the press.
The good news is the general public will now be much more likely to learn the true details of the January 1 incident that may have helped drive Reid to retirement.