CIUDAD JUAREZ, Chihuahua — For the thousands upon thousands of followers who spent hours waiting for a glimpse of Pope Francis I or the chance to hear him speak, the wait was worth it.
"He said it like it is," Spanish University of Texas El Paso student Mauricio Hernandez, told Breitbart Texas. "Dirty politicians, drugs and organized crime are tearing us apart. To have a man of God say that was ray of hope."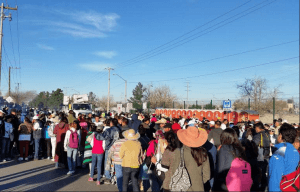 For Linda Hernandez Sanchez, the message was secondary, she wanted to have the opportunity to see in person, the highest official in the Catholic Church. Despite being in her late 60's, Hernandez Sanchez was standing in line at 5 a.m. in 40 degree weather for a chance to see the pope. He arrived at around 4 p.m. for a border Mass.
"He is God's Messenger," Hernandez Sanchez said to this reporter in Spanish. "I would be willing to spend days out here for the chance to be near him to hear him speak. His words reach the heart."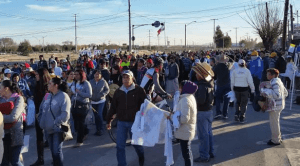 Pope Francis I traveled through Mexico delivered criticism to Mexican politicians, society's elite, clerics, drug lords and others.  However, his strongest message came on Thursday when he spoke about the plight of the immigrants who flee the raging violence in their country.
As reported by Breitbart Texas, during his final stop in Ciudad Juarez, Pope Francis brought up the city's dark history by comparing it to the depravity lived in the biblical city of Niniveh.
"The only thing that it was creating was death and destruction," the Holy Father said. "They have become accustomed to such degradation that they have lost the sensibility to human suffering; a people drunk on themselves."
In 2010, Ciudad Juarez earned the nickname of the "Murder Capital of the World" as cartel violence rose to unprecedented levels. The city also has the grim history of having thousands of women who have gone missing in unsolved crime. About 600 others have been found tortured, abused and murdered in what has become known as "The Women of Juarez."
Earlier in the day, during his Ciudad Juarez visit, the Pope met with business leaders from the manufacturing world where he criticized the focus on profit over the life of the employers, Breitbart Texas reported.
"God will settle the score with the slavers of our day," he said.
Photos by Ildefonso Ortiz.
Ortiz is an award winning journalist with Breitbart Texas you can follow him on Twitter and on Facebook.