The percentage of foreign-born workers in the U.S. civilian labor force has more than tripled over the past four decades.
In an analysis of U.S. Census Bureau data, the Migration Policy Institute reveals that between 1970 and 2014 the percentage of foreign-born workers participating in the U.S. civilian labor force grew from 5 percent to 17 percent.
That growth means that foreign-born workers comprised one of every twenty workers in 1970, and are now one of every six workers.
Additionally, over that same timeframe, the foreign-born share of the population increased from 4.7 percent to 13.3 percent.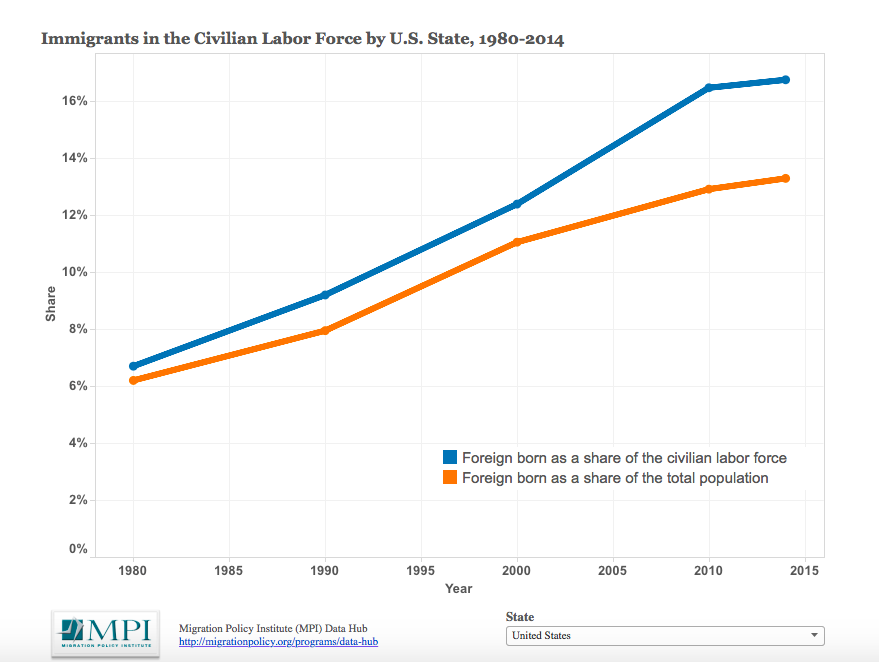 "Of the 25 million employed foreign-born workers ages 16 and older in 2014, 30 percent worked in management, professional, and related occupations; 25 percent in service occupations; 17 percent in sales and office occupations; 13 percent in natural resources, construction, and maintenance occupations; and 15 percent in production, transportation, and material moving occupation," MPI wrote in its analysis.
As MPI details, in 2014, 1.3 million immigrants moved to the U.S. The top immigrant sending country was India 147,500. The second leading country of origin was China with 131,800, followed by Mexico with 130,000, Canada with 41,200, and the Philippines with 40,500.
While Asian countries were the top country of origin last year, Mexicans overwhelmingly make up the greatest share of the total foreign-born population, accounting for 28 percent of the 42.4 million foreigners living in the U.S.
India (5.2 percent), China (4.6 percent), and the Philippines (4.5 percent) followed as the second, third, and fourth top country of origin of the total foreign-born population in the U.S. El Salvador (3.1 percent), Vietnam (3 percent), Cuba (2.8 percent), and Korea (2.5 percent), the Dominican Republic (2.4 percent) and Guatemala (2.2 percent) were also part of the top tend sending countries.
"The predominance of Latin American and Asian immigration in the late 20th and early 21st centuries starkly contrasts with the trend seen in 1960 when immigrants largely originated from Europe. Italian-born immigrants made up 13 percent of the foreign born in 1960, followed by those born in Germany and Canada (about 10 percent each). In the 1960s no single country accounted for more than 15 percent of the total immigrant population," MPI noted in its analysis.
The top ten sending countries represented about 60 percent of the total foreign-born population in the U.S.