In a recent interview with CNN's Michael Smerconish, outspoken Hillary Clinton supporter and Dallas Mavericks owner Mark Cuban attempted to trash the research found in Breitbart News Senior Editor-at-Large Peter Schweizer's  New York Times bestselling book Clinton Cash, but fell utterly flat.
While Schweizer was on Smerconish's show in June, Cuban went to Twitter and accused the bestselling author of being the "king of innuendo" who "never proves anything," and "just accuses a lot of people of bribery."
Cuban has since deleted the tweet. See it in the screen-grab below.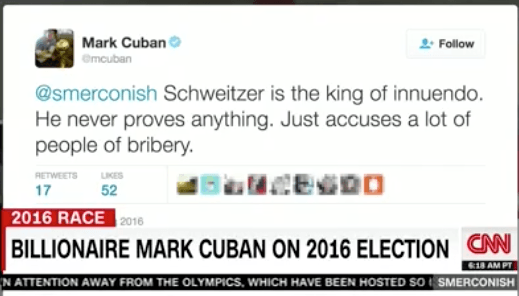 Smerconish, in his face-off with Cuban, challenged the billionaire provocateur to explain why the explosive revelations against the Clintons and their troubled charity found in Schweizer's book were substantiated by establishment media outlets — ABC News, the Washington Post, The New York Times — news organizations that also added to Schweizer's reporting.
"I don't know if you took the time to read the book, but I thought it was well substantiated," Smerconish told Cuban. "And his reporting was built on by ABC, by the Washington Post, by The New York Times, not exactly institutions looking to do a hit job on the Clintons."
"But when you read the articles, they don't come to conclusions," Cuban responded.
"He talked about the uranium deal, right?" Cuban continued. "He made a big deal that there was a big quid pro quo and she sold the rights to you uranium, et cetera. He didn't say there are nine agencies that had to approve the deal, including the Treasury Department, the Department of Homeland Security and others. He didn't talk about what their response was and didn't seem entirely like it was Secretary Clinton's decision. And there's reporting that said she was not involve in the decision."
It's important to note that when Smerconish said "I don't know if you took the time to read [Clinton Cash], but I thought it was well substantiated," Cuban didn't respond.
This weekend wasn't the first time that Mark Cuban has attacked Schweizer.
Earlier this month, Cuban claimed that Schweizer accused California-based tech giant Cisco of "treason."
".@Cisco being accused of treason and corruption by guest on @foxnews right now ..he accused @google and @intel in a @wsj article.," Cuban said in a tweet that has been deleted.
Cuban's accusation came, presumably, in response to Schweizer's appearance on Fox News, where he explained to host Sean Hannity the myriad revelations detailed in a new report released by the Government Accountability Institute (GAI), a Schweizer-led government watchdog group.
However, according to a transcript of Schweizer's interview on Fox News, Schweizer never mentioned the word treason, despite Cuban's baseless accusation that he did.
"Mark Cuban needs to read more and pontificate less," Schweizer said in an email, responding to Cuban's baseless claim.
As for the uranium deal that Cuban ignorantly explained, Hillary Clinton could've intervened in the transfer of 20 percent of U.S. uranium stockpile were it not for her family foundation's ties to the deal.
Uranium One — which hired the Podesta Group, the lobbying company co-founded by Hillary Clinton presidential campaign chairman John Podesta — is the firm that funneled millions to the Clinton Foundation as the Russian government gained ownership of the company.
According to The New York Times, Russian President Vladimir Putin had a "goal of controlling much of the global uranium supply chain."
The Times reported last April:
As the Russians gradually assumed control of Uranium One in three separate transactions from 2009 to 2013, Canadian records show, a flow of cash made its way to the Clinton Foundation. Uranium One's chairman used his family foundation to make four donations totaling $2.35 million. Those contributions were not publicly disclosed by the Clintons, despite an agreement Mrs. Clinton had struck with the Obama White House to publicly identify all donors. Other people with ties to the company made donations as well.
"And shortly after the Russians announced their intention to acquire a majority stake in Uranium One, Mr. Clinton received $500,000 for a Moscow speech from a Russian investment bank with links to the Kremlin that was promoting Uranium One stock," the Times report said.
According to the Daily Caller, Uranium One "paid the Podesta Group $40,000 to lobby the State Department, the Senate, the National Park Service, and the National Security Council for 'international mining projects,' according to a July 20, 2012 filing."
Last month, Schweizer challenged Cuban to a debate after the billionaire tweeted out a bogus fact-check article against Schweizer's bestselling book Clinton Cash by the far-left blog Media Matters.
Cuban, apparently finding it easier to trash Schweizer in the media, has yet to accept the offer to debate.
Follow Jerome Hudson on Twitter: @jeromeehudson