Donald Trump Jr. told a crowd of 500 western Pennsylvanians Wednesday that he feels his father will win the typically blue state, citing the Republican presidential nominee's "common sense" appeal to everyday Americans.
Trump spoke at the grand opening of a Trump campaign headquarters near Canonsburg, PA, a city south of Pittsburgh. The audience filled an outdoor tent and spilled onto the sidewalk of the office building parking lot.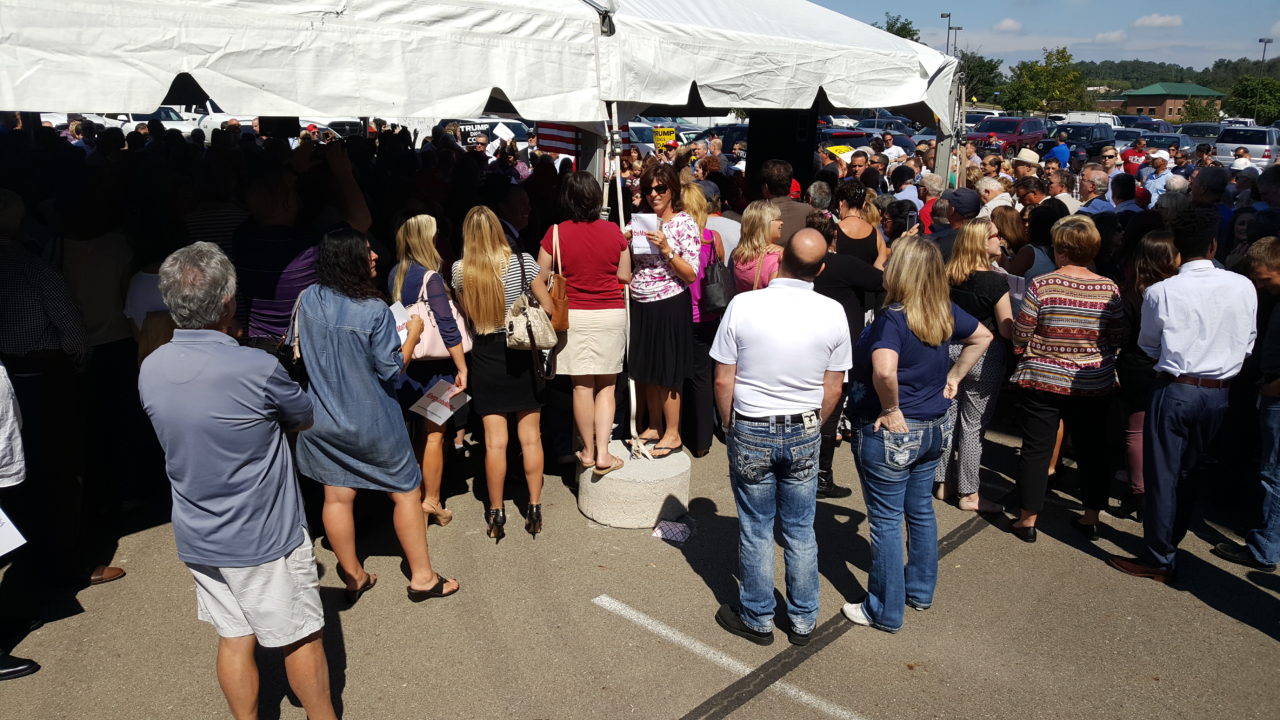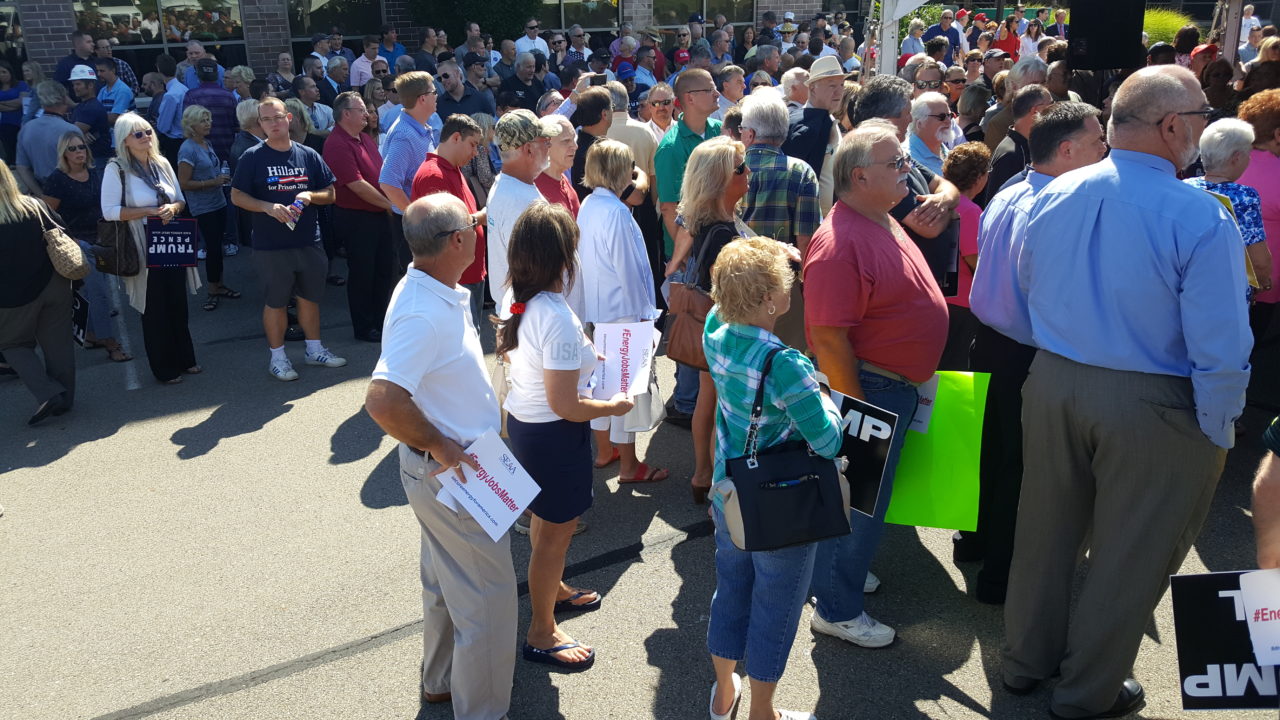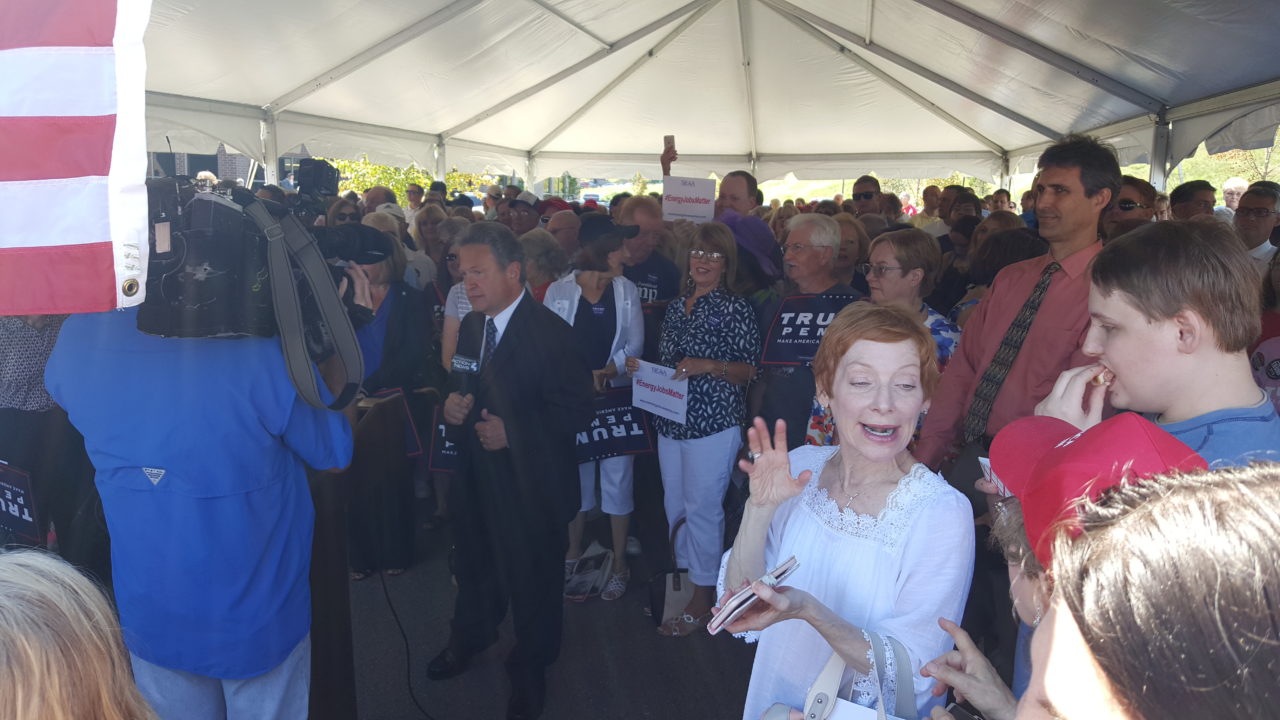 Trump professed a personal connection to Pennsylvania, touting his time living in Pottstown, PA and his family's hunting and fishing trips in the state's northeast.
He praised union workers who are voting for his father, against the wishes of union bosses — who, he said, "have been in the pockets of Democrats for years."
Trump threw barbs at establishment media, as well as his father's opponent Hillary Clinton. "We're vilified for saying 'Americans first,'" he said, exasperated. "For saying we want to spend your money on you… before we send $150 billion to Iran."
He contrasted the country's stagnant wages with the massive economic boom seen in the nation's capital: "We've sat there, watched our jobs get shipped abroad. People are making less money now than they were on a relative basis 18, 20 years ago. Meanwhile, every zip code in DC is the richest in the country."
Trump said he understands regular workers, recalling that his father made him learn and practice the basics of construction before getting into real estate management. "I'm the only son of a billionaire — my brother included — who can drive a D10 Caterpillar," he boasted.
He concluded his remarks by vowing that his father would make sure "the next generation has a better chance than we did, because we don't feel that way anymore. We don't, and that's sad, because I have five kids. And I want to make sure that they have better opportunities than I did — not even the same. I want to make it better. And he wants to make it better."
Radio host and veteran Tea Party activist Rose Somma-Tennent warmed up the crowd as they waited for Trump. Behind the podium stood dozens of coal industry workers holding signs stating "#EnergyJobsMatter."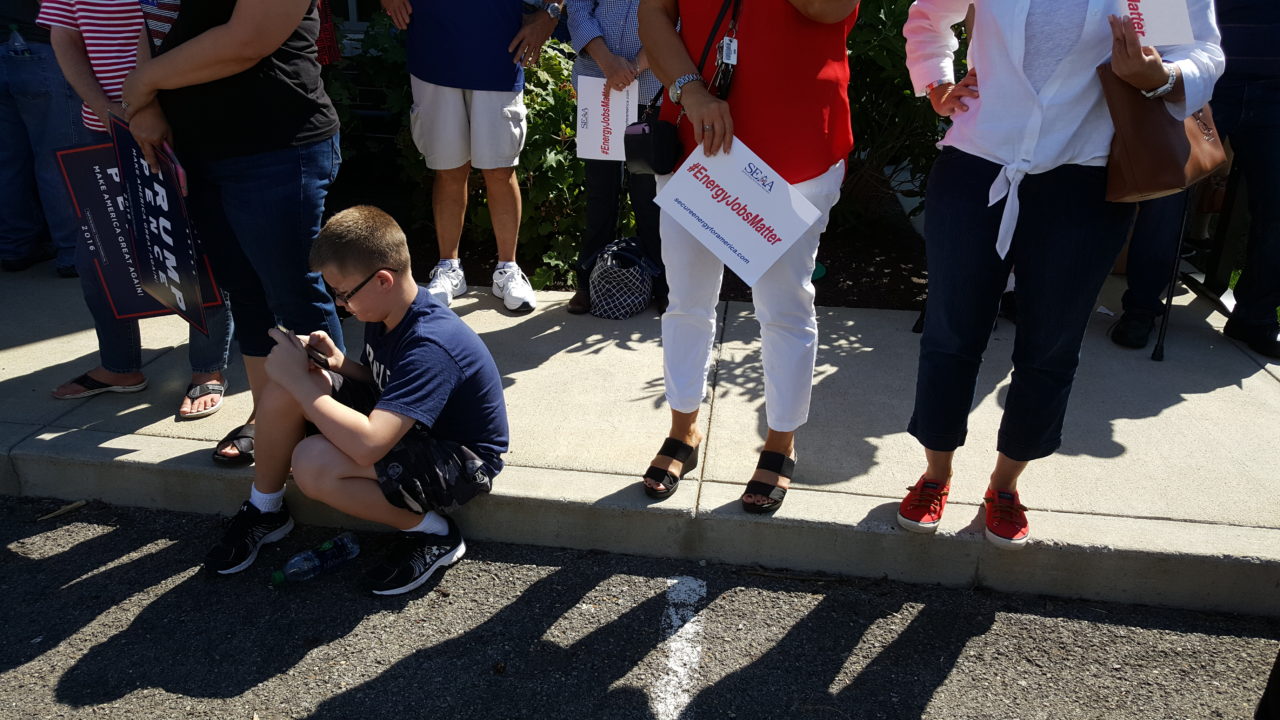 Tommy Johnson — a VP at local coal/natural gas company CONSOL Energy, speaking on behalf of Secure Energy for America — spoke before Trump. He encouraged the audience to consider the energy industry as they decide how to vote, saying, "American energy is under assault." He declined to take any partisan stance in his speech or in a question from this reporter about Bill Clinton's recent remarks on "coal people." Several attendees held signs reading "Trump Digs Coal."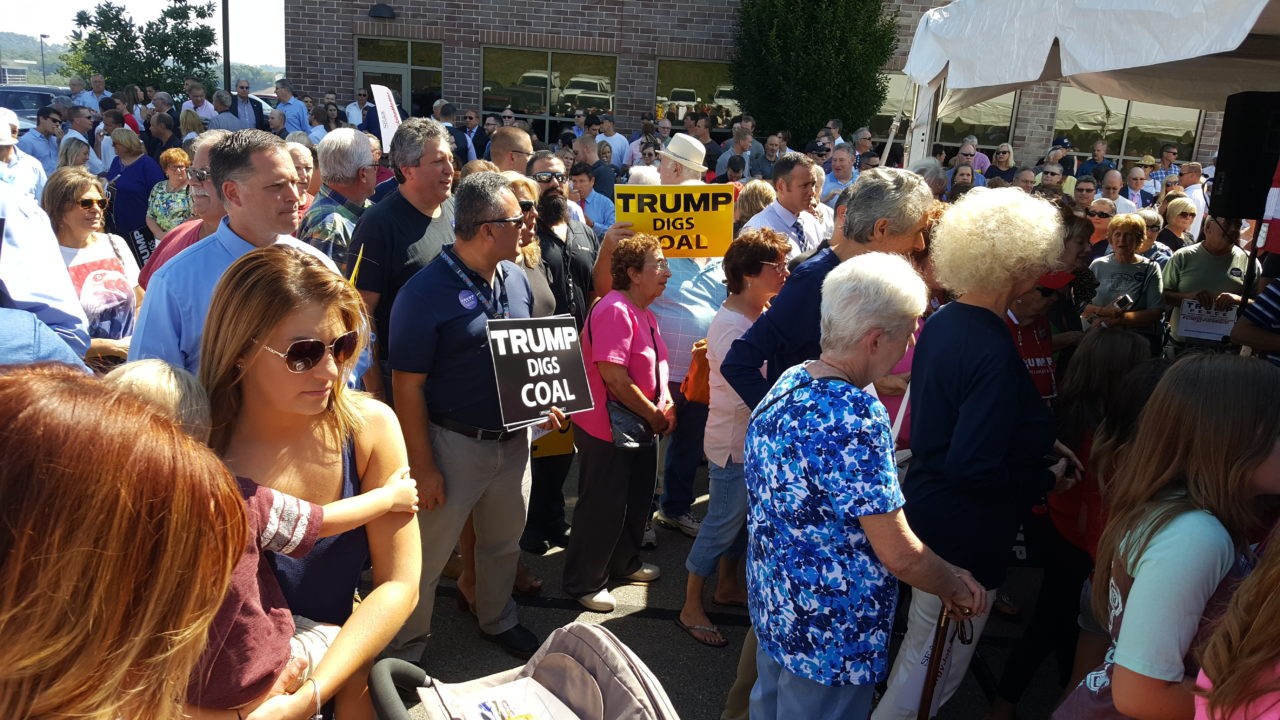 The crowd was peppered with homemade signs and t-shirts, though this event was not an official rally. Young girls held a sign asking Trump's 10-year-old son Barron to marry them. One woman identified herself as "Deplorables for Trump."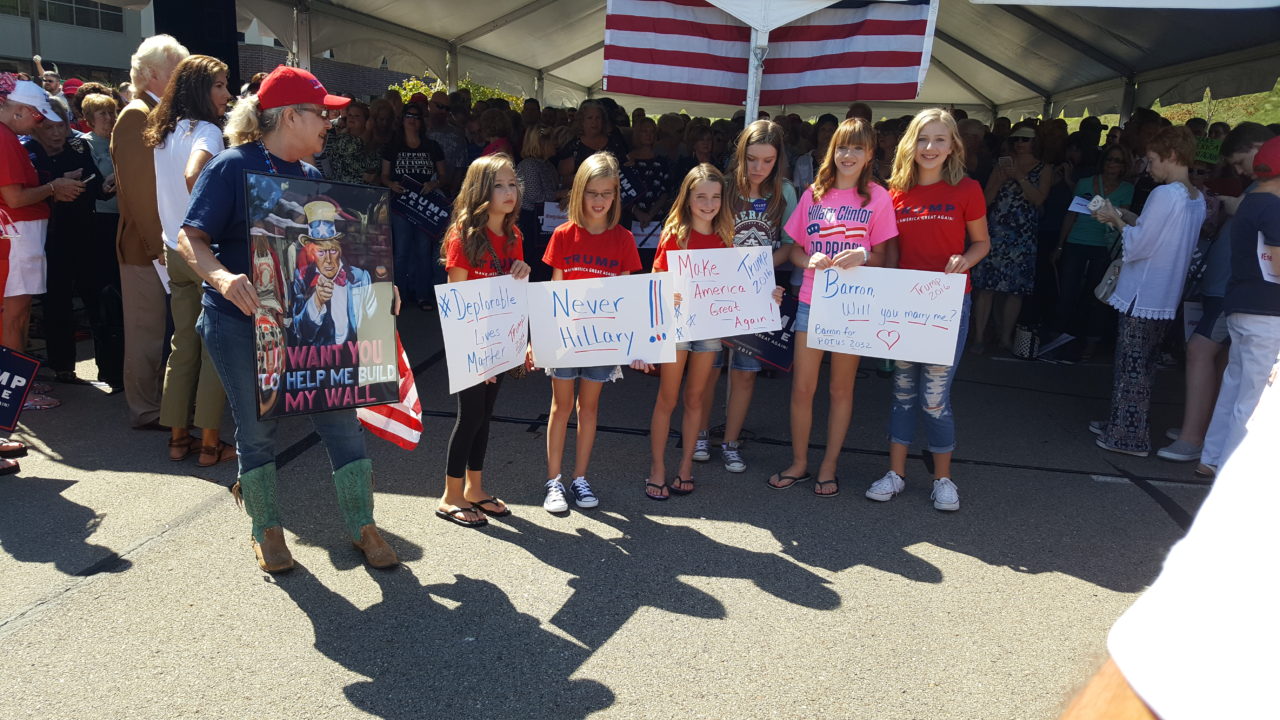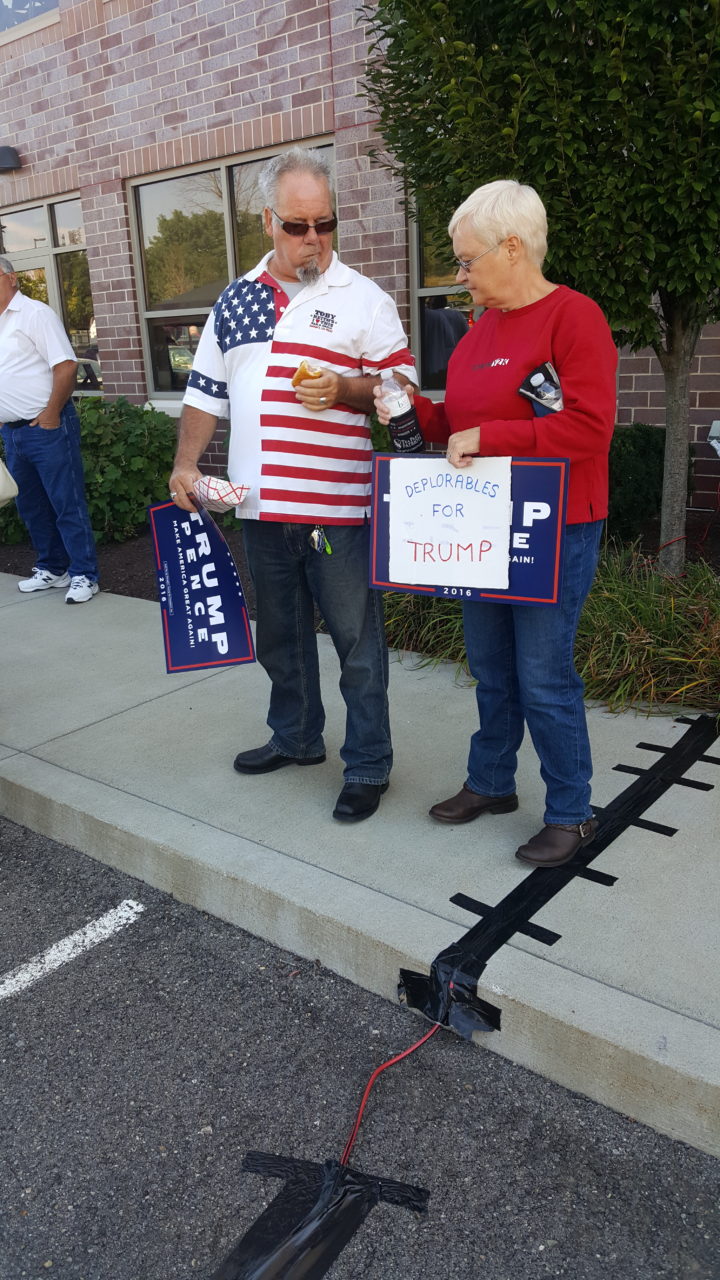 Frank O'Shinsky, who identified himself as a retired military service member and veteran of Iraq, held a sign reading "Veterans are not deplorable."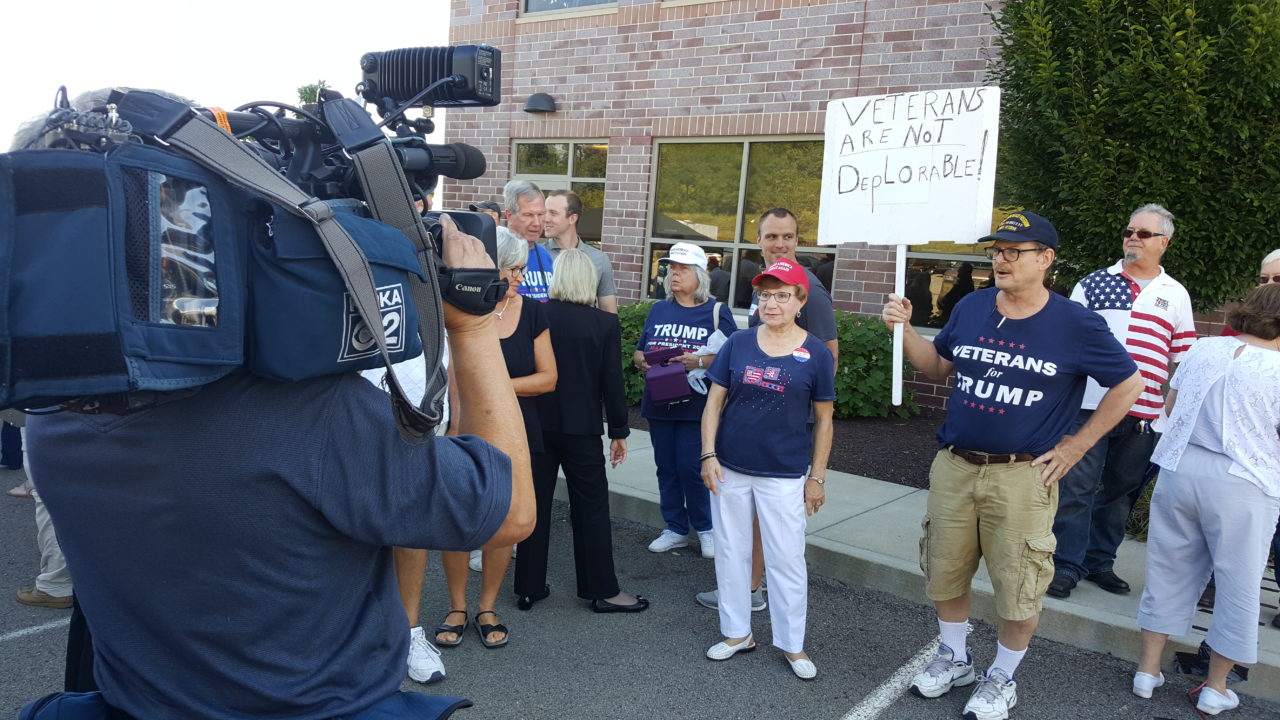 Asked for his initial reaction to Hillary Clinton's speech calling half of Trump supporters "deplorable" and "irredeemable," he quipped, "This is a lady who hangs out with Anthony Weiner. It's a little bit disingenuous."
O'Shinsky pushed back on CNN's continued questions about former Ku Klux Klansman David Duke supporting Trump: "Lee Harvey Oswald was a Marine," he said. "I don't think that taints all the Marines."
This reporter did not observe any protesters at the event.