There's been a virtual Klan rally of hate hoaxes since the 2016 presidential election, as a mob of frustrated Social Justice Warriors, bored youths, and resentful liberals hide under hoods of lies while trying to tar and stigmatize Donald Trump and his ordinary American supporters.
Given this parade of progressive fakery, journalists should be a lot more skeptical towards claims of hate crimes, and the police should be more willing to prosecute the social arsonists who concoct these costly, society-shredding hate hoaxes for personal gain.
Muslim student in Louisiana 'fabricated' story about Trump supporters grabbing her hijab: The student claimed that two white males assaulted her, shouted racial epithets, pulled off her head covering, and stole her wallet while she was walking near the University of Louisiana at Lafayette campus. She claimed one of them was wearing a Donald Trump hat.
After the story created a media and Internet firestorm, the woman admitted she fabricated the tale, and was ultimately charged with filing a false police report. Virtually none of the mainstream media reporting about her phony report was skeptical – they reported the assault as fact, not as a claim, portraying it as part of a Trump reign of terror sweeping across campuses.
Interestingly, the identity of the hoaxer never seems to have been released, despite promises that it would be. If the police ever released her name, the media lost interest in reporting that detail. There also doesn't seem to be any follow-up journalism about her motives for fabricating the crime.
Williams College students disciplined for KKK hoax: After the election, two students doused a staircase in fake blood and wrote "AMKKK KILL" on the walls. Massachusetts State police and the FBI joined the ensuing investigation, only to determine it was a hoax hate crime.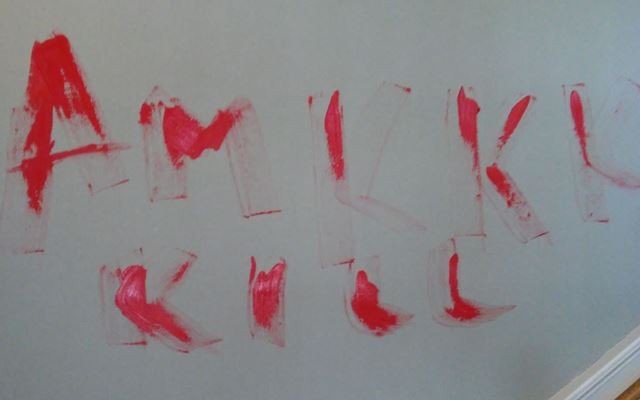 "They had committed the vandalism to bring attention to the effects of the presidential election on many within our community," Williams College President Adam Falk explained. "They harmed our entire community and caused considerable fear, among students in particular. We are deeply distressed that anyone in our community would feel compelled to express themselves in such a destructive and harmful way."
Female Bowling Green State University student lies about Trump fans throwing rocks at her: The day after the election, a black female student named Eleesha Long claimed three men wearing Trump campaign paraphernalia pelted her with rocks and shouted racial slurs at her.
She posted her hate-crime fantasy to Facebook and it went viral, prompting her dad to get the police involved – something she had carefully avoided doing. Her story began changing, and the police eventually nailed her for lying by checking her cell phone history and establishing she was nowhere near the site of the alleged attack. They also found her text message log stuffed with hateful messages directed at Trump supporters, including a wish for them to contract AIDS.
Long was charged with falsifying a police report and obstructing official business. Her hate crime hoax inspired student-organized town hall meeting on the "impact of the election and respect within our community."
Another Bowling Green student invents a racist mugging incident: A few days after Long perpetrated her hoax, a male student at Bowling Green State University falsely claimed he was thrown to the ground and robbed by men who insulted him with a racial slur.
Chicago student fakes hateful notes containing "homophobic slurs and Trump references": Taylor Volk falsely claimed to have received hateful notes and emails from Trump supporters. She created some of these notes and posted photos of them on Facebook to back up her story. One specimen said "Back to Hell" and included the "#Trump" hashtag.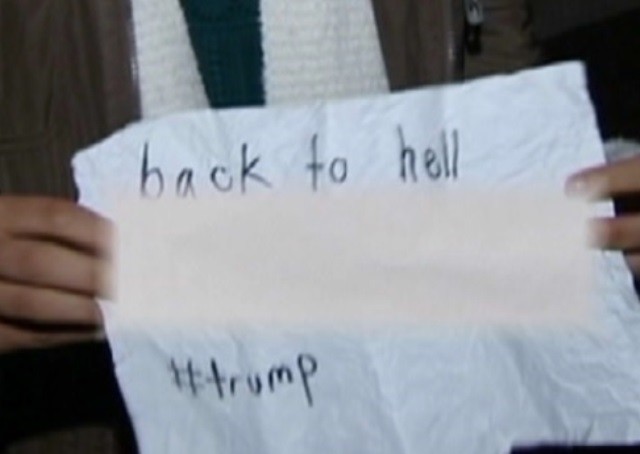 "This is a countrywide epidemic all of a sudden. I just want them to stop," declared Volk, who said she was "openly bisexual."
North Park University determined these messages were "fabricated," and Volk ended up leaving the school. "Sadly, we discovered that the incident and related messages were fabricated; the individual responsible for the incident is not continuing as a student at North Park," announced President David Parklyn on the university web page, without explaining why it was "sad" that an alleged hate crime turned out to be fake.
Woman fabricates tale of sexual assault because she was "distraught" over the election: A woman in Kirkland, Washington claimed on Facebook that she had been sexually assaulted, and the police did nothing when she reported the crime.
A concerned citizen forwarded this post to the police, who launched a week-long investigation that ended with the woman admitting she fabricated the event because she was "distraught over the recent election." No charges were filed over the hoax, because the hoaxer herself did not file a police report, but the Kirkland police noted that "false reports such as this can cast doubt on an agency's reputation."
Asian-American student in Minnesota fakes racist assault and police response: Kathy Mirah Tu wrote a Facebook post in which she claimed to have been accosted by a white male who yelled, "Go back to Asia!"
Tu tried to dispense with this ruffian by hitting him with the old canard about how everyone except Native Americans is an immigrant to America, but he was somehow able to shrug that off and continue lecturing her about "affirmative action."
"I literally could not handle the amount of ignorance and white privilege that this guy had," she wrote. When he grabbed her wrist, she supposedly punched him in the throat. His friends realized he was no match for her throat-punching skills and called the police, who handcuffed her and ran a background check before letting her go. Tu said she was "flabbergasted" by the way police treated her.
"I am sorry that you are threatened by me and my presence and are so afraid of me that you had to succumb to this," she lectured her assailant on Facebook. "But thank you, because of this situation you have relit a burning passion in my soul about why I need to make my voice heard, and offer that same support to my fellow Asian Americans, LGBT community, People of Color, and the oppression you have placed upon us."
According to the police, none of this actually happened, even though Tu's Facebook post racked up huge traffic numbers, and University of Minnesota alumni circulated a petition calling for stern action against such racist incidents. After the police told Tu they would like to have a few words with her, she deleted her post, and then apparently her entire Facebook account.
It's interesting to note how many of the credulous left-wingers who ran with Tu's story headlined it as an assault by a "Trump supporter," even though her now-vaporized Facebook post never said that.
Boston man fabricates "Trump country" lynching threat: A black man in a suburb north of Boston claimed he was accosted by two white men when he got off a bus. They informed him the United States was now "Trump country," insulted him with racial slurs, and warned him to expect a lynching.
The police opened a high-priority hate crime investigation, but "determined that the story was completely fabricated," as police chief Kevin Molis reported. The hoaxer said he made up the story to "raise awareness about things that are going on around the country."
The mayor of the town of Malden, Gary Christenson, oddly saluted his residents for "letting us know when they hear or see something like this," as if the fabricated hate crime had been real.
Muslim college student in New York City lies about assault by Trump supporters: 18-year-old Yasmin Seweid made up a story about three drunken Trump supporters yelling The Donald's name as the tried to pull her hijab off. "Get that f**king thing off your head!" and "Go back to your country!" they cried, in her bogus account.
"I was harassed on the subway last night. And it was just so dehumanizing I can't speak about it without getting emotional," she wrote on her since-deleted Facebook page after the imaginary assault. "Three white racists ripped the straps off my bag & attempted to yank my hijab off my head. They yelled such disgusting slurs at me, I was so helpless and felt defenseless."
For good measure, she railed against the other subway passengers for refusing to help her while these "disgusting pigs" assaulted her, and declared, "Trump America is real and I witnessed it first hand last night!"
The entire mainstream media fell for this story hook, line, and sinker, without doing the slightest bit of diligence on Ms. Seweid. If they had given her anything like the treatment Joe the Plumber received in 2008 for daring to ask Barack Obama a question, they would have discovered her older brother Abdoul was charged with falsely reporting a very similar hate crime in 2012.
But Yasmin's fantasy was Too Good to Check, and the establishment media had a Trump Hate Crime Spree narrative to peddle, so it went viral. Nearly all of the headlines reported the assault as a matter of fact, not an "alleged" crime. Student protest marches were held in Seweid's name. The NYPD launched a manhunt for the attackers.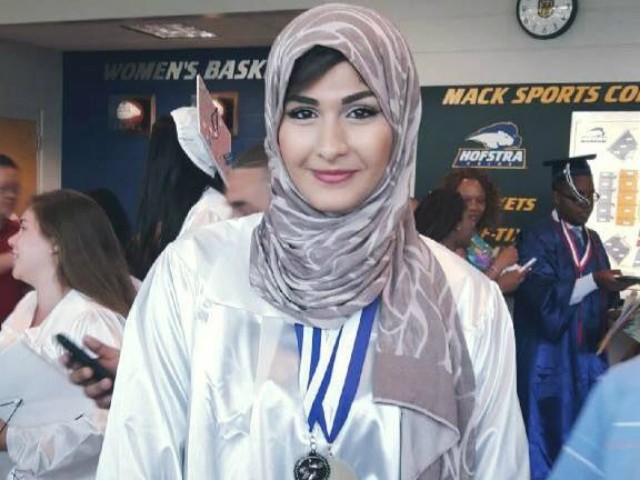 "I stand in solidarity w/ Yasmin Seweid & all American Muslims following this hateful act," said Senator Bob Casey (D-PA), without waiting for a single fact to be confirmed. It didn't take the police very long to check subway camera footage and determine Seweid's account was fabricated. Also, she disappeared a week after reporting the assault, was reported missing by her family, and was found by the police hiding out at her sister's house in Fishkill. The hunt for Seweid didn't take long, because "either she or her sister were posting on Facebook" from hiding, according to the New York Post's sources.
Seweid later admitted that she made up the phony assault to cover for coming home late after a night of drinking. That wouldn't sit well with her extremely strict Egyptian Muslim father, who is reportedly angry about his daughter becoming "Westernized," and previously forced her to shave her head after she dated a Christian. She still had a buzz-cut on the night she reported her fake hate crime, but the Fake News Media didn't think to ask about that unusual detail.
Seweid's sister Sara now wishes to use the incident as a Teachable Moment about the challenges facing Muslim women, ripping the authorities for failing to understand "the mental state of young Muslim women who feel that they have to lie so intensely to survive," and denouncing the jail sentence potentially facing Yasmin as "violent and abhorrent." She railed against the police for doubting a Muslim hate crime story that was, in fact, a hoax, and castigated the media for reporting on the story.
According to NBC News in New York, Sara's Facebook rant was deleted about an hour after she posted it. The Daily Caller notes that Sara's Facebook page includes a "Deport Trump" bumper sticker.
Robert Spencer has argued that the real story of the Seweid incident is that she's the victim of Islamic fundamentalist misogyny, understandably felt the need to hide from her father, and might even be at risk of "honor killing" The establishment media has absolutely no interest in that narrative, so this whole family is teetering on the edge of the Memory Hole.
Florida man fakes pro-Trump hate crime and his own Kidnapping, with a side order of arson: 27-year-old Vincent Palmer III landed in police custody after faking a hate crime against his own children, then setting his ex-girlfriend's car on fire. The phony hate crime was a note with the words "KKK" and "Trump," plus a threatening message that said, "I HAVE WATHED [SIC] YOU FOR A LONG TIME YOU AND YOUR N****R KIDS DON'T BELONG." (Palmer is black, while his ex-girlfriend Staci Winn is white.)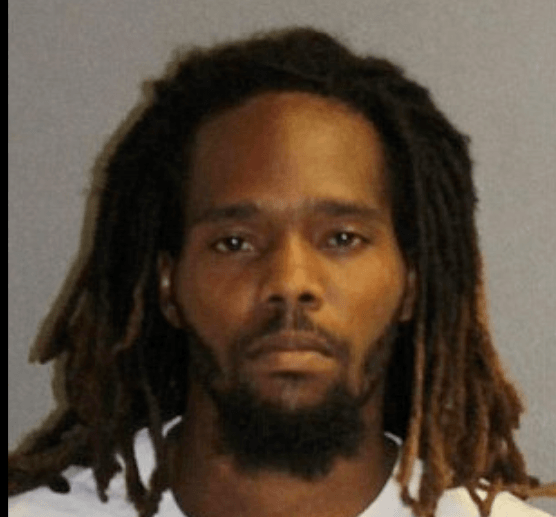 The police picked Palmer up for behaving suspiciously near Winn's residence, and also because he had an outstanding warrant for failure to pay child support, but released him the following day.
Palmer proceeded to fake his own kidnapping, leaving a bloodstained note for his grandparents which read, "KKK….I HATE BLACK MEN WHO F*** WHITE WOMEN….YOU WILL NEVER SEE YOUR 27 GRANDSON AGAIN ALIVE….YOU WILL NEVER FOUND OUT WHO I AM, THIS IS HIS NOTEBOOK…? NICE DOG, YOU SLEEP HARD."
After his grandpa called the police, they checked the location of his cell phone, which he was still carrying around, and found him hanging out at the local Burger King. His attempt to pass himself off as an entirely different person named "Raquel B. Johnson" was foiled when the cops who had arrested him the previous day arrived on the scene. He admitted to perpetrating all of the hoaxes to throw police off his trail while he terrorized his ex-girlfriend due to "problems he was having with her over their children," as the police report put it.
Winn, who was understandably terrified when she found her car on fire and a hateful note hanging from her mailbox, has started a GoFundMe page to raise funds for a new vehicle. When she thought she was the victim of a bona fide hate crime, her response on Facebook was: "I feel so sorry for that hateful person and pray they can face their demons."
Celebrity offspring busted for spray-painting swastikas: 19-year-old Vadim Imperioli, son of Sopranos actor Michael Imperioli, was arrested in November for spray-painting a swastika on a dorm wall at SUNY Purchase College, where he was a film student. (According to his attorney, he has left the college since his arrest.) Although he hasn't been formally accused of it, someone also wrote "Black Lives Don't Matter" elsewhere on the campus, and other swastikas have been painted.
Imperioli's motives remain mysterious, which is rather odd for a hate-crime case with Hollywood connections, but his family background is solidly on the Left, and he wanted to work in the film industry. There doesn't seem to be any enthusiasm for prosecuting him for a hate crime, or publicly denouncing him as a hatemonger. He faces only charges of criminal mischief, and is also working through charges of vandalism back home in California.
Industrious New York student makes celebrity offspring look like a slacker: Young Mr. Imperioli has nothing on 20-year-old Jasskirat Saini, who drew over a hundred swastikas at Nassau Community College. He's now facing 10 counts of aggravated harassment that could bring four years in prison apiece.
Saini presents a tricky case for Fake Hate Crime scholars, because it looks like he really is anti-Semitic. "It appears that this bigot was motivated by perceived slights of the Jewish community in his neighborhood in Plainview," said Nassau Acting Police Commissioner Thomas Krumpter. Saini reportedly told the police he lashed out because he felt he was being "harassed."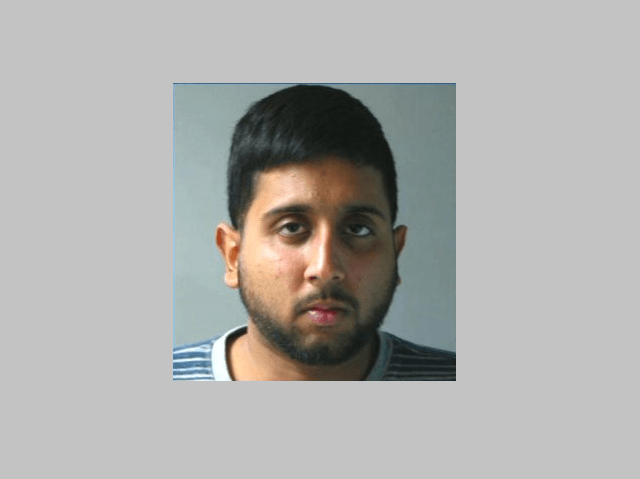 However, Saini also mixed in pro-KKK and "Heil Hitler" messages with his swastikapalooza, which prompted some dark mutterings about the incipient Trumpenreich.
"The latest discovery has further troubled minority and Jewish groups amid a surge of hate crimes across the country following the election of Donald Trump," intoned the Long Island Press on December 9, a few days after the latest batch of offensive symbols was discovered.
"It seems to me that since the election there hasn't been a day when…I haven't seen something in the paper. I think we have to connect the dots here. There are dangerous winds of hate, which are blowing across America. Whether it's under the guise of alt-right or nationalism or Brexit, or whatever you call it, things are happening that are inciting the passions of those people in this country," mused Robert Solomon of the Jewish Community Relations Council of Long Island, as quoted in the same article.
"Bye bye Latinos, hasta la vista": Elon University staff and students responded with outrage when this message was discovered written on a whiteboard. The administration promised to use all available resources, including the campus security camera system, to find the culprits and prosecute them for violating the Code of Conduct. Angry teachers went on profanity-laced tirades against intolerance in their classrooms. Social media made it into a national news story.
"I'm shocked, but not really," sighed Sylvia Munoz, interim director of the Center for Race, Ethnicity, and Diversity Education.
It turns out there really was no reason for her to be shocked, because the message was written by a Latino student as a post-election "joke."
The university decided it was an example of "satirical commentary" and seemed to lose interest in prosecuting the perpetrator, or even identifying him. The above-mentioned Sylvia Munoz decided to ignore the inconvenient revelation that the hate-crime was a hoax and focus on "the message itself and the impact it has had on the Latino community."
Black woman in Delaware claims white males threatened to kill her at gas station: A running theme you may have noticed in these hate-crime hoaxes is that people make up stories and post them to social media without thinking the police will ever get involved. Such appears to be the case once again with Ashley Boyer of Rehoboth Beach, Delaware, whose Facebook post about four white men threatening her with death at a gas station went viral.
Boyer claimed "four males, all of whom were Caucasian" were talking about "how they're glad they won't have to deal with n*****s much longer" after the election when they noticed her.
One of them approached her and said, "How scared are you, you black b***h? I should kill you right now. You're a waste of air." Another produced a weapon and told her she was lucky there were witnesses around, "or else I'd shoot you right here."
"Is this what America is going to be like from here on out??!!" Boyer asked.
After her post caught fire on social media, Boyer deleted it and replaced it with a claim that her assailants had been arrested, and she knew all of their names, although she refused to divulge them. Multiple local police departments said no such arrests had been made, and no such complaint was filed by Boyer or any potential witnesses, including the owner of the gas station.
University of Oklahoma professor describes non-existent police reports about anti-Muslim pamphlet: Professor Mashhad Fahes said she called the university police after being handed an "anti-Muslim pamphlet" filled with "offensive pictures" entitled "Camel's in the Tent" on campus on November 15.
The professor said the university police told her they had already received another report about the pamphlet, and had an officer on their way to the scene. When the OU Daily contacted the university PD to follow up on her story, the police said they had no record of either Fahes' report, or the earlier one she claimed to have been told about.
Evidently not suspecting her interviewers would verify the details of her story with campus authorities, Fahes proceeded with a lecture about "American values" and complained "it's not the country I thought it was" after the 2016 election. She also said "a lot of people have told me that they're willing to go with me to places if I feel uncomfortable."
Oddly, no one seems to have asked Fahes to produce her copy of the offensive pamphlet. Such an item does exist, and copies can be found online.
Black Man arrested for anti-black, pro-Trump graffiti spree in South Philly: 58-year-old William Tucker was arrested for spray-painting "Trump Rules" and "Black B***h" on the SUV owned by his neighbor, a black woman.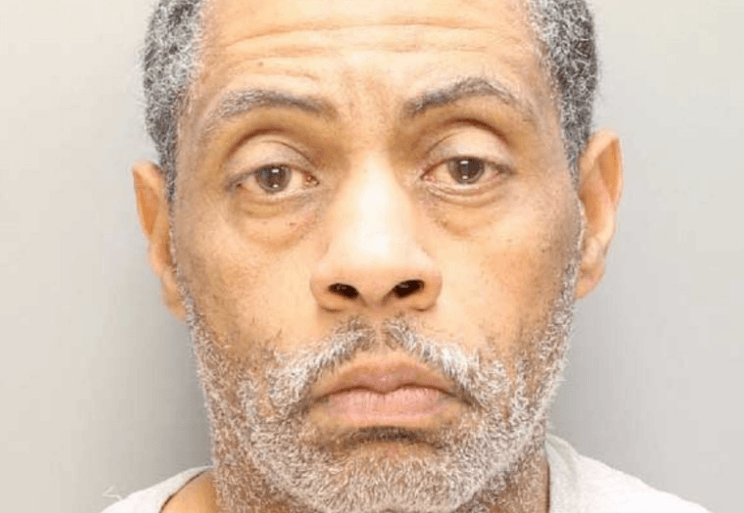 The victim and Tucker were reportedly involved in a romantic relationship that ended in 2014. He tagged two other vehicles as well, and wrote "Trump Rules" on the side of a house during his graffiti rampage.
New York firefighter sets his own house ablaze to frame Black Lives Matter: In the spirit of bipartisanship, let us take note of 41-year-old New York firefighter Jason Stokes' deranged plan to burn his own house down, with his family still inside, and frame Black Lives Matter activists for the crime.
When the Stokes family found "LIE WITH PIGS, FRY LIKE BACON" spray-painted on their burning house, they assumed they had been targeted because of their Blue Lives Matter flag.
The police noted that several gas canisters had been placed inside the home, evidently in a deliberate attempt by Stokes to booby-trap the building. The District Attorney said the place had been set up like an "obstacle course" for first responders.
YouTube hate hoaxer stages one performance too many: Many establishment media outlets went bonkers uncritically repeating the story of anti-Muslim discrimination cooked up by veteran prankster Adam Saleh, who claimed he was booted off a Delta flight merely for speaking Arabic on the phone to his mother. Easily-suckered celebrities and the websites that worship them instantly declared boycotts against Delta.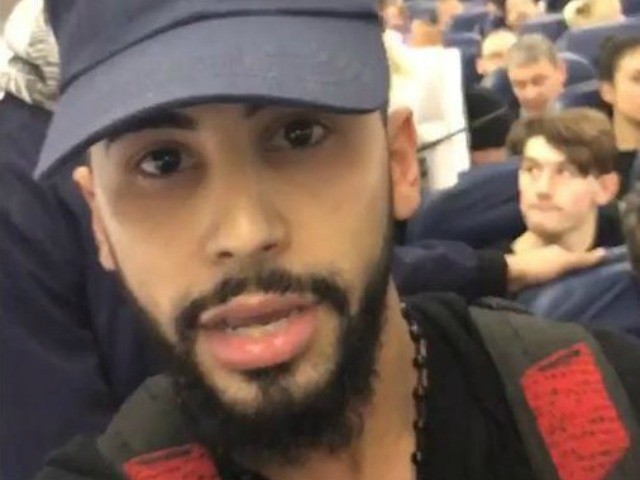 His story has been hotly disputed by other passengers on the flight, who say Saleh and his friend were shouting to each other and making threatening gestures, in a deliberate effort to make other passengers uncomfortable and create a scene. Delta Airlines says Saleh was removed from the flight for "attempting to disrupt the cabin with provocative behavior, including shouting."
Not only is Saleh a known hoax artist, he's also a 9/11 truther, a nutjob who thinks the Tsarnaev brothers were framed for the Boston Marathon bombing. (However, give him due credit for perfectly understanding how to manipulate left-wing Big Media by telling it what it wants to hear.)
They're also quick to abandon even minimal journalistic skepticism when it's a story they want to tell. Few outlets bothered to mention this was an alleged hate crime in their headlines – they reported it as an established fact he was thrown off the plane merely for using Arabic. Aren't widely-read and re-posted headlines, unsupported by the body of the accompanying stories, a prime example of how Fake News distorts public opinion?
Black Villanova student withdraws claim of attack by white Trump supporters: A female African-American student at Villanova eventually asked both local police and campus authorities to stop investigating her claim that she was knocked to the ground by a group of white men yelling Donald Trump's name.
The school was very reluctant to discuss the details, beyond saying that this particular hoax "does not diminish the concerns and discussions that have taken place on campus, as they have in many places throughout the country, and that have led to some important dialogue on campus."
Journalists pick up their Fake But Accurate ethics from college faculty, who are very dedicated to the notion that Deeper Truth must sometimes be illustrated with strategic lies. The deliberate ignorance of contrary evidence makes all sorts of theories easier to believe in!
"Vote Trump" church burning turns out to be the work of a parishioner: Two months after a black church in Mississippi was spray-painted with "Vote Trump" graffiti and set on fire, the police made an arrest: Andrew McClinton, 45, a black member of the congregation with a criminal record for armed robbery.
The incident was immediately denounced as a hate crime by the mayor of Greenville, who called it an "evil strategy" to "frighten voters just days before the presidential election. Rep. Bennie Thompson (D-MS) said it "harkens back to a much darker day in Mississippi." The Southern Poverty Law Center called it "just a harbinger of what has become a national outbreak of hate, as white supremacists celebrate Donald Trump's victory." Just about every news headline made a point of mentioning the "Vote Trump" message.  
"We do not believe it was politically motivated. There may have been some efforts to make it appear politically motivated," said Mike Chaney, Mississippi insurance commissioner and state fire marshal. Wherever did he get the idea that writing "Vote Trump" on a black church and setting it ablaze might have been "politically motivated?" What's the difference between appearing politically motivated and actual political motivation?
The "hate crime" might have been fake, but ABC News reports on an outpouring of real love and fellowship after the 100-year-old church was destroyed: "After the fire, Hopewell congregants began worshipping in a chapel at predominantly white First Baptist Church of Greenville. Bishop Green said last month the generosity of First Baptist demonstrates that "unlimited love" transcends social barriers. James Nichols, senior pastor at First Baptist, said the Hopewell members are welcome to stay as long as they need a home."
Muslim student at University of Michigan fabricates story about drunk white guy threatening to set her on fire: Weeks after this report was filed, we learn there is surveillance video of the location where the alleged assault took place, and not only is there no sign of the assailant, there's no sign of the victim, either. The claim was officially deemed a hoax this week, and the student may be charged with filing a false report.
The Council on American-Islamic Relations immediately declared this phony story a hate crime, and said it was "just the latest anti-Muslim incident reported since the election of Donald Trump as president."
Texas man vandalizes own home, sets his truck and motorcycle on fire: David Williams of Denton, Texas reported that he and his wife woke up in the middle of the night on December 12 to find their truck and motorcycle set on fire, and the words "N****r lover" painted on their garage, even though the couple and all four of their children are white.
Two weeks later, Williams confessed to his wife Jenny that he was responsible for both the racist message and the arson, for which he will face charges after emerging from a mental-health facility. He had previously been diagnosed with bipolar disorder and borderline personality disorder.
"It was clear to me, at that point, that his head was definitely not in the right place," as she put it. She told the Houston Chronicle she couldn't think of any reasoned motive for her husband's actions.
"I am not going to argue with anyone about the existence of racism or why it continues. What happened at my house is the cold hard evidence that it does exist and that it continues," Jenny Williams wrote in a blog post, before her husband confessed to staging the crime.
On top of everything else she has to deal with, Jenny Williams is now determined to return the $5,000 donated to a GoFundMe page that was set up for the family.
In conclusion: Here are two modest suggestions for dealing with the epidemic of Fake Hate Crimes sweeping the nation:
1. No matter how much any given activist group or media organization wants the crime to be true, no matter how neatly it fits their preconceived notions, let's hold off on uncritical headlines or connect-the-dots Hot Takes until we know if the incident was genuine. That's a lot to expect of activists, of course, but they should consider what Dr. Zuhdi Jasser said in a Breitbart News Daily interview: hyping fake and dubious hate crimes only damages legitimate efforts to address real issues. "False flag" incidents are very easy to manufacture. Hoaxers don't need any more encouragement.
2. Fake Hate Crimes should be prosecuted as hate crimes. Sometimes they're pulled off by criminals who seem primarily interested in covering their tracks, as in some of the examples above. However, they are often acts of sheer bigotry and prejudice, perpetrated for the express purpose of slandering particular racial, political, and religious groups, by people who most assuredly do hate them.
Warner Todd Huston provided invaluable assistance with compiling this report.
Correction: Yasmin Seweid's sister was incorrectly identified as "Sara Yasin" in the original version of this post. The error has been corrected.