Shayda Parada-Rodriguez and her daughter Daniela knelt on the grass, clutching the top of the tombstone in Arlington National Cemetery's Section 60.
Parada-Rodriguez placed a small handwritten letter behind a bouquet of red roses. "Dear Nicolas, we miss you very much," it says.
After a moment, she picked up the letter, shuffled its pages and put it back down again. The first page now read, "I Love You."
Parada-Rodriguez wiped away tears behind her sunglasses.
"It's been seven years," she said. "Everyday is Memorial Day for us."
Parada-Rodriguez lost her best friend and first love, Marine Cpl. Nicolas D. Parada-Rodriguez, on May 16, 2010, when he was killed in combat in Marjah, Afghanistan.
They were kids when they met — she in middle school, he in high school in Springfield, Va. They got married young, and looked forward to growing old together.
"God had another plan for him," she said, her voice cracking.
Daniela was just two years old then. Now, she is 10. She pressed a Marine Corps sticker on her father's tombstone.
"He's my hero," she said cheerfully, holding her mother's hand. "He's always with us."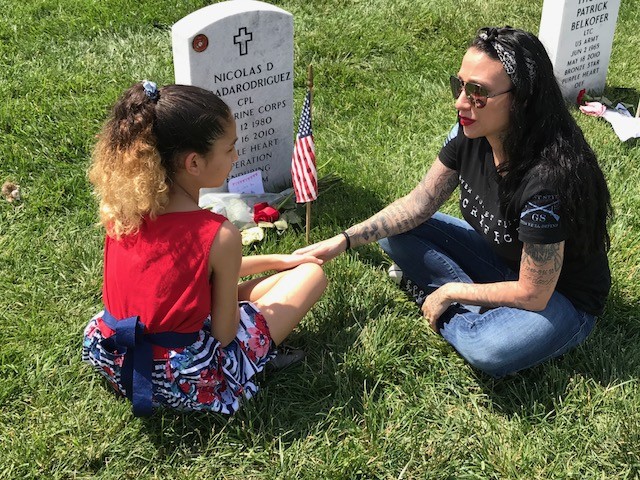 About 100 feet away, Richard and Tammy O'Brien from Stanley, N.C., set up two camping chairs and sat silently before their son's grave, as if keeping watch.
Their son, Marine Lance Cpl. Nicholas S. O'Brien, was just 21 years old when he died in Sangin province, Afghanistan, at the height of the war.
"He turned 21 in Afghanistan," Tammy said.
Richard's voice resonated with pride as much as sadness. A former Marine himself, he said his son was out in front, sweeping for roadside bombs, when he was killed.
They have put Nicholas's picture on his tombstone, and smile when they think about the nice weather he had when he was based at Camp Pendleton, Calif., while serving with the 1st Battalion, 5th Marine Regiment.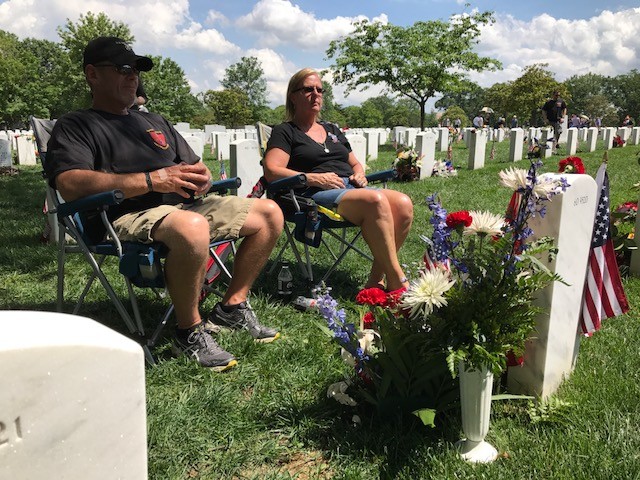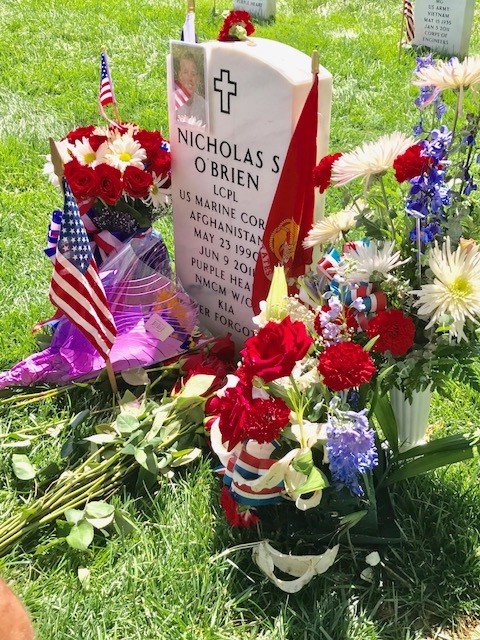 Along with the families, friends also came to pay tribute to the fallen.
Two men paused to snap pictures of Army Staff Sgt. Richard J. Tieman's tombstone.
One of them, Jesse Boreja, had served with Tieman in Afghanistan, where he was killed in a suicide bomb attack on May 18, 2010, in Kabul, Afghanistan while on a transport mission.
Boreja was on leave when Tieman killed. But he, like many others, had come by on Memorial Day to pay his respects.
Some came alone.
Nearby, a Marine in an olive green crew neck shirt sat before a large tombstone, tuned out to the rest of the world around him.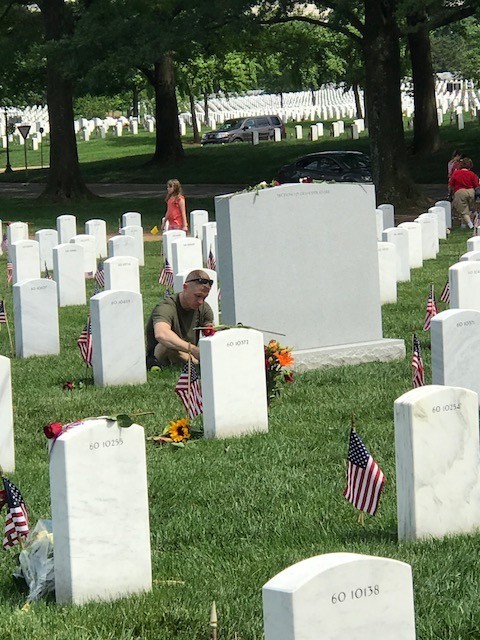 But despite the somber mood, some families were in jovial spirits.
As he was leaving, a father of a member of Extortion 17 — the helicopter shot down over Afghanistan on August 6, 2011, while racing to save an Army Ranger unit — hugged this reporter, mistaking her for the sister of a fallen team member.
"I thought you were his sister!" he exclaimed, walking over and gesturing to the gravestone of Navy SEAL Petty Officer 1st Class John Douangdara. "You look just like her!"
"Well, it was still nice to hug you," he laughed.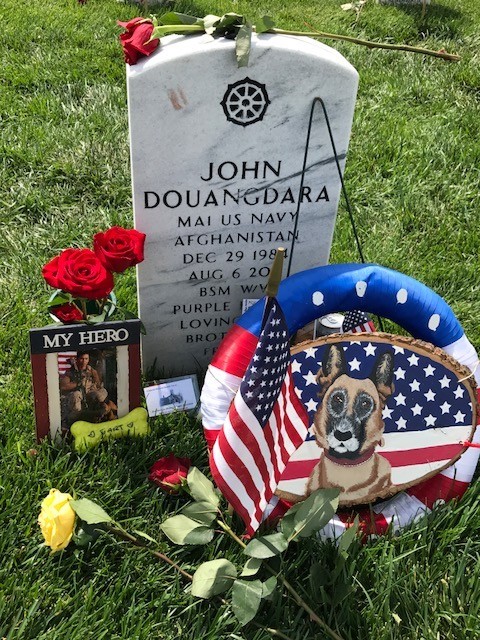 Photos by Kristina Wong/Breitbart News