Mass immigration to the United States has had a depressing impact on reading and math proficiency skills among immigrant students, a new study finds.
As the U.S. continues to admit more than 1.5 million legal immigrants a year, a study by the Anne E. Casey Foundation discovered the incredibly poor reading and math proficiency of 4th  and 8th graders born to immigrant families.
"On most of the measures we track in Race for Results, children in immigrant families fare worse than those in U.S.-born families," the study authors purport. "Especially troubling are the large gaps in many of the education measures of both children and their parents."
For children in the 4th grade living in immigrant families, only eight percent scored at or above the proficiency level in reading. In math, the proficiency rate is even worse, with only five percent of 8th graders in immigrant households scoring at or above the proficiency level.
Compare these statistics to that of children who are born in the U.S. to non-foreign families, where 38 percent of 4th graders scored at or above the reading proficiency level and 34 percent of 8th graders scored at or above the math proficiency.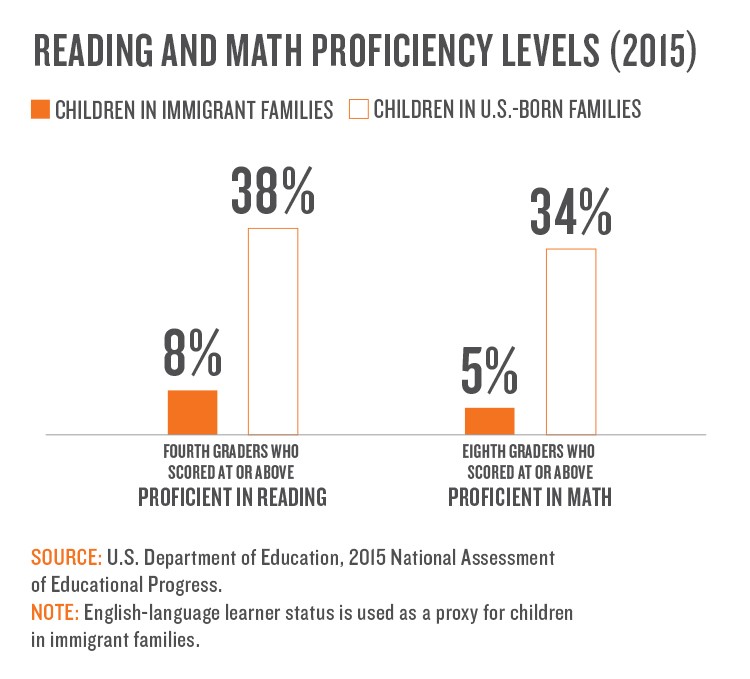 Additionally, only 70 percent of children in immigrant families live with a parent or guardian who has a high school diploma, while 91 percent of children in U.S.-born families live with a householder who has a high school diploma.
The study also found that 21 percent of parents who have children in the public school system are illegal immigrants and six percent of children in the school system are illegal immigrants, themselves. Only 48 percent of immigrant parents with children in the school system are U.S. citizens.
Jack Martin, a former U.S. diplomat, and board member of the Federation for American Immigration Reform (FAIR), wrote in a piece that a lack of assimilation in the U.S. may be to blame for poor proficiency skills of children in immigrant households.
"The result according to the report is that children of immigrants are lagging educationally, and more must be done to improve their performance," Martin wrote. "There is, of course, another way of looking at the report's findings. Excessive immigration, which diminishes assimilation, adversely burdens schools, degrades learning opportunities for other students and is a financial burden on the communities in which they reside."
Mass immigration to the U.S. has not only had depressing impacts on the country's education standards but also on English proficiency and American English as a cultural unifier.
The Center for Immigration Studies' (CIS) latest report revealed how more than 65 million residents in the U.S. spoke a foreign language at home in 2016, nearly tripling the number of foreign language-speakers in the country since 1980.
Furthermore, Breitbart News reported how amnesty for the estimated 12 to 30 million illegal aliens and continued family-based chain migration, in which new immigrants can readily bring family members to the U.S., would further diminish American English.