The federal government should provide extended protective status to 300,000 non-citizens living in the United States, says a top John Kelly-appointee at President Donald Trump's Department of Homeland Security.
The proposed temporary amnesty comes from James (Jim) D. Nealon, the assistant secretary for International Affairs in DHS's Office of Strategy, Policy, and Plans, just as top officials debate whether to end the Temporary Protected Status (TPS) designations for nationals from four Central American countries, many of whom have benefitted from status renewals for close to two decades.
They "work legally in great numbers," are "liv[ing] the American dream," and "have many thousands of American citizen children," "it makes no sense to send [citizens of Honduras, Nicaragua, and El Salvador] back to their country of origin," Nealon, a former U.S. ambassador to Honduras appointed in 2014 by then-President Barack Obama, argues in an October 31, 2017, memorandum obtained by Breitbart News.
In the memo, Nealon urges acting DHS Secretary Elaine Duke to extend these three countries' TPS designations for 18 months, speaking on behalf of foreigners in an administration that is supposedly aiming to "Buy American, Hire American".
"While TPS was always meant to be temporary," Nealon says, these non-citizens "have jobs" in America and "have a very high workforce participation rate, much higher than the national average."
As of October 2017, 6.5 million Americans are unemployed.
Nealon was appointed by former DHS Secretary and now-White House Chief of Staff General John Kelly, having served within the U.S. Southern Command as civilian deputy to then-Commander Kelly and later as then-President Barack Obama's ambassador to Honduras.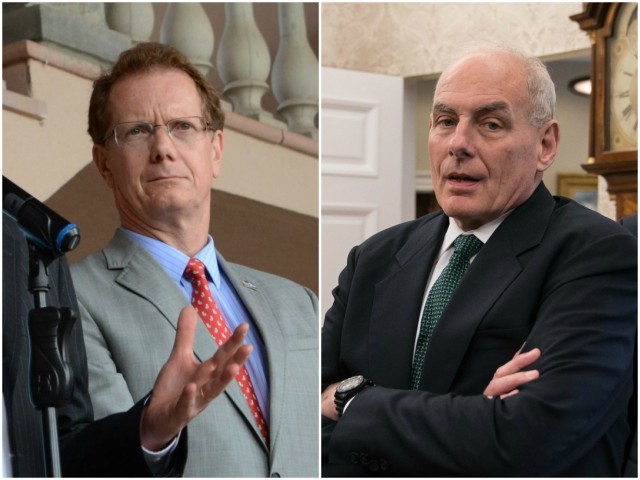 James D. Nealon (left) and White House Chief of Staff General John Kelly (Photo credit: ORLANDO SIERRA/Staff/Associated Press, NICHOLAS KAMM/AFP/Getty Images)
During his stint as DHS Secretary, Kelly granted a short-term TPS extension to Haiti despite the original reason for its designation, a 2010 earthquake, having long passed. (More than 58,000 Haitians already illegally present in the U.S. registered for TPS that year). Kelly also encouraged Congress to come up with a legislative fix to help those living in America with TPS.
Founded in 1990, the little-known TPS program was designed to grant temporary amnesty to foreigners whose home countries faced an unexpected event. The Immigration and Nationality Act (INA) gives DHS the authority to decide which countries should receive this status so long as the countries meet certain statutory requirements: an armed conflict or civil war; an environmental disaster (such as an earthquake or hurricane), or an epidemic; or "other extraordinary and temporary conditions" — that would make it unsafe for them to return home. (Living in America or having an American job do not count.)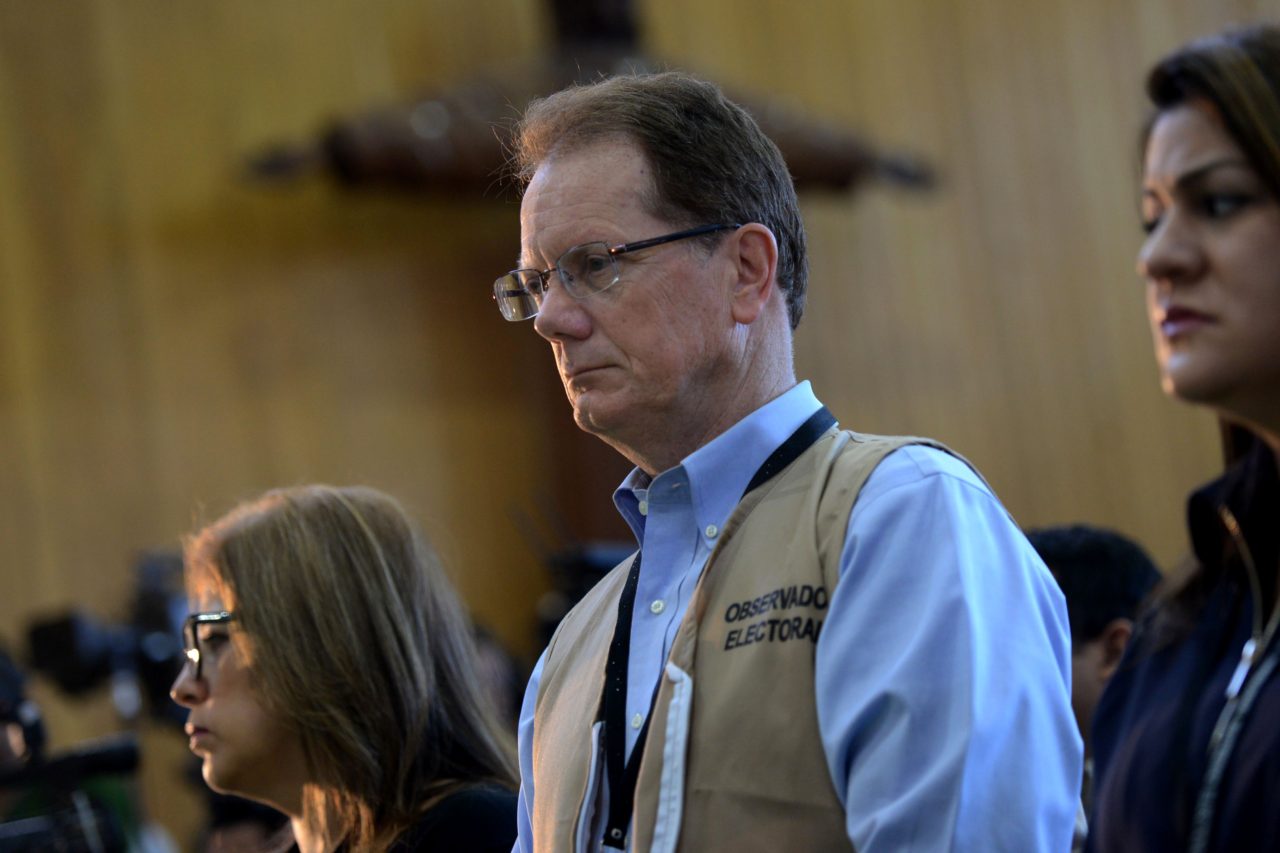 James D. Nealon (Photo Credit: ORLANDO SIERRA/AFP/Getty Images)
The acting secretary must make her decisions based on what's in the statute, and while the statute does say the secretary has limited discretion to re-designate/extend relief based on what the country in question's post-crisis conditions are like, Nealon does not cite the law or mention whether or not it is actually safe to return.
Nealon instead cites foreign-relations considerations in his emotional appeal.
For example, the influx of returnees for Nealon would put "a huge burden on employment" in home countries, something, he says, would be akin to "working against ourselves."
"The United States is currently investing approximately 700 million dollars annually in Central America, aimed at mitigating the push factors of migration," he writes in the memo:
The point of this assistance is to reduce the very high levels of violence, improve governance and weak institutions like the police and courts, and create economic opportunities such that Central Americans see their futures at home and not in the United States. Much of this assistance is aimed, directly or indirectly, at improving the ability of these countries to re-integrate their citizens. 
The U.S.'s efforts to change these, what Nealon calls, "dynamics on the ground" "have been very positive," but he warns "there is still a very long way to go."
"[T]heir economies are still not capable of creating sufficient job and opportunities for their young and growing populations. We are still years away from a Central America in which people see their futures at home and not in the United States."
Nealon's letter directly contrasts with the State Department's conclusion that protected status is no longer justified for Central Americans and Haitians and appears to show Nealon's lingering ties with the region.
DHS is expected to announce its final decisions Monday for the estimated 57,000 Hondurans and 2,500 Nicaraguans who have had protected status in the U.S. since 1998 following Earthquake Mitch and whose TPS protections expire in January.
Amanda House is Breitbart News' Deputy Political Editor. You can follow her on Twitter at @AmandaLeeHouse.