A campaign flyer circulating throughout the state of Alabama just days before Tuesday's special election for the U.S. Senate is offering money to those willing to participate in activist efforts.
The flyer, which reportedly has been on display at the courthouse in Sylacauga, AL and was featured in an NBC News article by Alex Seitz-Wald, says people who attend rallies "will be given $1-$50" and adds their time and vote "are more valuable than money."
Every citizen 18 years or older who attends the rally will be given $1-$50 to "Pay it Forward" . Your time and your vote are more valuable than money. Your vote can save the nation.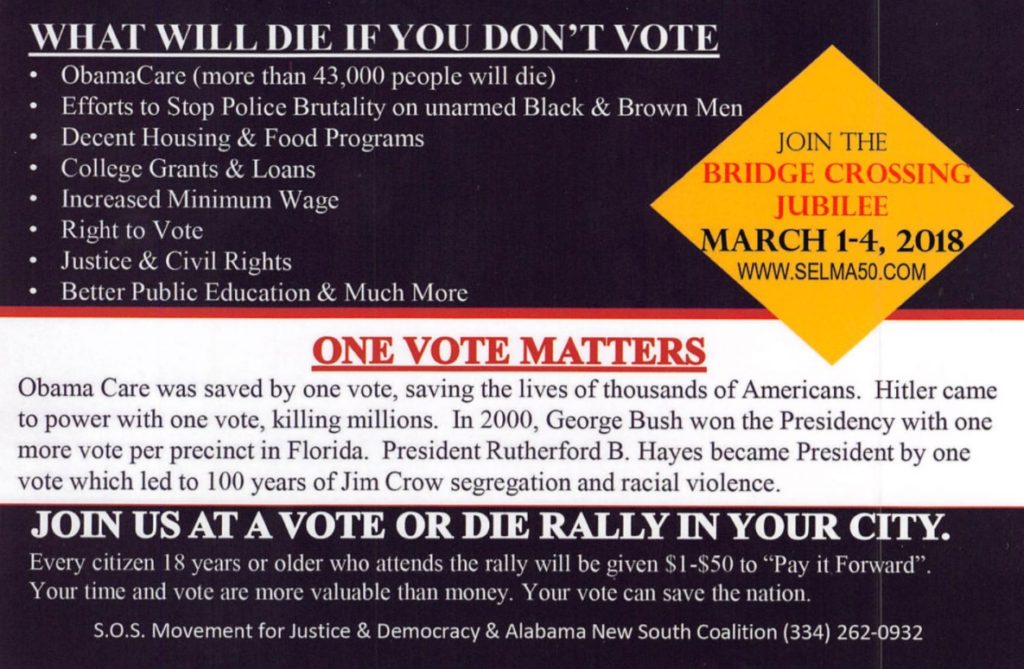 The flyer also invokes Hitler, references the 2000 presidential election, and ties former President Rutherford B. Hayes to "100 years" of racial strife in the Jim Crow South.
Obama Care was saved by one vote, saving the lives of thousands of Americans. Hitler came to power with one vote, killing millions. In 2000, George Bush won the Presidency with one more vote per precinct in Florida. President Rutherford B. Hayes became President by one vote which led to 100 years of Jim Crow segregation and racial violence.
Inscribed at the bottom are the groups apparently responsible for the flyer, the "S.O.S. Movement for Justice & Democracy & Alabama New South Coalition."
According to its website, the S.O.S. Movement for Justice & Democracy champions various left-wing causes, including the expansion of Medicaid, and organizes a weekly rally on the steps of the Alabama State Capitol in Montgomery, AL called "Truth & Justice Tuesdays."
An earlier story from AL.com's Mike Cason identifies the Alabama New South Coalition as a group founded by Democratic State Sen. Hank Sanders, a nine-term legislator who hails from Selma, AL and represents a rural portion of Alabama's Black Belt region.
Follow Jeff Poor on Twitter @jeff_poor