House Democrats are dominating in districts across the United States that are heavily populated with foreign-born residents, a new report reveals.
An analysis by Axios's Chris Canipe and Andrew Witherspoon shows the overwhelming trend of foreign-born populations voting Democrats into office over Republicans.
For example, in New York's 15th District, the region goes strongly to Democrats, with a foreign-born population that is near almost 40 percent. Likewise, California's 34th District, which has a foreign-born population of 46.5 percent, is a Democrat stronghold.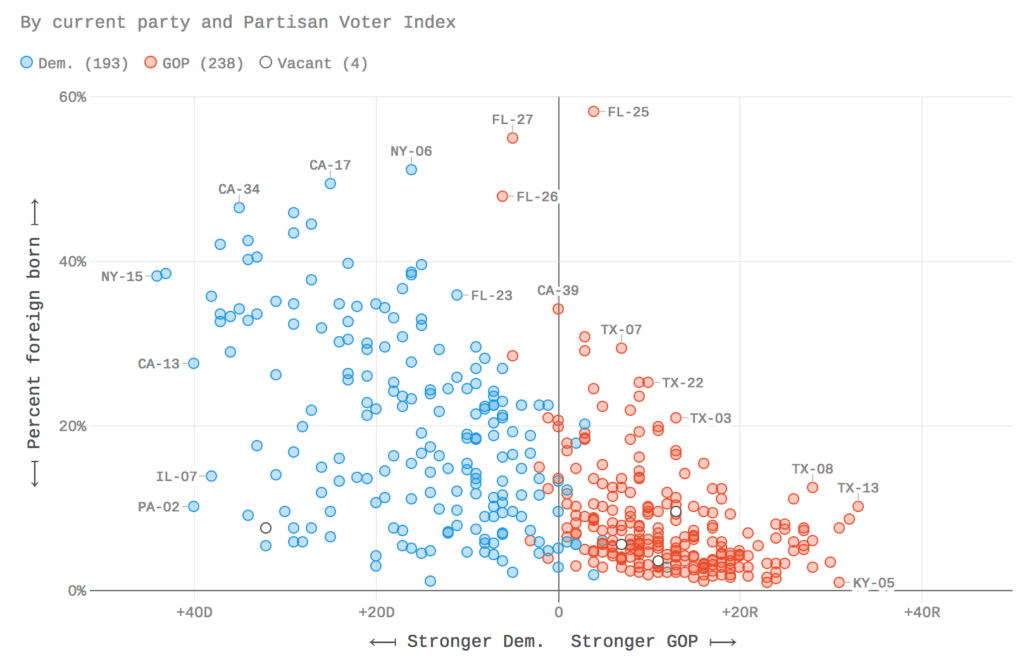 The chart's most revealing aspect is how congressional districts with a foreign-born population larger than 20 percent swing enormously for Democrats over Republicans. The research, though, does not explain why House Districts with small foreign-born populations continue to be Democratic strongholds.
Due to the process known as "chain migration," whereby newly naturalized citizens can bring an unlimited number of foreign relatives to the U.S. with them, more than nine million foreign nationals have been imported to the country since 2005.
As Breitbart News reported, if chain migration is not ended — as President Trump has demanded — the U.S. electorate will forever be changed, with between seven to eight million new foreign-born individuals being eligible to vote because of chain migration, and overall an additional 15 million new foreign-born voters.
The chain migration importation of eight million new foreign-born voters in the next two decades would be double the size of the annual number of U.S. births; about four million American babies are born every year.https://t.co/ELcnKaYcUL

— John Binder 👽 (@JxhnBinder) January 29, 2018
Democrats are expected to make enormous gains, politically, as University of Maryland, College Park researcher James Gimpel has found in recent years that more immigrants to the U.S. inevitably means more Democrat voters and thus, increasing electoral victories for the Democratic Party.
In 2014, Gimpel's research concluded with three major findings:
Immigrants, particularly Hispanics and Asians, have policy preferences when it comes to the size and scope of government that are more closely aligned with progressives than with conservatives. As a result, survey data show a two-to-one party identification with Democrats over Republicans.

By increasing income inequality and adding to the low-income population (e.g. immigrants and their minor children account for one-fourth of those in poverty and one-third of the uninsured) immigration likely makes all voters more supportive of redistributive policies championed by Democrats to support disadvantaged populations.

There is evidence that immigration may cause more Republican-oriented voters to move away from areas of high immigrant settlement leaving behind a more lopsided Democrat majority.
Democrats like former San Antonio, Texas mayor Julian Castro admit that mass immigration to the U.S. will result in Democrat dominance for generations in swing states.
The Hispanic vote in Texas will continue to increase. By 2024 Democrats can win Texas, Arizona and Florida. A big blue wall of 78 electoral votes. https://t.co/6FT0NJyjyP

— Julián Castro (@JulianCastro) January 23, 2018
Every year the U.S. admits more than 1.5 million foreign nationals, with the vast majority deriving from family-based chain migration, whereby newly naturalized citizens can bring an unlimited number of foreign relatives to the U.S. In 2016, the legal and illegal immigrant population reached a record high of 44 million. By 2023, the Center for Immigration Studies estimates that the legal and illegal immigrant population of the U.S. will make up nearly 15 percent of the entire U.S. population.
Mass legal immigration to the U.S., like Koch brothers-supported free trade agreements, has come at the expense of America's working and middle class, which has suffered from poor job growth, stagnant wages, and increased public costs to offset the importation of millions of low-skilled foreign nationals.