The pro-mass immigration GOP megadonor billionaire Koch brothers are shaping the agenda for the Republican-controlled Congress ahead of the 2018 midterm elections, thus far ditching President Trump's popular agenda of economic nationalism.
For months, the Koch brothers have urged Republicans in Congress to focus primarily on three initiatives: Touting the benefits of tax cuts, pushing an amnesty for millions of illegal aliens, and promoting prison reform legislation that would train convicts for U.S. jobs.
Tax Cuts
The Republican leadership in the House and Senate have already focused much of their attention to the already-passed tax cuts, despite likely midterm GOP voters repeatedly saying that the financial reform is not enough to bring them out to vote.
In one recent poll, reported by Breitbart News, GOP midterm voters said immigration was the second most important issue facing the nation — just after national security — while tax reform was one of the least important issues.
"47 to 40 percent of GOP voters say immigration and national security are the leading issues in their opinion… only 11 percent of GOP voters said taxes were the most important issue in the country." https://t.co/tDwI5Oc3Xr

— John Binder 👽 (@JxhnBinder) May 4, 2018
Trump, with the support of his base, has already made the midterms about immigration and trade, but the Republican establishment — with influence from the Koch brothers — have attempted to lure the president in a direction that focuses on selling the uninfluential tax cuts to voters.
As Breitbart News reported, Republican donors, super PACS, and members of the Republican leadership want to make the midterms about the tax cuts, but Trump has called the issue "boring" and has signaled that his focus will remain largely on the need to reduce immigration, a winning issue with voters.
Prison Reform
The issue of prison reform is not one synonymous with Trump's "America First" agenda. But, White House senior adviser Jared Kushner, also Ivanka Trump's husband, has used his leverage to promote a prison reform agenda that is backed by the Koch brothers.
In an op-ed in the Wall Street Journal, Kushner proclaimed that the "forgotten men and women" of America that Trump promised to prioritize on the campaign trail also "include prisoners."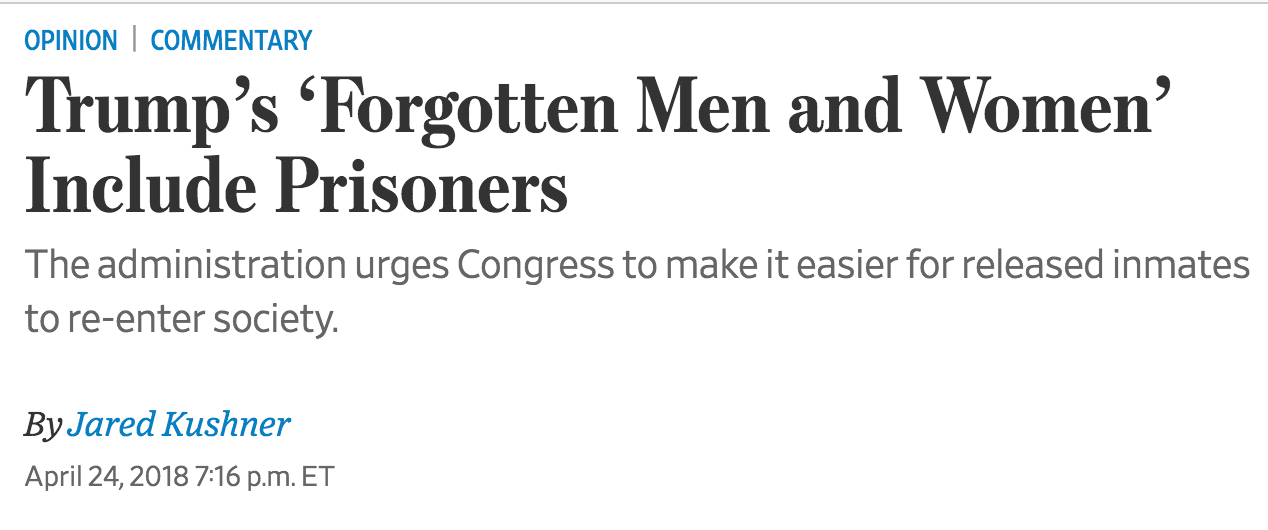 The prison reform initiative, not a priority for GOP midterm voters, would expand prison work programs that provide job training to prisoners that American taxpayers would foot the bill for. The programs are a major benefit to corporations who would see a steady stream of workers out of prisons that they do not have to train.
Kushner's interest in prison reform comes after the Koch brothers' network of organizations — like the Americans for Prosperity and Freedom Partners — have lobbied the Trump administration for months to push their prison reform plan.
Despite Trump's "Law and Order" economic nationalist agenda, Kushner and Koch-funded executives now say they have persuaded the president to back prison reform.
Koch executives, many of which have close ties to Vice President Mike Pence and Legislative Affairs Director Marc Short, held meetings at the White House with Trump officials and were able to get the administration to push lawmakers to draft legislation pushing their agenda.
Now, the prison reform effort is taking priority in the GOP Congress ahead of the midterm elections. The plan could pass the House this month, but its fate is unclear in the Senate.
DACA Amnesty
Possibly the most vital component of the Koch brothers' agenda before the midterms is forcing a vote on an amnesty for millions of illegal aliens who are eligible and enrolled in the President Obama-created Deferred Action for Childhood Arrivals (DACA) program.
The Kochs' campaign for amnesty has come in the form of a discharge petition by 15 pro-amnesty GOP lawmakers in the House, as Breitbart News reported. The group of liberal Republicans is looking to get other Republicans to sign the petition, as well as every House Democrat in order to force a vote to pass amnesty for DACA illegal aliens.
The DACA effort in the House came only a few weeks after the Koch brothers' network of organizations threatened GOP lawmakers running for re-election with donation money if they did not back an amnesty for illegal aliens, Breitbart News reported.
In a series of ad campaigns, the Koch brothers have been pushing a DACA amnesty to legalize illegal aliens, calling the DACA recipients "patriots" and "dreamers."
Despite its popularity among likely midterm voters, the Republican-controlled Congress has yet to move on Trump's plan to reduce legal immigration levels — where the U.S. admits more than 1.5 million immigrants a year — to raise the wages of America's working and middle class.
Most recent polling revealed that nearly 70 percent of GOP likely midterm voters want legal immigration reduced to anywhere between zero to 250,000 admissions a year, Breitbart News reported. Another nearly 10 percent of voters said they wanted to see legal immigration levels cut in half, to about 500,000 admissions a year.
Such reductions to immigration would have a wage-boosting impact that could likely bring out sweeping support for Trump and the Republicans in the midterm elections.
Republicans running their midterm campaigns on an "America First" economic nationalist platform have already seen massive pushback from the GOP establishment and big business lobby that are aligned on more immigration and more free trade.
For example, Christina Hagan in Ohio's 16th Congressional District ran her campaign on less immigration, less foreign intervention, and more renegotiations of job-killing trade deals like NAFTA.
The economic nationalist agenda of Hagan's campaign set off the big business lobby and Chamber of Commerce, which poured more than a million dollars in the race to defeat her and support her opponent, Anthony Gonzalez, who had the backing of the party establishment and pro-amnesty Sen. Marco Rubio (R-FL). Gonzalez previously said he has a "man crush" on "Never Trump" Sen. Ben Sasse (R-NE).
Despite Hagan's clear alliance to Trump's economic nationalism, the president did not endorse her during the primary and she was defeated by the GOP establishment and corporate lobby.
There was a similar story for the GOP primary for Ohio governor, where establishment-backed, pro-amnesty Mike DeWine beat out conservative Mary Taylor. Likewise, in Ohio's 12th Congressional District, "America First" candidate Melanie Leneghan was defeated after, like Hagan, not receiving an endorsement from Trump.
The charge for the Koch brothers' agenda has been partly spearheaded by Vice President Mike Pence who has taken a leading role on the campaign trail for the midterms.
In a multitude of cities, Pence is traveling to promote the GOP donor-approved, Koch brothers-backed tax reform as a central issue of the upcoming elections. Pence remains the highest ranking member of the Trump administration with the closest ties to the Koch brothers.