Through the twists and turns on the road to the improbable U.S.-North Korea summit, Tony Giannini, 70, never wavered in his faith that it would happen.
And perhaps he, more than anyone, has the solid evidence to prove it.
After the summit was announced in April, the 70-year-old CEO of the White House Gift Shop decided to make a coin to mark the historic event.
One side was emblazoned with the profiles of President Trump and North Korean Leader Kim Jong-un facing one another across the 38th parallel dividing the Korean Peninsula.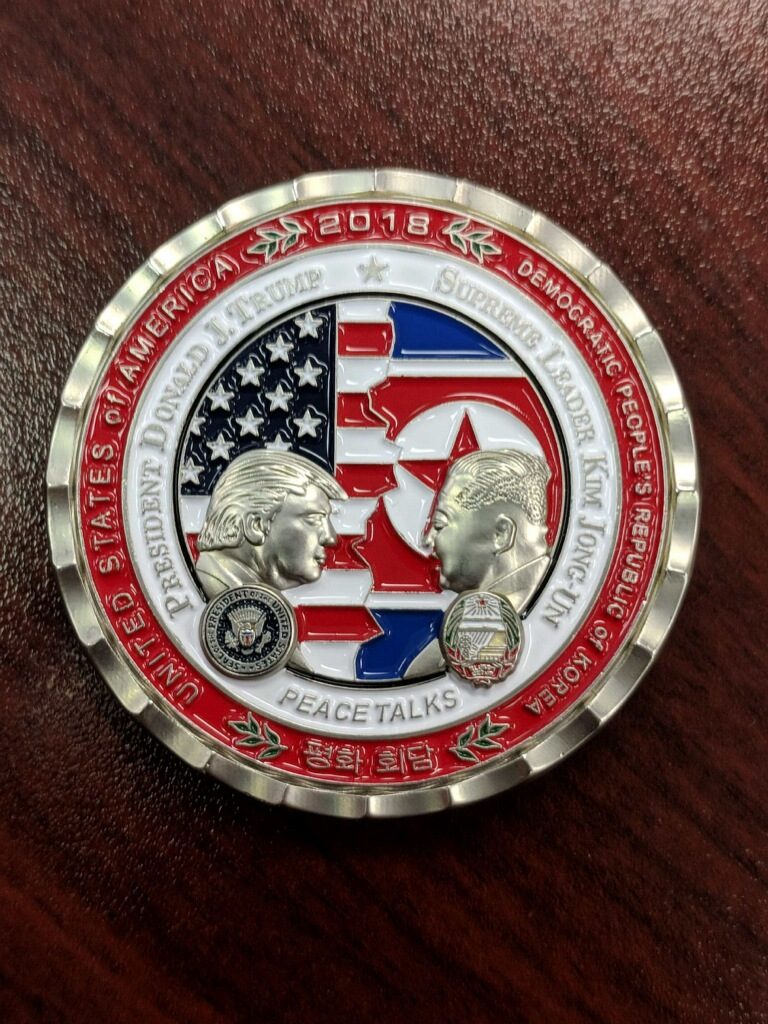 The other side featured the White House, a dove departing to Singapore, with the word "Peace" in both English and Korean.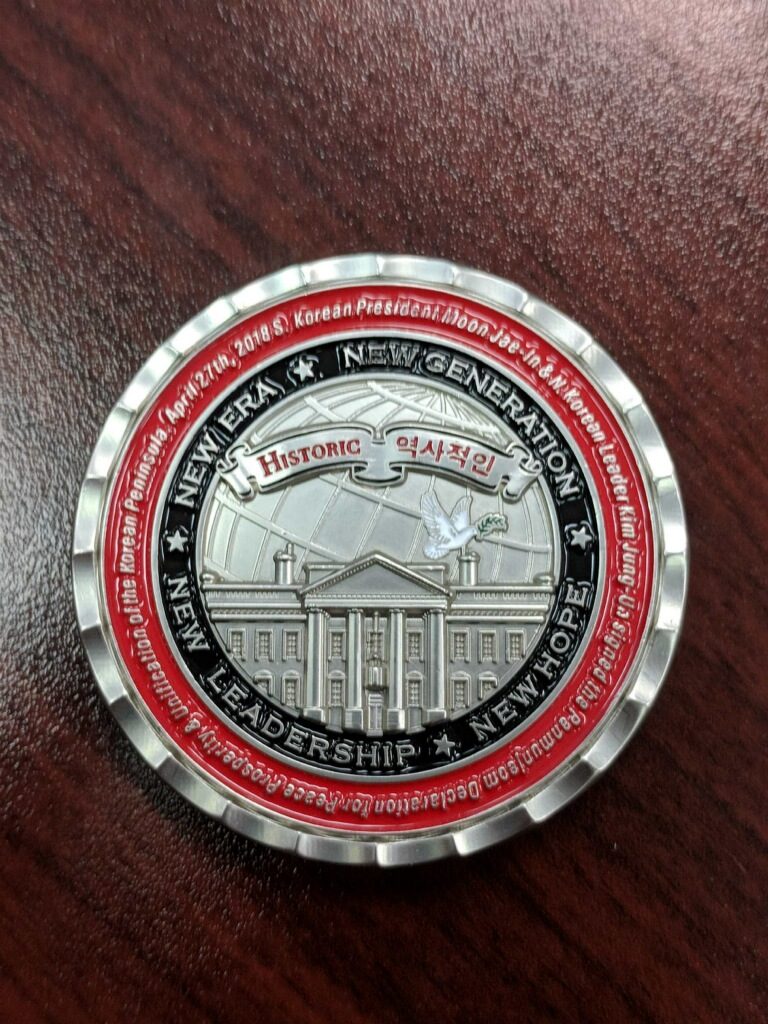 It was a silver matte embodiment of the hopes the summit represented and what it could achieve.
It irritated Trump's critics, who felt the coin bestowed the summit with an air of accomplishment even before it had taken place.
Then, it all seemed to fall apart. Trump announced on May 24 he was canceling the summit because the North Koreans seemed to get cold feet.
Suddenly, the coin turned into an emblem of Trump's failure and a subject of ridicule as dozens of news outlets and hundreds more on social media mocked the coin.
"Coming soon to eBay: Historic summit coins!!" Obama's former chief strategist David Axelrod tweeted.
Some news outlets falsely claimed the coin was now selling for a discounted price. Detractors suggested Trump had scheduled the summit so he could profit from coin sales.
Neither were actually true. Giannini said the price never changed, and the gift shop is entirely separate from the White House.
Giannini decided he would keep selling the coin, partly because he had faith it would happen but also because he heard from hundreds of people who said they wanted the coin regardless.
"I never thought about discontinuing the coin for two reasons. One, I believe our president knows exactly what he's doing and I had faith that the summit would occur," he said in an interview Monday with Breitbart News. "I always thought our president would succeed in this, at least in the effort to secure peace talks."
"So I never hesitated," he said. "To pull back the coin is not just to pull back on an object or a material thing, it was pulling back on my own belief, and that's something I don't do."
Even with the summit canceled, sales soared.
So many people were visiting the site and trying to purchase the coin that the servers crashed multiple times. Gianni said he had to bring an engineering team to his office in Lititz, Pennsylvania, and had to build new servers.
"We had millions of people coming from all over the world. And they were on the highway — they couldn't even get in to the site," he said. "We did not get one person from Iran."
Customers from South Korea were "equal" in numbers to the Americans, he said.
He recalled one day when his assistant director Rachel came to him with tears in her eyes after getting off the phone with a South Korean woman. The woman, according to Rachel, "said she absolutely loved Trump."
"The woman said, 'We love President Trump. We love what he's doing for our country. We love what he's doing for us. He actually cares about our future. No one knows the fear we live in, no one knows what it's like to go to sleep at night wondering if we're going to get attacked from North Korea. For the first time in our history, we actually think someone is going to do something about this. Please tell President Trump we love him.'"
"I started to tear up," Giannini said. "It was just so beautiful. That crystallizes what we've heard from South Korea."
Giannini is particularly interested in the peace talks because he spent a significant time of his young adulthood in Asia.
He grew up "dirt poor" in Detroit, Michigan, he said. He remembers being nine years old and having a truck from the Goodfellows Charity organization pull up in front of him and his friends, ask for him by name, and hand him a gift box for Christmas.
"It was so embarrassing," he recalled. "Inside was a pair of socks and a wallet. And I thought, what does a poor kid need with a wallet?"
He enlisted in the Air Force for money for college and served in the Vietnam War working in human intelligence. He said he enjoyed the work so much he did not want to leave. Afterward, he was assigned to Japan and loved it there too.
Later, he would graduate from the University of Detroit and Harvard. At Harvard, he studied what was then the early stages of artificial intelligence.
Eventually, through his involvement and work with the Secret Service — which used to run the White House gift shop — he got into the business of making gifts for others.
As CEO, Giannini's profits have gone to helping military and law enforcement agencies that need assistance.
Gianni said, despite his support for Trump, he and the store is not partisan. In fact, he recently designed a 2018 Christmas ornament honoring President Obama's signature domestic policy achievement of Obamacare.
"It's not at a discount — it's at full price," he joked.
He said he would like for the White House Gift Shop to be transferred over to a presidential library in the future.
But in the near future, he will have two more coins to commemorate the summit, which he describes as chapters.
The second coin will honor Trump, Kim, and South Korean President Moon Jae-in for his role in brokering the talks. The third coin has not been designed yet, but he said hopefully it would include the Nobel Prize.
Although he is only two years younger than Trump and calls himself an "old man," Giannini said  Trump brings "new thinking."
"Regardless of President Trump's age … he represents a new generation of thinking and leadership, as do the other leaders involved," he said.
"My own presumption is President Trump will succeed in his effort for peace. No one knows the outcome, but my own presumption is President Trump will succeed in his effort to denuclearize and start some wonderfully good peace discussions."
He disputes the idea that he is naive, pointing out that the 38th parallel line in the first coin symbolizes a puzzle.
"The coin itself was designed as a puzzle, a two piece puzzle. If that puzzle can come together, then there's peace. If that puzzle doesn't, then the opposite is true."
For now, he can take credit for predicting the summit would go forward.
"Criticism never bothered me. My dad was a blacksmith, and he was an honest guy, really salt-of-the-earth. But he was tough like a blacksmith in that he wasn't moved by a lot of things. He wasn't moved by people. He was calm, he was pleasant, but he knew who he was and always said, 'Do the right thing, and you'll know what the right thing is if you listen to your heart and your spirit, and you'll know what to do.'"
"So, they tell us the summit's off — no, I don't believe that. I wasn't naive, but I thought, no, I see how this president of ours operates. He knows what he's doing. I know what I'm doing. And I think this is going to work."
Giannini is making 100,000 copies of the first coin, which will stop selling July 13, 2018, at midnight.