CNN counterterrorism analyst Philip Mudd exploded at conservative CNN contributor Paris Dennard on Friday evening when Dennard made the completely factual claim that former government officials with security clearance can land top D.C. jobs.
Mudd and Dennard were debating on Anderson Cooper 360º, guest-hosted by Jim Sciutto, over the question of whether President Donald Trump had been right to revoke the security clearance of former Central Intelligence Agency director John Brennan.
Several dozen former intelligence officials have publicly opposed Trump's decision. But Brennan, who accused the president of treason last month for his press conference with Russian President Vladimir Putin, and suggested that Trump should be ousted from office, accused the president of treason again on Sunday, confirming critics who have questioned his access to state secrets.
Dennard pushed back against the claim that revoking Brennan's clearance was an attempt to stifle freedom of speech, and added:
A lot of these people that have these security clearances, and this is the secret in the swampy Washington, D.C., they have them and they keep them because it's profitable for them after they leave government, because if you a security clearance, especially high level security clearance, your contracts and consulting gig pay you a lot more money because of the access that you have. I hope the president continues to do this, and I hope he adds Omarosa to the list, because if she has a clearance, she too because of her actions should have it revoked.
Mudd was furious: "Profitable, Paris? When I am required to sit on an advisory board, let me ask you one question, how much do you think I'm paid to do that at the request of the U.S. government? Give me one answer, and you've got 10 seconds? How much?"
But Dennard had never said anything about serving on government advisory boards. When he clarified that he was talking about the private sector, Mudd retorted: "I have zero relationships with the private sector that involve my security clearance."
When Dennard persisted, saying, "If you have a security clearance and you keep it, you get more money to have it," Mudd lost his temper: "We're done. We're done. Get out!" he screamed. Dennard replied: "It's not your show. I'm staying right here."
The facts are plainly on Dennard's side. It is common knowledge in Washington, DC, that having a security clearance is a prerequisite for lucrative jobs with private companies that consult with, or compete with contracts from, the federal government.
For example, a simple keyword search for "clearance" in job listings at Lockheed Martin near Washington, DC, yields a long list of jobs that require some level of security clearance: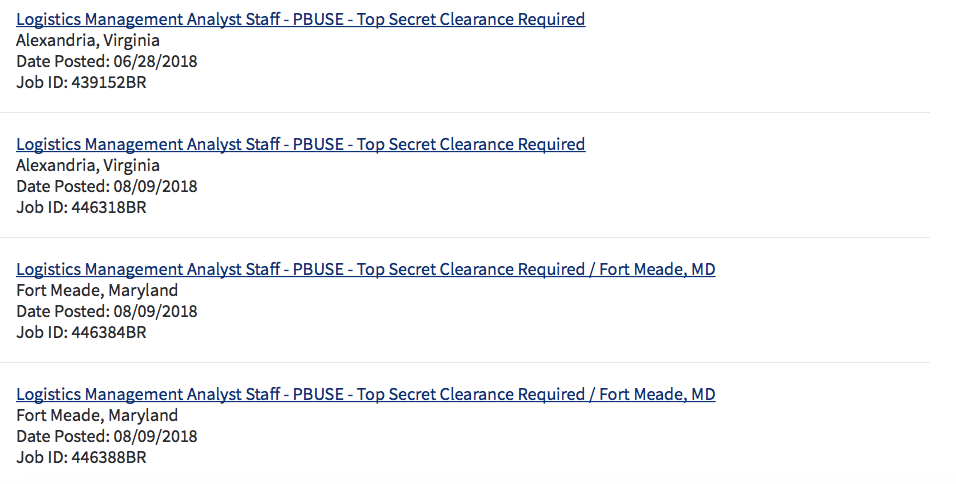 Likewise with other government contracts. Raytheon, for example, lists a senior position — NASA Coordinator Lead — that requires "TS/SCI" clearance — "top secret / sensitive compartmentalized information."
Dennard's position is so obvious as to barely require explanation, yet left-wing websites like "Raw Story" pretended that Dennard had been "destroyed."
The potential racism in a white contributor telling a black contributor to "get out" for telling the truth was somehow lost on CNN's Scuitto and on Raw Story's Dominique Jackson, whose article referred to Dennard as a "Trump-lover."
Joel B. Pollak is Senior Editor-at-Large at Breitbart News. He is a winner of the 2018 Robert Novak Journalism Alumni Fellowship. He is also the co-author of How Trump Won: The Inside Story of a Revolution, which is available from Regnery. Follow him on Twitter at @joelpollak.