Cardinal Joseph Tobin, the archbishop of Newark, New Jersey, has told priests under his leadership he has no knowledge of a "gay subculture" in his archdiocese and has instructed them not to speak to media about sexual misconduct.
"[N]o one – including the anonymous 'sources' cited in the article – has ever spoken to me about a gay subculture in the Archdiocese of Newark," Tobin reportedly wrote to priests of his diocese on August 17, according to a report by Catholic News Agency (CNA).
Tobin also reportedly encouraged the priests to refer media inquiries to the archdiocesan director of communications.
Tobin's letter to the priests was written in the wake of a CNA story revealing new allegations of sexual abuse of seminarians and priests by the former archbishop of Newark, Theodore McCarrick, and by others in ministry within the archdiocese. The story featured the reports of six priests of the Newark archdiocese, who spoke to CNA under the condition of anonymity, regarding incidents that occurred while the archdiocese was under the leadership of both McCarrick and, later, Archbishop John J. Myers.
The archbishop's letter, says the report, "specifically addressed allegations, included in CNA's report, of sexual misconduct on the part of two priests."
CNA continues:
CNA reported that, in 2014, Fr. Mark O'Malley was – according to multiple sources – removed from his position as rector of the archdiocesan college seminary, and placed on medical leave following an incident in which he was accused of hiding a camera in the bedroom of a young priest.

…

CNA also reported last week that Fr. James Weiner, currently pastor of the parish of St. Andrew's in Westwood, NJ, was under renewed investigation by archdiocesan authorities. Weiner was identified as the previously unnamed man referred to in the allegations of sexual assault made by Fr. Desmond Rossi, now a priest of the Diocese of Albany, NY.
Tobin reportedly wrote in his letter to the priests of his archdiocese that O'Malley – now serving at St. Andrew's College – "experienced a serious personal crisis" in 2014 "for which he received a psychological evaluation and subsequent therapy."
"In April 2015, he was deemed fit for priestly ministry," Tobin said. "He hopes to serve as a hospital chaplain."
Regarding Weiner, Tobin confirmed that his case had been examined by a review board in 2003 "even though it did not involve an allegation of sexual abuse of a minor."
"The cardinal also confirmed that he had ordered the matter reopened earlier this month because of 'new information and out of an abundance of caution in these most difficult times,'" reports CNA.
In a letter to his parishioners published in Sunday's bulletin, Weiner wrote he had received a notice from Tobin indicating Weiner's installation ceremony would be postponed "due to a scheduling conflict."
In his letter to the priests of his archdiocese, Tobin reportedly expressed his hope the anonymous priests interviewed by CNA were not actually priests of his archdiocese.
"However, CNA confirms that the sources for the story were priests of the Newark archdiocese, along with one priest member of a religious order," the Catholic news service reports. "The Archdiocese of Newark declined to offer comment or respond to questions from CNA regarding the letter."
At the conclusion of his letter to the priests, Tobin reportedly instructed them not to speak to the media directly.
"I repeat my willingness to meet with any brother who wishes to share his concerns regarding allegations in the press or personal experience in our local Church," he added.
In May 2017, Tobin, who was made a cardinal by Pope Francis in 2016, personally hosted an "LGBT Pilgrimage" at the Cathedral Basilica of the Sacred Heart, the seat of his archdiocese, which organized the event in conjunction with an LGBT advocacy group.
Tobin was the subject of controversy last February when he tweeted, "Supposed to be airborne in 10 minutes. Nighty-night, baby. I love you."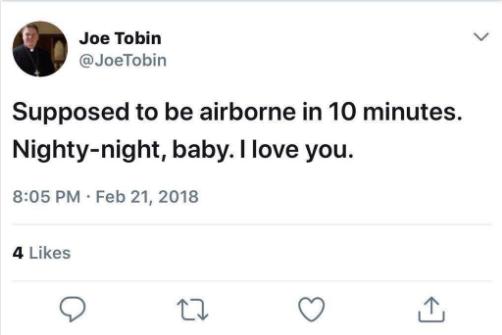 Tobin later deleted and apologized for the tweet, claiming that it was "meant as a private communication with one of my sisters."