A Gallup poll released Wednesday found President Joe Biden's approval rating sits at just 40 percent as a majority of Americans disapprove of his performance on a host of key issues. Inflation, energy policy, foreign affairs, and the economy are chief among voter concerns.
Biden assumed office with a 57 percent approval rating.
This quickly took a hit 12 months in with the president averaging 48.9 percent but shrank further (to 43 percent) shortly after the bungled withdrawal from Afghanistan in August, 2021, as Breitbart News reported.
Now Gallup shows Biden's approval continues to bump along in the low 40s and hasn't exceeded 44 percent since late 2021.
The U.S. economy is Biden's weakest issue with 32 percent approving of his ability to steer the nation in troubled economic times ahead of the 2024 U.S. presidential election.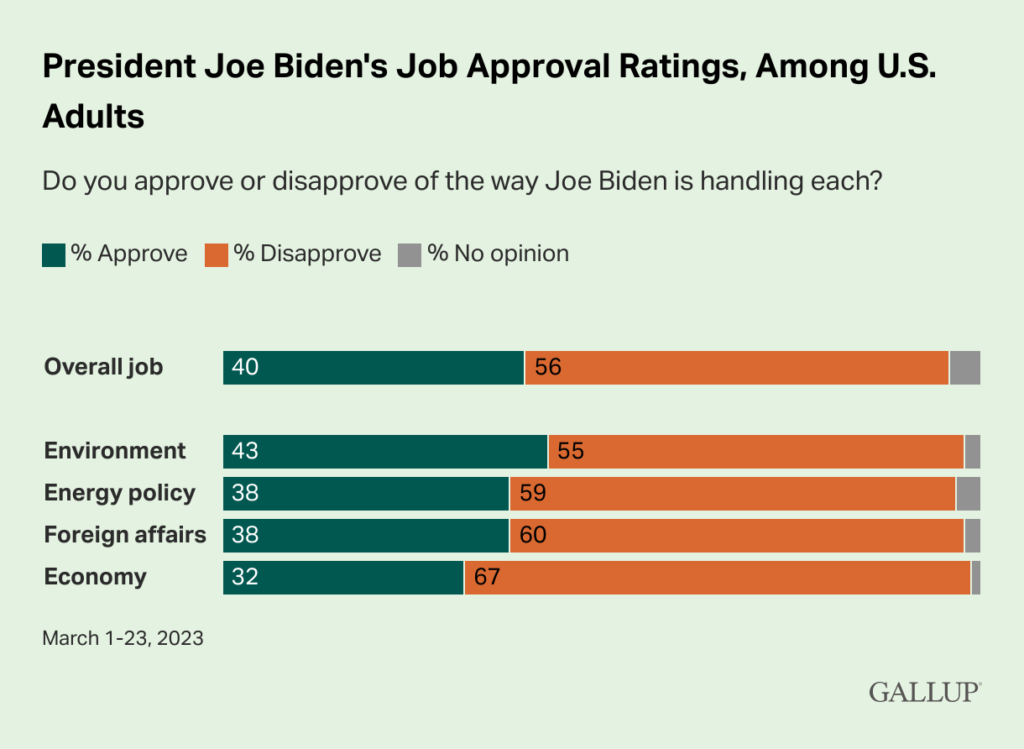 Biden's approval is sharply divided on partisan lines, with 87 percent of Democrats approving of the discharge of his duties while just three percent of Republicans said they approved. Gallup further set out:
Democrats are slightly more likely to express approval of Biden's handling of the environment and foreign affairs than of the economy and energy policy.

Republicans are nearly unanimous in their disapproval of Biden's handling of each of the four issues, with no more than 9% approving.
Biden's approval rating among independents has slumped to 35 percent after being as high as 61 percent at the beginning of his presidency. Only 26 percent of independents approved of his efforts on the economy.
The Gallup poll analysis further cited, "Low approval of Biden on the economy from both Democrats and independents explains his particularly poor performance on that issue relative to his overall job score."
Just Another Tuesday — Joe Biden Stumbles, Coughs Through Boring Speech
White House
Biden's overall job approval rating has not exceeded 44 percent since August 2021, during his first year in office.
The Gallup poll follows a Monmouth University survey published Monday that found 25 percent of Democrat respondents said they want Biden to run for reelection in 2024, while 44 percent of Democrats surveyed believe Biden should stand down.
Biden has yet to officially announce his reelection bid, but he is widely expected to seek a second term.
He said earlier this month he has "other things to finish" before making a decision on his political future.
Biden is the oldest president in U.S. history at age 80. If he runs for reelection and wins in 2024 he will be 86 by the end of his second White House term.
Results for this Gallup poll are based on telephone interviews conducted March 1-23, 2023, with a random sample of 1,009 adults, aged 18 and older, living in all 50 U.S. states and the District of Columbia.
Follow Simon Kent on Twitter:

Follow @SunSimonKent

or e-mail to: skent@breitbart.com