Breitbart Senior Editor Milo Yiannopoulos received a full-page spread in the Tallahassee Democrat newspaper this week, with the headline "Free speech may be making a comeback on campus."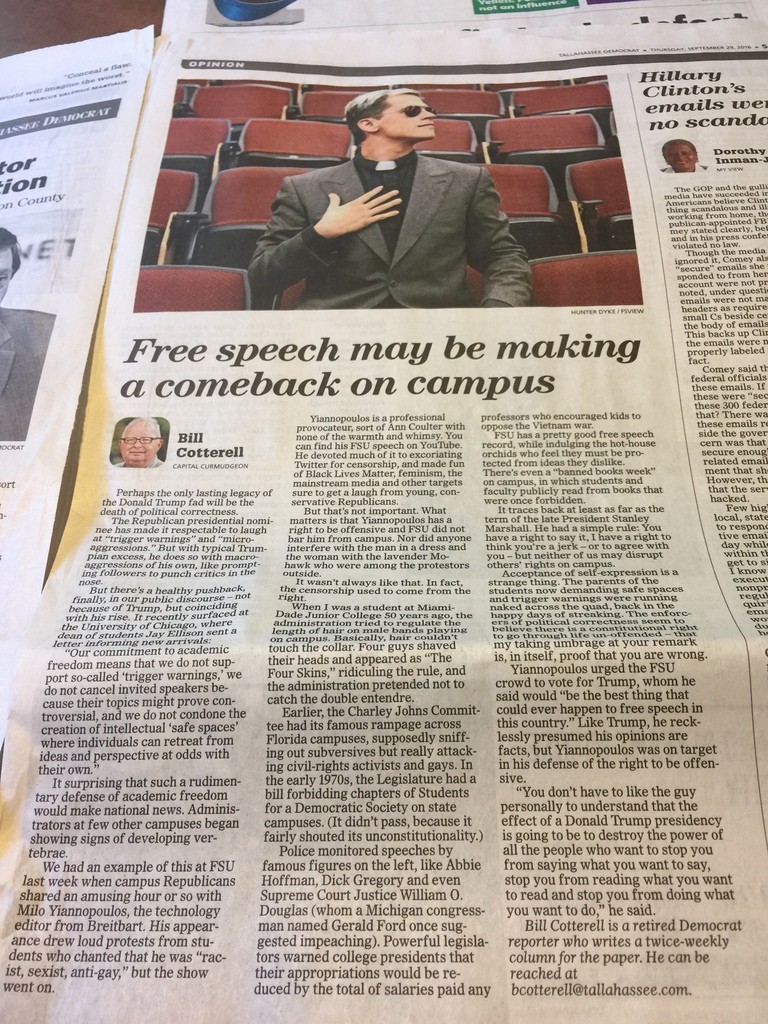 "Perhaps the only lasting legacy of the Donald Trump fad will be the death of political correctness," wrote reporter Bill Cotterell. "The Republican presidential nominee has made it respectable to laugh at 'trigger warnings' and "micro-aggressions.'"
On the topic of the recent letter from the University of Chicago that warned freshman not to expect safe spaces and trigger warnings on campus, Cotterell said, "It [sic] surprising that such a rudimentary defense of academic freedom would make national news."
"We had an example of this at FSU last week when campus Republicans shared an amusing hour or so with Milo Yiannopoulos, the technology editor from Breitbart," he continued. "His appearance drew loud protests from students who chanted that he was 'racist, sexist, anti-gay,' but the show went on."
"What matters is that Yiannopoulos has a right to be offensive and FSU did not bar him from campus," stated Cotterell. "Nor did anyone interfere with the man in a dress and the woman with the lavender Mohawk who were among the protestors [sic] outside."
Milo is currently on his Dangerous Faggot tour of college campuses around the United States.
His event at Florida Atlantic University was cancelled for Thursday night after the FBI deemed a death threat to be "credible." His upcoming event at Villanova was also cancelled after university officials couldn't handle the complaints from college leftists.
You can see the full dates of Milo's Dangerous Faggot tour here.
Charlie Nash is a reporter for Breitbart Tech. You can follow him on Twitter @MrNashington or like his page at Facebook.