Denver's Peyton Manning will try to be the first quarterback in NFL history to win a Super Bowl with two different teams and attempt to cement his legacy as one of the greatest quarterbacks to have ever played the game. 
The Seattle Seahawks will try to win the first Super Bowl in the franchise's history in a battle between the NFL's top offense (Denver) and defense (Seattle) at MetLife Stadium in New Jersey, where conditions will be much better than was expected. 
Kickoff is at 6:30 PM EST (not 7:20 PM EST) on Fox. 
"Win Forever": The Seahawks win the first Super Bowl in franchise history, 43-8.
Photo: Getty
Final Score: Seattle 43, Denver 8
Flynn: When the rules committee meets in the offseason, they should consider an NFL slaughter rule with this game serving as exhibit A. The arrival of the two-minute warning couldn't have come any sooner. The Broncos cry mercy; the viewers, more so.
Peyton Manning has a physical in March that will get much more interesting. He has said he will not argue with his doctors if they tell him it may be best for his health if he hung up his legendary cleats.
Scholla: If I would've told you before the game that Richard Lewis would make more people smile than Peyton Manning…
Scholla: This defense has done it all year and tonight was their masterpiece. Gotta give MVP to a defensive player a la Richard Dent, Ray Lewis.
Richard Sherman gets carted off — this is his contract year. He reportedly has an ankle injury and is "doubtful."
Flynn: It will be interesting to see the blowout's effect on ratings. Super Bowl 48 seemed a perfect storm to challenge for a Nielsen record. It had the novelty northern city gimmick going for it. The teams–the NFL's best defense versus the NFL's best offense–seemed cut from central casting. So, too, did the stars–Richard Sherman, Peyton Manning, etc. But the game didn't cooperate.
photo: Getty
Seattle 43: Denver 8
Russell Wilson to Stanford alum Doug Baldwin for the touchdown. 
Scholla: Malcolm Smith deserves MVP consideration. Wilson's gonna get it but on a team known for D…it'd be nice.
Seattle 36, Denver 8
Denver finally gets on the board. And converts the two-point conversion. They are going to need some defensive touchdowns and freak plays to make the game even remotely interesting.
Flynn: It turns out that the best defense isn't a good offense. It's a good defense. As the 3rd quarter approaches its end, Seattle leads 36-0. They are shutting out the highest scoring offense in the history of the NFL. Three teams beat Denver this year. The Broncos scored more than thirty in two of those games and twenty in their loss against San Diego. What the Seahawks are doing on defense is amazing. Shutting out any team in the modern NFL is rare. Shutting out a team like the Broncos is truly special.
C. Edmund Wright: Is it illegal for Denver to put John Elway in the game?
C. Edmund Wright: Russell Wilson threw two consecutive passes on that drive that apparently are throws that Peyton Manning is no longer able to make.
Scholla: This is making Reagan-Mondale look competitive.
Budweiser's Tribute to the Troops:
Seattle 36, Denver 0.
Jermaine Kearse scores a touchdown; Denver looked like they've stopped trying. 
The Super Bowl Feed in Southern California on Time Warner Cable is reportedly down.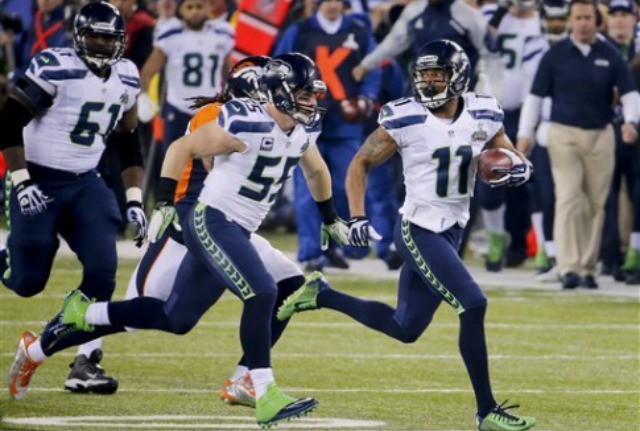 C. Edmund Wright: This has to be the greatest Super Bowl irony of all: Tim Tebow actually has a better Super Bowl appearance than Peyton Manning
Scholla: Good for Tebow. Smiling and having fun in the faces of his detractors. Very Palinesque.
Scholla: Two years in a row the second half kick goes to the house!
Boom: Seattle 29, Denver 0:
Percy Harvin Returns the Kickoff 87 Yards for a Touchdown.
HALFTIME: SEATTLE 22, DENVER 0
Seattle gets the ball to start the second half. 
Flynn: Bruno Mars is spectacular. The Super Bowl has too often gone with safe acts well past their sell-by date. Here, the game makes a star rather than catches a ride on an established star. He's Michael Jackson with Johnny Mathis's hair
Scholla: There has never been a shutout in SB history. Only once did a team fail to score a touchdown.
Scholla: That was very impressive, Seattle. Perhaps the best all-around first half in Super Bowl history.
Flynn: Bad decision by John Fox to go for it on fourth down with no points on the board. Why not get over the goose egg and put up an easy three points? The Patriots came back after a 24-point deficit against the Broncos. Their offense can surely score 19 in the second half–that's about what they averaged a half this year. They needed to transcend the psychological barrier of not scoring. Instead, Denver goes into the locker room on a dispiriting note.
Scholla: It's hard to go through reads when Sherman takes away a huge chunk of the field.
Scholla: Can I get an APB on Wes Welker?
C. Edmund Wright: I remember when Coca-Cola was an American company. The good old days.
Scholla: Imagine being the poor soul that has to sit by Goodell? Hi commissioner, you are doing an exceptional job ruining our game.
Scholla: Broncos are wishing they could start this all over. It is Groundhog Day after all.
Scholla: Imagine all the legal pot that will be smoked in Colorado and Washington tonight.
Flynn: Denver's performance–two interceptions, one fumble (recovered)–recalls the team's play at Super Bowl XII. In 1978, the Cowboys forced eight Bronco turnovers. The game ranks as one of the sloppiest Super Bowls ever played. Denver is playing like it's 1978.
Scholla: Talk about back to back weeks having huge picks. Malcolm Smith!
C. Edmund Wright: If  Dandy Don and the old Monday night football crew were doing this game… It would be singing "turn out the lights… The parties over…"
Manning's expression on his face after that interception looked just like the Bronco on his helmet.
Seahawks 22, Denver 0: Malcolm Smith Takes a Peyton Manning Interception to the House. 
Seattle gets the ball to start the second half. Get ready to see plenty of Beast Mode. The Seahawks seem like an SEC team and the Broncos a Big Ten team. Broncos can't match the Seahawks' team speed up front, which is what separates the SEC from the rest of college football. 
Scholla: John Fox always reminds me of Bill Clinton with morals.
Scholla: The best possible scenario would be an extra point miss deciding things. Then Goodell would get off his weird PAT elimination crusade.
Flynn: Their first first-down of the game coming at 10:36 of the second quarter wasn't the way the Denver Broncos envisioned this game. The good news for Broncos fans is that their team possesses the highest scoring offense in the history of football. It's also a two-score game. It's a bad start. The game doesn't end for another few quarters, though.
Scholla: I love these big safties for Seattle that can hit. Reminds me of the old Broncos Smith and Braxton.
Scholla: Seattle already up 15-0. Largest deficit to ever come back from in SB history is 10.
Scholla: Tebow!  A sight for sore eyes!!!
Seahawks 15, Denver 0
Beast Mode: Marshawn Lynch lets his play do the talking. Seahawks finally find the end zone. Seattle gets the ball to start the second half. Denver needs points. 
Scholla: Funny commercial for Radio Shack with Hulk Hogan and other 80s icons. Still won't ever shop there since they frown on the words "Merry Christmas'.
Flynn: Richard Sherman said Peyton Manning throws ducks. Kam Chancellor's pick of the Denver quarterback proves this. Sherman has a big mouth. But he is often right, even about something as seemingly off-base as his criticism of one of the game's best passers. 
Zero first downs? Denver's first quarter was as bad as the Radio Shack ad was good.
End of the First Quarter: Seattle 8, Denver 0.
Peyton Manning flushed out of the pocket — and he is intercepted. Credit Kam Chancellor's interception to Cliff Avril's pressure. Sherman, while complimenting Peyton Manning as the best player in the game, said he threw some "ducks," but acknowledged that those "ducks" always found their receivers. Fran Tarkenton, on Fox News' Hannity, also said Manning throws some "ducks." 
Seattle 8, Denver 0: Pete Carroll is taking the points though you know he feels his team should have scored at least one touchdown. Seattle is dominating in time of possession and yards and only up one possession. But points are points, and Carroll is taking them. 
C. Edmund Wright: They should have declined that penalty. John Fox made some bad decisions when he coached the Panthers Super Bowl.
Scholla: I wish both of these teams wore their old 80s uniforms.
Flynn: Legion of Boom is right. Cam Chancellor's hit on Demaryius Thomas exemplifies the hard-nosed nature of Seattle's defense. Seattle's defense starting the game with a safety and a 3-and-out is about as good as could have hoped. Keeping the ball out of Peyton Manning's hands is the only way to beat Peyton Manning. Remember: Seattle starts the second half with the ball. Denver needs to regroup.
C. Edmund Wright: Wonder if anyone in a betting pool has the numbers five and zero for the first quarter tally.
Flynn: 5-0? Is this a Mariners-Rockies game?
Wonder if there's ever been a late hit on touchback in Super Bowl history.
Seattle 5, Denver 0: Seattle Gets a Field Goal After Getting a Safety
Steven Hauschka's been solid all year for the Seahawks.
Scholla, CBS Sports Broadcaster: Crazy place to throw the ball, even if winds are slight. Not as harrowing as old Giants Stadium but still a challenge. Phil Simms has often talked about how wacky the winds can be.
Flynn: I told you so about Percy Harvin! Big thirty-yard pickup by a player described by his quarterback as "electric" this week. That's a good word to describe him.
Seattle 2, Denver 0: Seattle scores on a safety.
Manning miscommunicates with his center, who snaps it over his head while Manning was not expecting it.
Dan Flynn: Seattle's defense has scored more points than Denver's offense. Is that foreshadowing? It certainly recalls the start of the Pats-Giants II Super Bowl, when Tom Brady started off the game with an intentional grounding penalty that led to a safety.
C. Edmund Wright: The ridiculous decision to return a kick from 8 yards deep in the end zone leads to big trouble for the Broncos.
Kevin Scholla: Two other times a safety was the first score in Super Bowl, the team that gave it up lost.
Breitbart's Dan Flynn:
The obvious storyline is how Denver's high-flying passing attack fares against Seattle's shutdown secondary. Keep an eye on the reverse storyline. Percy Harvin, one of the most explosive athletes in the NFL, played on 33 offensive snaps for Seattle this season. He's healthy and ready to go. How does Denver gameplan for a guy they basically don't have any tape on? On the flipside, what about Champ Bailey? The guy has been playing in the league since the 1990s and he has yet to compete in a Super Bowl. How will he match up against Harvin, Doug Baldwin, and company? Stay tuned.
Breitbart Contributor Kevin Scholla:
Great that Namath is wearing the fur. First of all because that was his thing back in the 60s and secondly because PETA will go bananas.
The Great C. Edmund Wright:
Seeing Joe Namath in a fur coat reminds me that he did a commercial with pantyhose in the 70s.
Breitbart Sports will be providing live updates throughout the game–see below for Tony Lee's analysis.
Watch Fox Sports's Traditional Reading of the Declaration of Independence:
Breitbart's Dan Flynn:
Can the twelfth man make itself heard 3,000 miles away from Seattle? Walking twenty blocks from NFL Ground Zero at the Sheraton Times Square to Madison Square Garden yesterday, sightings–and more importantly hearings–of Seahawks fans were far more evident than sightings and hearings of Broncos fans. This may be the act-like-you've-been-there phenomenon at work. Denver fans have experienced seven previous Super Bowls. Seattle fans have experienced just one. So this may just be a bigger deal for fans of a franchise that traditionally hasn't been a very successful one.

It's 49 degrees in East Rutherford, New Jersey right now. So much for the snow bowl. The factor that I've always suspected would influence the game more than weather is time. NFL games generally run about three hours long. Last year's Super Bowl, lasted well over four hours. The marathon telecast was aided, of course, by a blackout. But when you consider a 29-minute halftime and frequent television timeouts, Peyton Manning's efforts to catch Seattle's defense off guard mentally and physically may be a taller order than usual given the many opportunities for Richard Sherman and company to catch their breath and regroup.

After talking with dozens of players this past week, I'm interested going into the game whether the contrasting approaches of both teams has any effect on the game. Both teams seem reflections of their coaches. John Fox said the Broncos were on a "business trip." They dealt with reporters as stiff–like company men with their ties wrapped to tightly. Pete Carroll made a point of saying that the Seahawks "celebrate" the "uniqueness" and "individuality" of their players. The Seahawks came off as loose. Richard Sherman sang with Michelle Williams from Destiny's Child. Doug Baldwin told me he plays video games to stay relaxed in these situations. Russell Wilson explained that he buys donuts every Wednesday for the team, so he went out in Jersey City and bought donuts for the team. The Seahawks may be too young and dumb to realize the gravity of the game, and I think that's a good thing. In talking to Wes Welker, who came out with a consolation prize in his two previous Super Bowl appearances, he looked like a man with the weight of the world on his shoulders. Does a relaxed approach to a big game work better than an all-business one? Does an attitudinal approach ultimately matter much less than game plan and skills? We'll find out the answers to such questions in a few minutes.  
Here is Tony Lee's analysis: 
Seattle Seahwaks are made up of players who collectively fit the underdog spirit of the Pacific Northwest. The team from "Southern Alaska" is composed of players who, like Carroll, who may be to the New England Patriots dynasty what Buck Showalter was the Yankees dynasty, have been undervalued, underestimated, and are making the most of their second chances.
1. Russell Wilson:
When the Seahawks picked Wilson (though he and his wife had a feeling he would end up there after he pulled the Seahawks name out of a cap before the draft) two years ago, I said that if Carroll still has "it," he would start Wilson–like he did Matt Barkley at USC when Barkley was a true freshman over Aaron Corp–over high-priced free agent Matt Flynn, whom the team had just signed from Green Bay to start.
Carroll started the quarterback, who, despite having succeeded at every level and always seeming to keep his team in every game while making clutch plays, has been underestimated because of his lack of height. 
The rest has been history. Wilson will always keep his team in the game and will always give the Seahawks a chance to win — even if they seem out of it. He has all the intangibles one cannot measure and the quarterback who is reminiscent of Fran Tarkenton always seems to make the right play at the right time.  
2. Earl Thomas
It took guts to draft someone (Earl Thomas), whose size was questioned, over a dominating and towering player he coached in college and who is from the Seattle area in Taylor Mays.
But that is what Carroll did nearly four years ago, and the move has paid incredible dividends for Seattle's defense as Thomas has emerged as one of the best–and most heady– talents in the NFL.. 
3. Marshawn Lynch
Carroll, perhaps remembering how much of a beast Lynch was at Cal when playing against his USC team, traded for Lynch when many thought his career was done in Buffalo.
Lynch, as has been said, just needed a system that focused more on "unity" rather than "uniformity," and he found that in Seattle and has thrived. 
Last decade, I heard a story about Lynch from a friend of mine who attended Cal. After a game, Lynch was running off the field and threw his gloves to a kid so he could have a souvenir. An adult in the stands intercepted the game-worn gloves meant for the kid. Lynch saw what happened, went into the stands, took the gloves back and gave it to the kid for whom they were intended. 
The media may not like him because he feels uncomfortably yapping constantly to them, but that story has always made him okay in my eyes, even when he was getting his fair share of bad press. 
4. Richard Sherman
Even when Sherman was a star wide receiver in high school and college, Carroll always thought he would be a press corner. Sure enough, fate would have it that Sherman has starred for Carroll at the position Carroll thought was his best. He also has thrived in Carroll's system that is not suffocating, and lets players be who they are while they unite as a team (see: Marshawn Lynch). Sherman versus Manning will be a treat for football purists, as Sherman is as old-school on the field during the game as he is "new school" during his post-game interviews.  
5. "Win Forever" Attitude
Seattle doesn't have Super Bowl experience, but they seem like a team that does not feel any pressure, certainly none of the pressure that Manning may feel as this may be his ultimate playoff "hero or goat" game.
X Factors: Percy Harvin (may give receivers like Doug Baldwin space and is a threat whenever he touches the football), and whether Pete Carroll takes the points. 
John Elway Brought Peyton Manning to Denver for this exact moment.
1. Peyton Manning vs. Seattle's Defensive Line
Manning's release is perhaps as quick as Kevin Durant's and the quarterback not known for his mobility may need to rely on that release against an aggressive Seattle front that has pressured quarterbacks all year long without blitzing. 
2. Manning's "Ducks"
Manning will not throw the types of interceptions that Colin Kaepernick did against Seattle, and those are the types of quarterbacks the Seattle secondary has had trouble with (See: Carson Palmer when is completely "on"). Manning versus the Seattle secondary is as intriguing a matchup as Manning versus a Ray Lewis-led Baltimore Ravens linebacking corps had been.
3. Denver's Crossing Routes
Denver has the combination of legitimate deep threats and receivers who can run complex pick routes and crossing patterns that can get Seattle defenders out of place. 
4. Dominique Rodgers Cromartie 
He likes to gamble (and that could cost them big), but he also makes huge plays and will again be a key component to watch as a healthy Percy Harvin will cause Denver's secondary to be mindful of more playmakers. 
5. Denver's Running Backs Can't Fumble Against an Aggressive, Ball-hawking Seattle Defense 
X Factor: Denver's Kicking Game
Seattle's returners, like outfielders known for throwing out runners at the plate, do not stand in place and catch kickoffs. They are usually near full speed when they make the catch, which allows them to accelerate through any holes that are in front of them. While Denver's record-setting kicker Matt Prater may make the difference in the game, the wind and cold air may also leave Denver's kick returners vulnerable to Seattle's dangerous special teams if Prater can't constantly kick the ball out of the end zone. 
Tony Lee's prediction: Seattle Seahawks by 8.