In the bowels of Yankee Stadium following the 1958 NFL Championship Game, victorious Baltimore Colts players glimpsed Commissioner Bert Bell weeping. After seeing "the Greatest Game Ever Played," Bert Bell's tear-stained eyes saw the future—an NFL so dominant that it could not only move out of baseball stadiums and stop stealing nicknames from MLB but eclipse the national pastime in popularity as well.
Dana White did not cry tears of joy after UFC 189. But main event victor Conor McGregor did. Whether feeling the grind of the past six months, or seeing the glory and green that awaits, the Irishman grasped the significance of the moment.
In dramatically returning from the brink of getting his face smashed into hamburger by Chad Mendes to claim victory, Conor McGregor's comeback acts as a metaphor for UFC 189. Left for dead after Jose Aldo bailed from the event on short notice following a prolonged promotional campaign, UFC 189 somehow clawed its way back to life. Call it the Comeback Card.
The pay-per-view card delivered five finishes in five fights. The main event, co-main event, and opening bout fittingly witnessed dramatic comebacks. Jeremy Stephens won with a highlight-reel flying knee as a decided underdog against Dennis Bermudez. Robbie Lawler and Rory MacDonald gave fans perhaps the greatest war in the history of the welterweight division. Fights that steal the show on any other card—think Thomas Almeida's second-round knee knockout of Brad Pickett after the Brazilian twice tasted the canvas in the first—get lost in the conversation about this card.
Neither UFC 100, which witnessed Dan Henderson's true knockout of Michael Bisping and Brock Lesnar's sadistic redemption act against Frank Mir, nor UFC 52, giving the world Matt Hughes-Frank Trigg II and Chuck Liddell putting Randy Couture to sleep, rank with UFC 189 as the best ever.
Considering Aldo's disappearing act, the unprecedented global media tour essentially promoting a later card's main event, and the debut of the much-maligned Reebok sponsorship deal, UFC 189 could have just as easily become a piñata or a punchline rather than put on a pedestal. Instead, the most hyped event in UFC history actually surpassed expectations (and elevated the inevitable Aldo-McGregor fight as a bonus). After the UFC flew the presumed main-event fighters to London, Rio, Tokyo, New York, and points beyond, an Aldo-less UFC 189 looked in danger of becoming Al Capone's vault, New Coke, Segway, Dan & Dave, or any number of other deflating pseudo-event letdowns.
It did not launch a sport the way Royce Gracie did at UFC 1 or break MMA into the mainstream as Forrest Griffin-Stephan Bonnar did on Spike TV in 2005. UFC 189 converted casual fans into diehards. It put 2014, with its cancelled and gutted pay-per views, far in the rearview mirror. It marked Conor McGregor as the wild-eyed face of the promotion. It conjoined Lawler and MacDonald as naturally as Lewis and Clark, Lennon and McCartney, and Siegfried and Roy. UFC 189 raised and identified the ceiling. Anyone watching UFC 189 not now a fan of mixed-martial arts never becomes a fan of mixed-martial arts.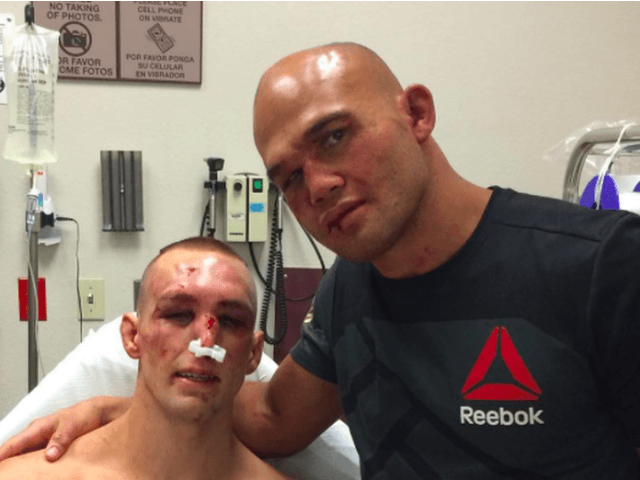 As Rory MacDonald's face suggests, mixed-martial arts is not for everybody. But it's for more people after then before Saturday. And it's Jeremy Stephens' blood and Robbie Lawler's sweat as much as King Conor's tears that expanded the audience. But the same passion and brutality that attracts also repels.
There is crying in football and there is bleeding in mixed-martial arts. That's why some people fill the seats and others stay far away from them.