BOSTON—Brook Lopez proved that size still matters in the NBA as he dominated a smaller Celtics lineup en route to a road victory for the Brooklyn Nets on Saturday afternoon.
Brooklyn jumped out to an 8-0 head start before Avery Bradley put Boston on the board almost three minutes into the first quarter with his only basket of the game. The Celtics came within two to end the quarter but giving away points at the beginning, missing a few free throws throughout, and needless technical fouls did Boston in as much as Brook Lopez.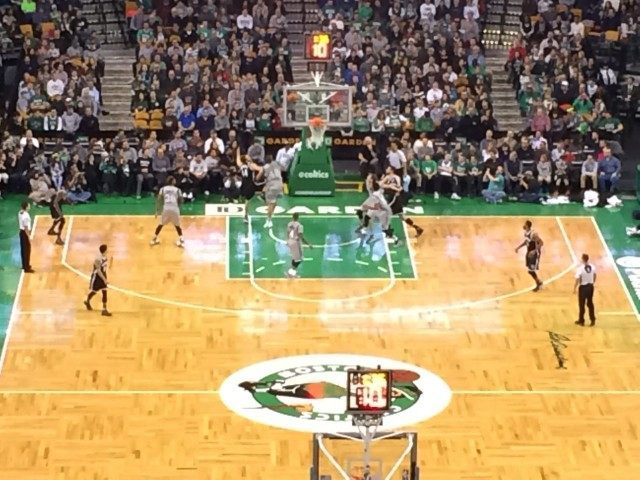 In the second quarter, a Marcus Smart flagrant foul put Wayne Ellington on the line, where he made all three shots. After three straight trips to the charity stripe in which the Celtics make one-of-two, Boston guard Isaiah Thomas, who scored 24 and dished six assists on the day, sunk two from the line and then fed David Lee, who puts an exclamation point on the home team's comeback with a dunk to go ahead 49-48. David Sloan responded with a behind-the-head layup, which elicited a Thomas layup response with two seconds remaining in the half to close Boston's deficit to one.
When the Celtics clawed back to make it close, Brook Lopez gave Brooklyn breathing room. Lopez scored 30 and grabbed 13 boards in a monster performance. But for Boston the monster looked back in the mirror. A Jared Sullinger hard foul in the third on Lopez resulted double technicals and the Nets center hitting both free throws. Thomas gave the Celtics another technical at the 2:21 mark of the third quarter.
Marcus Smart, who scored 11 and snagged three steals off the bench, provided a spark for the Celtics late but Lopez layup after Lopez layup killed the comeback, which made matters exciting in the last minute of action. Jae Crowder converted a three-point play with 39 ticks left and Evan Turner took Boston within three with 11 seconds left. But a late Lopez dunk and the failure to finish offensively what the Celtics started defensively on a key, dramatic steal allowed Brooklyn to escape the TD Garden with a 100-97 win.
The Celtics fell to 18-15 on consecutive losses to two of the worst franchises the NBA offers and the Nets improved to 10-23.