Ronda Rousey told Ellen DeGeneres she felt suicidal after her loss to Holly Holm in November. The interview marked Rousey's first on television since dropping her UFC women's bantamweight title to the Preacher's Daughter in Australia.
Rousey broke down crying on the program. "I got clipped in the first exchange," she confessed. "I was knocked out on my feet the first time I got hit." But the worst feeling came not in the octagon but in the locker room.
"I was literally sitting there and thinking about killing myself," Rousey, whose dad took his own life when she was eight, confessed, "and that exact second I'm like, 'I'm nothing. What do I do anymore? And no one gives a s— about me anymore without this.'"
That Debbie Downer of an assessment proved wrong.
Yes, Rousey returned to the United States with her face hidden by a purple pillow. Yes, she closed her blinds, slept a lot, and ate junk food. But then business picked up. The Olympic bronze medalist hosted Saturday Night Live, appeared as one of three Sports Illustrated "swimsuit issue" cover girls, and pursued several acting projects, including the Road House remake.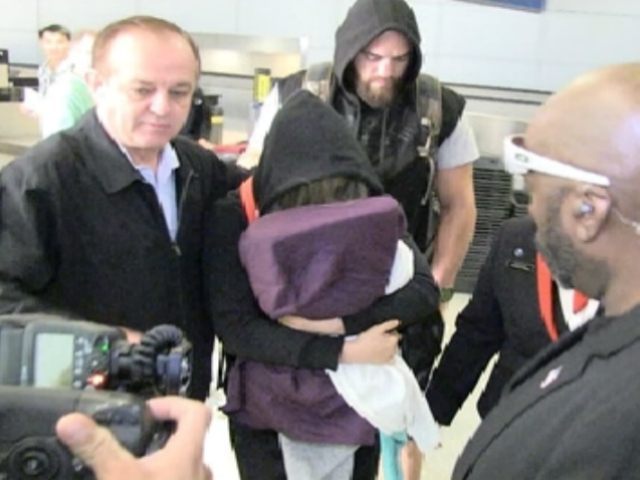 "To be honest, I looked up and I saw my man Travis was standing up there and I looked up at him and I was like, I need to have his babies," Rousey told the daytime talker in a moment when tears turned to laughter.
When Breitbart Sports asked the towering heavyweight last month about his girlfriend's loss, he declined to answer with both firmness and friendliness. When this writer rephrased as a more general question about dealing with distractions, Browne, who subsequently stopped Matt Mitrione in the third round of their January tilt, explained: "As an athlete in general you deal with distractions in different ways. For me it's going in and getting in the gym."
That's not something SNL host/movie star/cover girl Rousey has done much lately. Nevertheless, she told DeGeneres she aims to return in a rematch against the woman who kicked her into unconsciousness.