Lightweight champion Rafael Dos Anjos pulled out of his scheduled UFC 196 bout against Conor McGregor.
The Brazilian became the fourth McGregor opponent to drop out of a fight in King Conor's eight UFC bouts. Dos Anjos cites a broken foot.
UFC 196 takes place in less than two weeks on March 5. The co-main event, Holly Holm defending her women's bantamweight strap against Miesha Tate, looks strong enough to step into the feature slot should McGregor decide that moving up in weight makes little sense if not for a belt. But the weakness of the rest of the card suggests the UFC needs its cash cow on the card McGregor's history indicates he enjoys playing savior.
The cancellation puts the UFC in a bind similar to the one endured by the promotion because of Jose Aldo's pullout at UFC 189. Then, Chad Mendes substituted for Aldo in an interim featherweight championship bout against McGregor that helped make the card arguably the best in UFC history. Now, no interim title goes up for grabs in all likelihood. But again McGregor needs a marketable opponent willing to scrap on short notice.
The obvious name that comes to mind is Donald Cerrone. Cowboy, who won at 170 pounds this weekend, shows more willingness than any other mixed-martial artist in the promotion to fight on short notice. Add to this the jibes that McGregor and Cerrone threw back-and-forth in the media last year, and this fight looks like the natural one to make. As far back as January of last year, Breitbart Sports witnessed Cerrone grimacing unamused at the Irishman's antics in Boston. He clearly dislikes McGregor's act.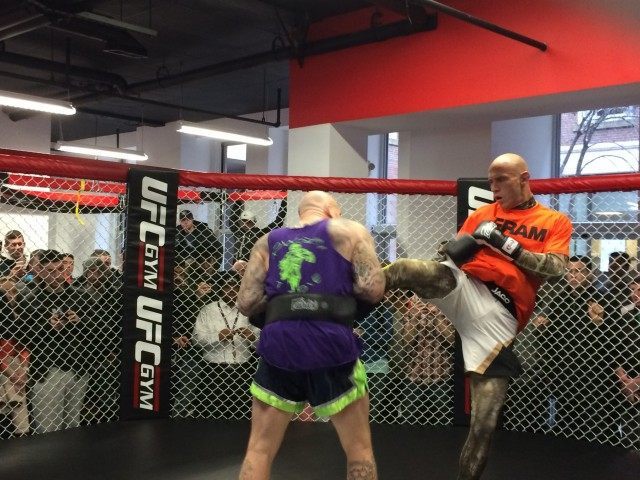 Nate Diaz, another 155-pounder owning a significant size advantage over McGregor, figures as a possible opponent because he called out the Irishman in a vulgar, memorable manner on national television in December. Anthony Pettis, coming off an Eddie Alvarez loss last month and training for an April fight against Edson Barboza, looks like another candidate. His height, frame, and reach make him more comparable to McGregor, and his unconventional striking style would likely make for an exciting fight. Making weight, always a problem in short notice fight and an increasing concern for a fighter moving up from a lower division, evaporates as an issue with Pettis.