The Denver Broncos gave President Barack Obama a jersey. Their wide receiver gave him a "thank you" note.
"We talked for a quick second," Demaryius Thomas explained. "I told him 'Thank you for what you've done for my family,' for giving my mother clemency."
President Obama last year commuted Thomas's mother's 20-year prison term for drug trafficking along with the sentences of 45 others. Katina Smith entered prison in February of 2000, after her son's 11th birthday. She watched him play football in person for the first time earlier this year when the Broncos beat the Pittsburgh Steelers in the playoffs. She watched her son win a Super Bowl from the stands of Levi's Stadium after watching him from a federal penitentiary lose the big game two years earlier.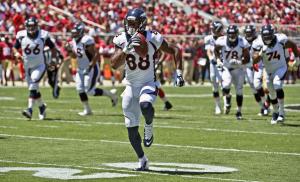 Thomas boasted 105 receptions for 1,304 yards and six touchdowns last season but made only one catch for eight yards in the Super Bowl.
Raised by an aunt and uncle, Thomas, who sports a "Jesus Saves" tattoo, credits his faith with allowing him to succeed despite so many setbacks. Every month or so he tweets, "Wanna thank God for another day."
Thomas says that in addition to speaking to the president for about 45 seconds regarding his mom's case the team delivered a letter to Obama written by the wide receiver. Thomas says Obama also discussed his grandmother, still incarcerated for distribution of crack cocaine, during their brief conversation.
"Also, he talked about my grandmother," the former All-Pro noted, "and the application to get everything done, and he's looking into that to try to help her out, as well."