Ichiro Suzuki singled and doubled on Wednesday to give him 2,979 major-league hits. That's quite a distance from Pete Rose's all-time mark of 4,256. But these 1,277 inconvenient truths didn't stop Bleacher Report from shouting "Ichiro Suzuki Passes Pete Rose for Most Career Hits" in a headline.
Whether through a multiculturalist impulse to deem all cultures, including baseball ones, equal, a cynical gambit to generate clicks and comments, or just a zeal to recognize the amazing totality of Ichiro's career, many sports writers portray the Miami Marlin outfielder as surpassing Rose. But people more fanatical about the game—fans—disagree. Just 20,037 of them showed up in San Diego for the supposedly historic event.
Various outlets combine Ichiro's numbers in Japan with his major league total. At the same time, they exclude, rightly but hypocritically, Rose's numbers in the minors. Heretofore, no American sports writers put Sadaharu Oh above Barry Bonds or Hank Aaron as the home run king. This is because nobody really thinks the level of competition in Japan equates to that in Major League Baseball. Wladimir Balentien, a guy who hit .221 and totaled 15 round trippers in three seasons in the majors, owns Japan's single season home run mark with 60. The Mendoza Line tight-rope walker couldn't really crack a starting lineup here. But boy could he crack homers over there.
Alex Ramirez played as a journeyman outfielder for the Cleveland Indians and Pittsburgh Pirates. Through parts of over three MLB seasons, he belted 12 home runs and hit .259. He goes to Japan and immediately boasts a .280 average with 29 home runs and 88 RBI. He set a since-broken single-season hits (204) record in 2007. He hit 40 or more home runs three times during his career and twice captured a divisional MVP award. Like Cheap Trick and Stan Hansen, Ramirez was big in Japan.
Mediocre MLB players can and do become legends in the Land of the Rising Sun. This is because the level of play ranks several steps down. The best players make less than $5 million a year. So, the best players generally take Horace Greeley's advice and go west (even if they go east to do so).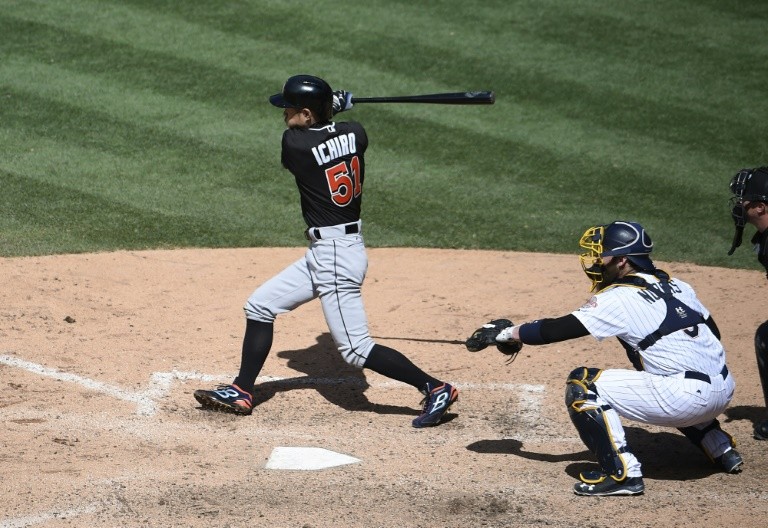 On the other hand, the best in Japan can and do become the best in MLB. Hisashi Iwakuma and Hideo Nomo own MLB no-hitters, attesting to the level of pitching Ichiro faced in Asia. And Ichiro immediately won an MVP award upon transitioning from Japan to the Seattle Mariners. In his second season, he collected 262 hits to break an 84-year-old single-season MLB record. Great rarely gets lost in translation.
Despite fewer seasons than Rose, Ichiro logged more 200-hit seasons (10) and at this point owns a better batting average. Though not stepping to the plate enough to qualify for the the NL's current batting leaders, the ageless wonder boasts a .349 average. He ran the base paths better and, dare one say, with as much hustle as Charlie Hustle. His was the superior fielder with both glove and arm. One could even make the argument that the 42-year-old still collecting hits played as the better hitter than Pete Rose. But that doesn't mean he broke Pete Rose's hits record … because he didn't.
Oh, yeah: Ichiro enters Cooperstown on the first ballot. Pete Rose goes into the Hall of Fame paying the senior-citizen discount rate of $15.
One can easily argue that had Ichiro signed with the Seattle Mariners instead of the Orix Blue Wave he might be knocking on history's door. Entering the major leagues at 27, Ichiro, like Ted Williams, missed out on prime MLB seasons in Asia. It's appropriate to ask: What might have been? To fill in the blanks with what wasn't but what we imagine could have happened amounts to the wrong kind of fantasy baseball.