CHASKA, Minn. — Ryan Moore capped off arguably the greatest day in American golf history with a two putt for par to secure the final point needed to win the 2016 Ryder Cup.
Moore's pedestrian two putt stood out in that the shots that led up to America's 17-11 point win thrilled beyond compare. From Patrick Reed's emphatic takedown of European alpha dog Rory McIlroy to Phil Mickelson's sublime play that still only earned him a tie with Sergio Garcia, constant roars came from the American fans echoing throughout Hazeltine National Golf Club.
The day got off to a rousing start as some yahoo in the crowd at the raucous first tee started a chant of "America! America!" That yahoo turned out to be Bill Murray disguised in a floppy hat. Bill always seems to be having more fun than anyone else. I asked him if he'd quickly read my screenplay and he got the joke. Murray and I walked in the first group with Reed and McIlroy and saw possibly the greatest eight holes of match play golf ever played.
On the eighth green after both players were four under McIlroy drained a 60-foot bomb that set off a full-throated celebration that included his hand to his ear telling the American hecklers, "I can't hear you!" Not to be outdone Reed dropped a 30-footer from the fringe right on top of McIlroy's ball. That was punctuated with another scream and a Mutomboesque finger wag at McIlroy as if to say not in my house. It was an exchange in the genteel sport of golf you're never likely to see again. And since it was golf, both players fist bumped to show there was no ill will.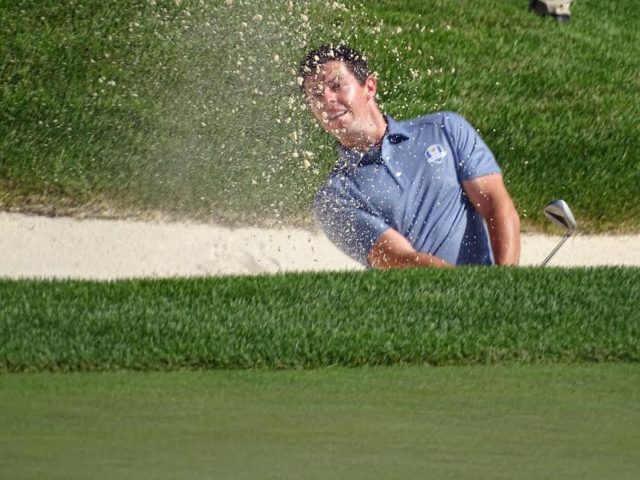 After seven birdies and an eagle over four holes, they both came back to earth. After that exchange Reed built a one up lead going into the 18th hole. Both hit titanic drives and pinpoint approach shots. Reed was first to putt and had a slippery seven foot downhiller to win the match. He drained it as everyone expected. As he celebrated madly, McIlroy, who never had the chance to sink his birdie, calmly shook hands with everyone involved before walking off the green and launching his putter at his golf bag. He had played well but came up just short against American golf's John Wayne.
A little further back on the course was the other epic match of the day between old Ryder Cup foes Phil Mickelson and Sergio Garcia. They combined to shoot 19 birdies over 18 holes. While McIlroy and Reed started out as the best match play contest ever, this contest was great throughout. They came to the par three 17th hole, all knotted up. Both hit excellent tee shots and sank their putts for birdie. That left the 18th hole to decide this crucial match.
Phil said earlier in the week that," this is the most pressure I've ever been under." That is a familiar refrain from Ryder Cup players, even ones as accomplished as Phil who owns five majors and has seen it all on a golf course. Sergio, who many consider to be the best player without a major (as he was reminded constantly by the heckling crowd at Hazeltine), also had to deal with the pressure of securing a much-needed point for Europe.
Clutch play was the order of the day though, and they both crushed tee shots down the middle. Phil hit a beautiful nine iron that flew right over the flag and landed and stopped 15 feet above the hole. Not to be outdone, Sergio knocked his approach eight feet from the pin, flag high. Two amazing shots under incredible pressure. You really have to hand it to the both of them. As Phil lined up his putt and under normal circumstances it was a putt a professional would make about 20% of the time. This was Phil in a big moment, though, and he drained it as expected. His celebration was a sight to behold as he tried to duplicate his jump into the air made famous when he won the Masters in 2004. Sergio still had his putt to tie.
This is a moment when most golfers would wilt and leave a putt short or hit it offline but Sergio calmly holed it and gave an understated fist bump. Both teams received a half point and for the Americans it was becoming clear that they were on their way to gaining back the Ryder Cup. After Rickie Fowler edged out Justin Rose on the 18th hole the wait was on to see who would secure the winning point. It was final captain's pick Ryan Moore and he left the ball in the hole for captain Davis Love to retrieve and keep as a reminder of a team that brought the Ryder Cup back to its rightful owner.