When 49ers QB Colin Kaepernick started the national anthem protest movement in late August, he did so "because I am not going to stand up to show pride in a flag for a country that oppresses black people and people of color."
He added, "there are bodies in the street." Kaepernick railed against what he feels are heavy-handed police tactics against black people.
Many wondered after these statements if Kaepernick and the others joining his protests harbored concerns with the black-on-black crime epidemic across the country. After all, the victims of these crimes would certainly qualify as "oppressed" and there are obviously many "bodies in the street" attesting to this. At the epicenter of the tragic black-on-black crime wave is Chicago. According to the Chicago Tribune, there have been 568 homicides this year, 172 more than this time last year. An African American protestor, wearing a gorilla suit and a "All Lives Matter" shirt with "Put Down the Guns" on the back, ran onto Soldier Field this weekend to bring attention to the issue.
Breitbart Sports finally got an NFL player to address the perceived double-standard of the protesting players, who blast police actions in dealing with suspects but nary a word on black-on-black crime.
Breitbart Sports asked Seattle wide receiver Doug Baldwin, after Sunday's Seahawks-Jets game, about the black-on-black crime issue. Baldwin, the son of a police officer, supports Kaepernick.
"First and foremost, it's crime – black-on-black crime, white-on-white crime, it's crime," Baldwin pointed out. "It's citizens of this country, it's crime. So first and foremost, you have to take the racist/bigotry goggles off and see that it's just crime. Second of all, it's about proximity. Blacks live near blacks, so when you have crime, it's going to be in those vicinities, just like it is with white crime, crime in general."
Baldwin, who joined the 1,000-yard receiving club last season, captured the nation's attention when he squatted down in the end zone after scoring a touchdown in Super Bowl 49 and dropped the ball between his legs. He now seeks to attract positive attention as a social-justice activist.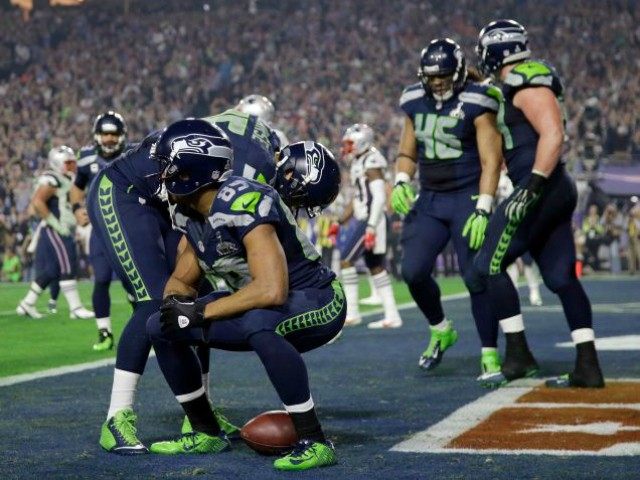 "If we are going to talk specifically about black-on-black crime, in those communities, why are those communities that way?" he asked on Sunday. "African Americans, black people, they didn't happen to grow up that way, they didn't just happen to be planted in the United States that way. One-hundred and fifty years ago, it was okay to own a slave, right? So the same reason why we see that the athletic sports are dominated by black people, so the generations of that heritage hasn't gone anywhere, you are seeing the result of the greatest athletes in the world being 150 years ago as slaves. Now you are saying you want all of this to change?
"In 150 years, it's not going to change. It's going to take time."
Baldwin took the time to meet with Seattle police officers on Monday. He leads something called the "Building Bridges Task Force" for the Seahawks. He aims for police retraining on a national basis.
He says the problems in urban communities mainly stem from external forces.
"The process isn't just saying they need to educate themselves, they need to get out of it, they need to not be entitled, which is the argument I continue to hear," Baldwin maintains. "It's not about that. It's about a process. Two-hundred-and-fifty-six years Africans were enslaved, it's only been 150 years since slavery was abolished. It's going to take some time."