Conor McGregor elicits the moniker "the Muhammad Ali of mixed-martial arts." His opponent Saturday night more obviously resembles Joe Frazier.
Sure, Eddie Alvarez neither displays a peek-a-boo style nor unleashes a murderous left hook. But he fights out of Philadelphia, embodies the city's blue-collar toughness, carries a massive chip on his shoulder, and embraces a workmanlike style that wins rather than wows. If that's not Joe Frazier, what is?
Conor McGregor can talk circles around Eddie Alvarez the way Ali flustered Frazier. He dresses better. He attracts more cameras and klieg lights. He's funnier, more charismatic, and better looking. And he employs a far flashier fight style than the Philadelphian.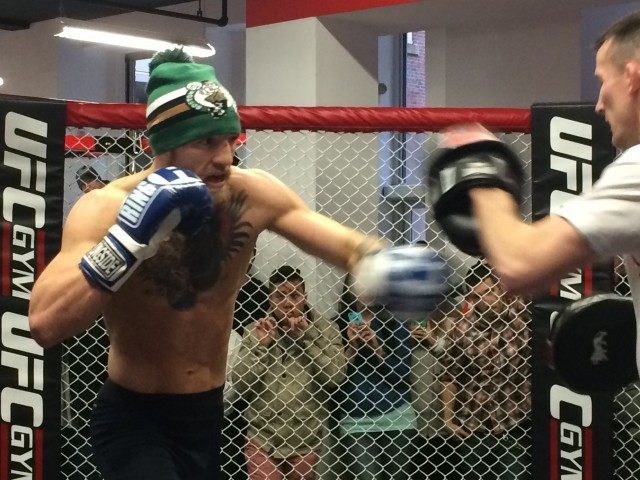 But does that give him a win Saturday night in UFC 205's main event?
Like Ali, McGregor combines power, grace, fluidity, and an unorthodox style. But after watching cageside as Eddie Alvarez dominated a fighter boasting several of the same rare weapons in his arsenal as King Conor does in Anthony Pettis, the thought of the Underground King unleashing the Kryptonite to triumph over the Irish Superman does not seem so far-fetched.
Alvarez can muscle a beautiful fighter into an ugly fight. His dirty boxing, ground game, and ability to cut off space presented problems for Pettis. It likely does so for McGregor, who, like Pettis, fights against Alvarez as the smaller, more athletic man. Like the heavyweight boxing champion born exactly forty years minus a day before him, the UFC lightweight champion possesses that all-important unmeasurable: toughness.
"When you have a lack of resources at a young age," Alvarez told Breitbart Sports earlier this year, "it teaches you to fight. It teaches you to scrape. It teaches you to deal with bad situations and turn them good. That's the way you cope."
We remember Muhammad Ali more than we remember Joe Frazier. And that means we forget what happened in their first fight. Tonight, in the very building where Frazier knocked down and bullied Ali, a gritty Philadelphian hopes history repeats itself.