To celebrate St. Patrick's Day weekend, I followed Ireland's and arguably the world's greatest golfer at the Bay Hill Classic.
Rory started Friday one over par and far back of the leader, Charley Hoffman, who sat at 10 under. Consequently, it was an earlier than usual tee time. He played with Jim Herman, a 39-year-old journeyman who had his first tour win at the Shell Houston Open last year. Rory walked up onto the first tee and shook hands with all the volunteers and scoring officials. He immediately started chatting up Herman. He's a natural conversationalist. If you're a golfer or a first baseman, it's important to always have something to talk about because there's a lot of waiting around. After the players tee off there's a mass exodus from the stands as most people are there to follow Rory's group.
First Hole- Rory makes a pedestrian par. I ran into his dad Gerry McIlroy on the first green. I met him a few times over the years at tournaments and he's one of the most affable guys around. He was so welcoming, in fact, that I had visions of him really taking a liking to me and asking if I would become Rory's business manager. That never happened sadly, but he still sort of remembers me. Maybe there' still a chance I could take over Rory's finances.
Second Hole—Rory misses the green on a tough par three and thins a chip shot 20 feet past the hole.  The ball was on a severe downhill but he still elected to chip it. I asked my buddy Gerry if he agreed with that call, and he said, "Yes, without a doubt." That's good enough for me.  All's well that ends well as he drains the putt for par.
Third Hole—Another ho-hum par for Rory. On his tee shot some idiot in the crowd yelled, "Bababooey." I made an effort to track him down and box their ears to no avail. I'm doing my part as a golf vigilante, though.
Fourth Hole—Rory is under par for the round with a great up and down for birdie. His second shot into the 561-yard hole went left into the crowd but he hit a classy chip to six feet and made the putt.
Fifth Hole—Rory hits an iron off the tee to get into position for the short par four. Nobody clapped after the shot even though it appeared perfect. If one person had started clapping then everyone else would have. It's like singing in church. This phenomenon should have a name if it doesn't already. He just misses a downhill 10-footer and makes par.
Sixth Hole—This is a beautiful par five that bends around a lake. An osprey diving into the water for fish entertains the crowd. The bird actually caught a fish and flew to a nearby tree to consume his catch. It's the Nature Channel and the Golf Channel. We are definitely getting our money's worth. Rory hits a huge drive and a monster long iron over the flag. He two putts for par and is now two under and looking sharp.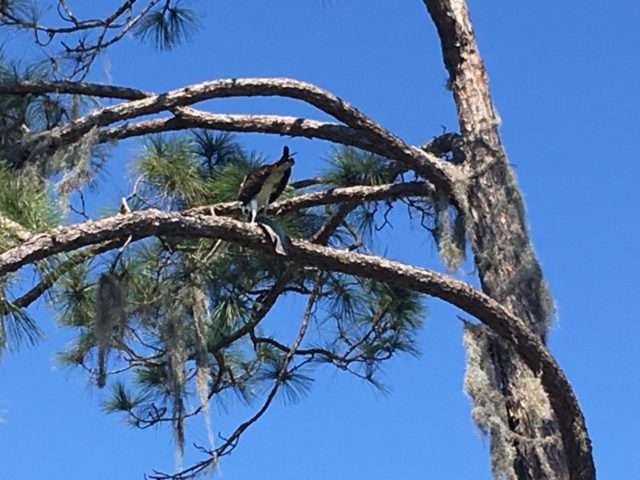 Seventh Hole—Rory hits a towering iron shot on the long par three. There is an audible gasp from the crowd as the ball reaches its apex. It's really a sight to behold and McIlroy is the only player in the world that can hit these shots. It goes 15 feet past the hole but he misses the birdie putt and makes par.
Eighth Hole—Rory gets another birdie chance on the tough par four. I approach Gerry, and say, "How about he makes this and shoots a 65?" Gerry says, "Sounds good to me." So, he's onboard. He misses the birdie.
Ninth Hole—Another birdie putt goes begging on the tough par-four ninth. Rory is two under for the round but could easily be four or five under with the way he's striking the ball. As the crowd walks to the tenth hole, U.S. Open and Olympic gold medalist Justin Rose tries to walk the other way to the range. Pretty funny to see Rose fight the crowd while carrying a bucket of range balls. One guy nonchalantly says, "Hey Justin" and Rose, to his credit, was nice enough to smile and "Hey" back.
Tenth Hole—Rory opens the back nine with a birdie to get to three under. As he walks to the next tee an inebriated college kid yells, "Rory you have to shake my friend's hand, he has the same name as you." I ask him if his friend's name is Rory McIlroy, but, unsurprisingly, it's just the first name. Rory passes up the chance to shake his friend's hand but fist bumps with drunk college guy because his extended fist is blocking his way. Drunken college guy is a treat. He's in a good spot now; still fun and coherent. It's only noon, so I shudder to think what 5 p.m. will bring. He did tell me about how Rory's playing partner Jim Herman received sponsorship from Trump early in his playing career. Trump played a lot of golf with Herman, who served as an assistant pro at Trump's course in Bedminster, New Jersey. He saw how good Herman was and implored him to follow his dream on the PGA Tour. Trump's instincts are correct once again.  As Herman walks by drunk college guy yells out, "Herman!" and then "Trump, Trump, Trump, Trump, Trump!" Good times.
Eleventh Hole—Another birdie to get to four under for the round! We may have something brewing here. A guy had an awesome Fathead of Rory and I wanted to take a picture for the article. But every picture I took he was grabbing his girlfriend's butt. Unacceptable. What kind of a website does he think we're running around here?
Twelfth Hole–On the reachable par five, Rory's drive just trickles into the sand. Gerry says no way he can reach in two. He hits out to 85 yards. After an indifferent approach shot, he drains an 18-footer for his third birdie in a row. There's now a buzz in the air.
Thirteenth Hole—After a good drive and an excellent approach shot, Rory has 12-footer for birdie. He just misses and that is deflating. It looked like four birdies in a row. I see his lovely mom Rosie and try and worm my way into the McIlroy's good graces even more. I approach her and ask if she's Gerry's better half? She doesn't hear me and I then mumble hello. Not a good start. I ask if she is staying with Rory at his house in Jupiter, Florida. She looks at me dumbfounded as if to say, no, my son is worth over 100 million dollars, I think he can afford to buy us a house in Florida. It's looking unlikely I'll ever get control of the McIlroy fortune. She was very nice though and was happy to hear about Jim Herman's Shell Open win late in his career.
Fourteenth Hole—Tough par three and he hits a decent shot 20 feet below the pin. Putt just misses and what could have been a phenomenal round may just be a good round. I'm seeing a lot of pretty girls on the course. This is expected at PGA events. They get dolled up as well. A number of these woman are wearing high-heeled wedge shoes. They can barely stand, let alone walk around the course. Very impractical ladies. We appreciate the effort but would rather you just wore running shoes so we wouldn't have to worry about you turning an ankle.
Fifteenth Hole- Rory makes par on the difficult par 4. As he waits on the green for Herman to putt, he's looking down and fiddling with his ball. A young kid in my area jokingly asks those around him, "is he texting?" There's hope for this next generation.
Sixteenth Hole—This is an easy par five but Rory's tee shot goes well right into the high rough and on a downhill slope. It's a really difficult shot as he also faces a creek in front of the green. People in crowd think he will lay up but he chooses to go for the green. He somehow digs it out and gets it pin high but just off the green. His chip is decent but he can't make the birdie putt. Facing two very tough finishing holes it looks like he will be lucky to hold on and shoot five under.
Seventeenth Hole—On the treacherous 221-yard par three over water, Rory hits an excellent tee shot to 14 feet. He then drains the putt. The gallery is now twice as big as when he started.
Eighteenth Hole—This is the second most difficult hole on the course. Rory hits a huge drive then stuffs an approach shot to 14 feet. My prediction to Gerry of a 65 is definitely in play. Speaking of Gerry, I haven't seen him in four holes. There's a chance the whole McIlroy clan is avoiding me. Rory, with a flair for the dramatic, drains the putt to shoot 65! He vaults himself back into contention for the championship. What a great day at Bay Hill.
Check back here for Dan Redmond's recap of the final round tomorrow.