PONTE VEDRA BEACH, Fla.—TPC Sawgrass takes no prisoners as windy conditions and slick greens made for a difficult Saturday for the leaders.
Kyle Stanley and Louis Oosthuizen played well but were not able to distance themselves from the field. Stanley shot even par and will be joined by J.B. Holmes in the final pairing while Oosthuizen was one over and will play with SI Woo Kim in the penultimate pairing. The storms that were expected never showed but the wind wreaked havoc on weak iron shots and wayward drives. The earlier tee times got a raw deal as the wind for the afternoon pairings wasn't gusting quite as much. Emiliano Grillo took full advantage shooting a five under 67 to get him back into contention. Sergio Garcia, coming off his thrilling Master, kept the momentum going with a five under as well. There was also an Ian Poulter sighting as the feisty Englishman, who is trying to regain full PGA tour status, fired a one under 71 and will play with Grillo in the third to last group tomorrow.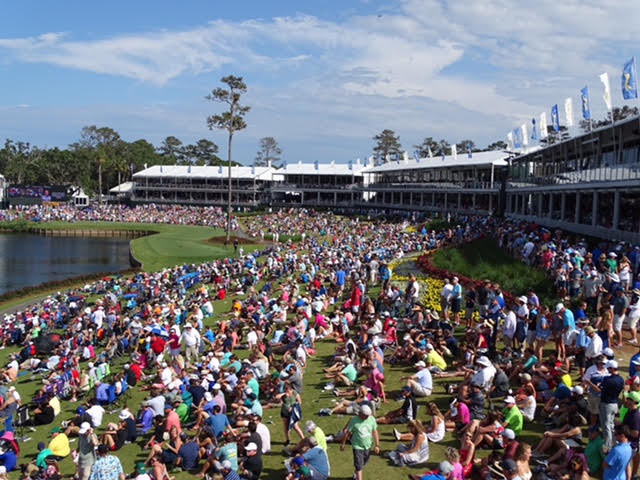 Twelve players find themselves within five shots of the lead and have a chance to capture this prestigious title.
New and notes from around the course:
1. My favorite moment of the weekend was Friday when Henrik Stenson was playing the 18th hole and his cute kids came up to say "hi" to daddy. Henrik just hit a wayward drive into the trees and wasn't in the mood to be the jovial dad. That and the fact his kids were messing around caused Henrik to yell at them to behave themselves (at least I'm assuming as it was Swedish). It was refreshing to see a frustrated dad not try and fake adoration for his kids. Golf will continue to have plenty of syrupy sweet moments when the kids run on the green as dad wins a big tournament.
2. Rickie Fowler is more popular with 12-year-old boys and girls than N'Sync ever was. Beatles level fame with that age group.
3. The crowds at Sawgrass are insane. It's like an SEC meet-up party and the girls all look the same with their "rompers" that barely cover their derrière. Fathers, it's time to set some limits on this type of clothing.
4. Kudos to the PGA for serving beer in the media center. They recognize that golf is a game and should be enjoyed with libations.
5. Adam Scott is a handsome man but he makes the strangest expressions when he walks the course. He constantly purses his lips. I think it may be to ensure that he is not just judged on his looks.
6. It can be annoying being a famous pro golfer. Following Rory McIlroy's group as he walked a rope line a bunch of kids who want to shake his hand and he has to do it or else he looks like an ass. Never mind the fact he just bogeyed the hole and is pissed. Well, he does it like a good soldier but there is a grown adult man who is at the end of the line and wants a fist bump for God's sake. So now Rory, already annoyed, has to change from regular handshake to a fist bump for this weird adult. Unacceptable behavior from anyone over the age of 12.
7. J.B. Holmes, who shares the lead only hit five fairways. Amazing scrambling ability from the Kentucky boy. If you only hit five fairways out here, you should shoot 80.
8. After Jason Day hit his approach shot on two, a fan yelled out, "It's all in the hips" We have to stop sexualizing these golfers….they are not here to be ogled.
Sunday will be a really fun day of golf. NBC's coverage starts at 2 p.m. Eastern.