Conor McGregor opened as slight favorite in a proposed boxing match between him and Oscar De La Hoya on a European betting site while an American counterpart regards the Golden Boy as the favorite.
BetDSI.eu lists McGregor at -125 and De La Hoya at +105. This means a $125 bet on the Dubliner wins $100 and a $100 bet on the Los Angelino wins $105. The Bovada puts King Conor on the board at +120 and De La Hoya at -150.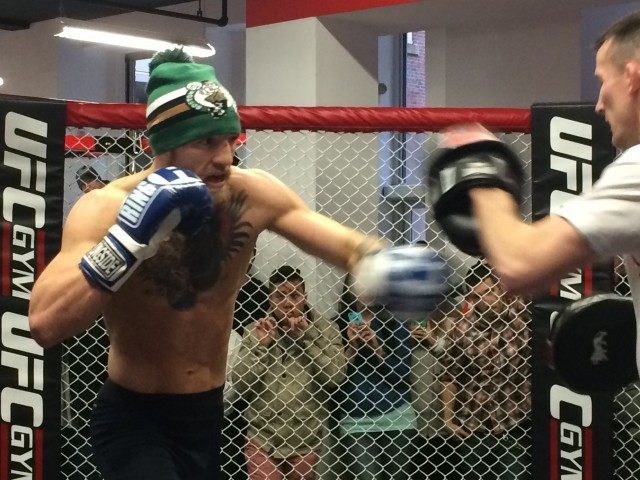 The 44-year-old former lineal champion at three separate weight classes proposed the fight on the debut broadcast of his digital radio show.
"I still have it in me," De La Hoya claimed. "I've been secretly training, secretly training. I'm faster than ever and stronger than ever. I know I can take out Conor McGregor in two rounds.
"I'll come back for that fight–two rounds. Just one more [fight], I'm calling him out. Two rounds, that's all I need. That's all I'm going to say. You heard it on Golden Boy Radio. Two rounds, that's all I need."
Earlier this year, De La Hoya ridiculed the match between Floyd Mayweather and Conor McGregor as a "circus." But it generated more than four million pay-per-view buys, which surely got the Golden Boy's attention. So, too, did the harm it did to the legitimate superfight between Saul "Canelo Alvarez and Gennady Golovkin, hyped by Golden Boy Promotions.
De La Hoya last fought nine years ago, when he looked listless against Manny Pacquiao, who consistently beat him to the punch. He has endured well-documented drug and alcohol struggles in the years since his retirement from the ring. McGregor, 15 years younger than De La Hoya, aims to return to mixed-martial arts in 2018 to defend his lightweight title, perhaps against Tony Ferguson, or maybe to fight a rubber match against Nate Diaz. But a fight against De La Hoya, the king of pay-per views prior to Floyd Mayweather, might make more sense financially for McGregor.