**UPDATE**
I'm feeling a little bit like Commissioner Gordon on the roof of the Gotham City PD building. Shortly after reporting on the mysterious labeling of reviews as "pre-release", someone has taken an economy-sized barrel of bleach to Steam's Batman: Arkham Knight page. The "pre-release review" tags have vanished into the darkness, and I'm left wondering how it all happened.
We're reaching out to Steam and Warner Bros. for comment and will keep you updated on the situation as it develops.
(The original article is below.)
Oh, look. Batman: Arkham Knight has been re-released for PC.
Wait, what?
No, it's true. After the original PC launch debacle, the floundering that ensued as they tried to repair it, and the eventual relaunch, it looks like the game is finally ready to release. Again.
You might have missed it. After all, there haven't been any new posts regarding a third launch. The only indication that Warner Bros. Interactive Entertainment considers the latest round of patching significant enough to qualify as the "this-time-it's-for-real-finished-we-promise" version of the game is the fact that just about every user review previously posted has now been tagged as a "pre-release review."
This might dismay the legions of major gaming publication reviewers, who thought they were scoring a finished product back in June. Getting them to put a retroactive beta disclaimer on all of the major gaming publications might be a little more difficult.
Was Arkham Knight actually some sort of stealth Early Access title, a la the thousands of unfinished indie games trying to make their mark on Steam's huge digital distribution platform? Or maybe, just maybe, Warner Bros. is marking all of the user reviews as pre-release because they think that consumers aren't smart enough to see where they're being manipulated.
At this point, things have gotten weird enough that I'm starting to seriously consider one particular theory: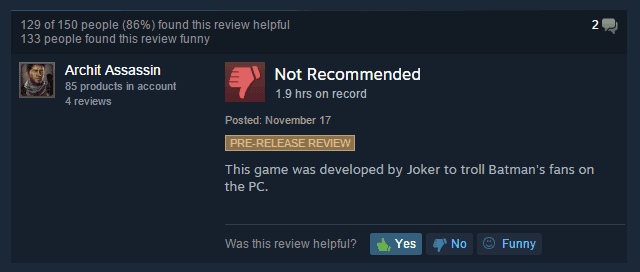 Nate Church is @Get2Church on Twitter, and he can't become a wildly overhyped internet celebrity without your help. Follow, retweet, and favorite everything he says. It's the Right Thing To Do™!