Presidential races are never short of official endorsements, but Ted Cruz has made an unexpected one. The presidential candidate has backed Applejack as his favourite character from My Little Pony, a popular animated series aimed at young girls.
The bombshell was revealed at a campaign stop in Iowa in late January, where the Republican Senator recently beat national frontrunner Donald Trump. A reporter from Ozy.com described the scene:
I've just jumped from a hay bale to the upper rung of a bleacher seat — it's the only way I can see Cruz, surrounded by fans, cameras and boom mics. Now I'm looking down, and the Texan with slicked-back hair, a rugged outdoorsman's jacket and hiking shoes is talking about ponies. "What's your favorite My Little Pony?" Cruz asks his tiny supporter, a little girl who is wearing a Rainbow Dash beanie. "Twilight," she says. "I have two daughters, and they love Twilight," Cruz says, before adding, with a grin: "My favorite, though, is Applejack. I just think she's funny." [emphasis ours]
My Little Pony, for the uninitiated, is a wildly popular children's animated series spun out of a popular 1980s toy range. The full title of the TV series is My Little Pony: Friendship is Magic. It follows the adventures and misadventures of a group of female ponies in the mythical kingdom of Equestria.
Cruz's choice of pony isn't a huge surprise, as Applejack is easily the most Texan character in the series. One of the main characters of the show, Applejack is depicted as the pony equivalent of a heartland American country girl. She works on a farm, wears a cowboy hat, and has a distinctive southern drawl. Needless to say, if Applejack could vote, she'd almost certainly be a Republican.
Cruz is not the only rightwinger who admires Applejack. Our own tech editor, Milo Yiannopoulos, has also expressed his admiration for the pony. Speaking on a YouTube stream last year, Yiannopoulos also declared that Applejack was his favorite pony. "She's the Little Miss Sunshine of My Little Pony" said Yiannopoulos, who was later pictured curled up in bed with an Applejack plushie.
I think Milo likes your gift, @Pominator pic.twitter.com/3dBHQmtmUu

— Allum Bokhari (@LibertarianBlue) September 22, 2015
Although primarily marketed to young girls, Cruz may be surprised to learn that the show also has a devoted following among adult, voting-age males. Known as "bronies," this dedicated fanbase has become a familiar sight on the web. They were so numerous on the imageboard 4chan that former admin Christopher Poole was forced to back down and grant them their own section of the website, after initial attempts to ban them failed. Now a global community, "brony conventions" can be found in virtually every major city.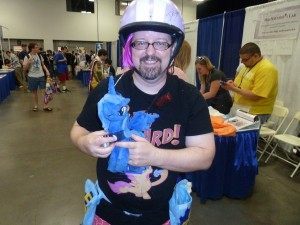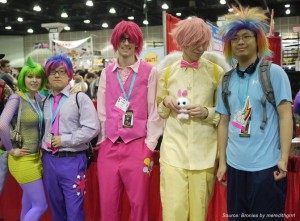 This is the strange and sprawling world that Ted Cruz has – perhaps inadvertently – stepped into. Having successfully chosen the most conservative pony, he has placed Donald Trump in a difficult position. What pony can the GOP frontrunner possibly endorse as a response? Rarity? Fluttershy? Pinkie Pie? 
Follow Allum Bokhari @LibertarianBlue on Twitter, and download Milo Alert! for Android to be kept up to date on his latest articles.