Internet humour cesspit The LAD Bible issued an apology to Prison Break star Wentworth Miller after making a meme mocking the actor's weight, which he'd put on while suffering from depression and going through a period of feeling suicidal.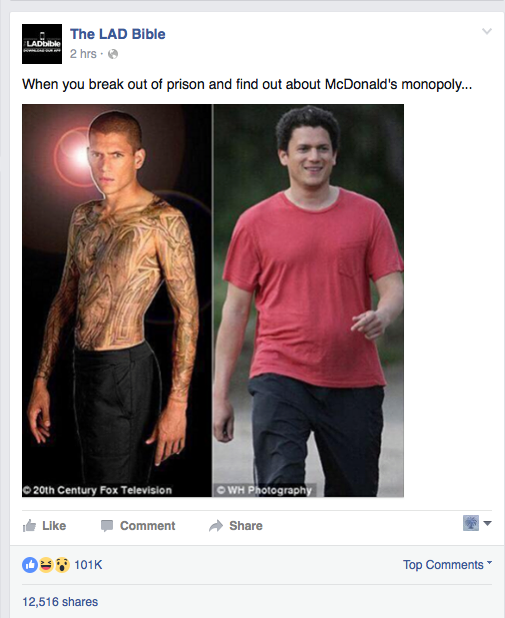 "Today I found myself the subject of an Internet meme. Not for the first time. This one, however, stands out from the rest," wrote Miller on his official Facebook page.
In 2010, semi-retired from acting, I was keeping a low-profile for a number of reasons. First and foremost, I was suicidal. This is a subject I've since written about, spoken about, shared about. But at the time I suffered in silence. As so many do. The extent of my struggle known to very, very few. Ashamed and in pain, I considered myself damaged goods. And the voices in my head urged me down the path to self-destruction. Not for the first time. I've struggled with depression since childhood. It's a battle that's cost me time, opportunities, relationships, and a thousand sleepless nights.

In 2010, at the lowest point in my adult life, I was looking everywhere for relief/comfort/distraction. And I turned to food. It could have been anything. Drugs. Alcohol. Sex. But eating became the one thing I could look forward to[…] One day, out for a hike in Los Angeles with a friend, we crossed paths with a film crew shooting a reality show. Unbeknownst to me, paparazzi were circling. They took my picture, and the photos were published alongside images of me from another time in my career. "Hunk To Chunk." "Fit To Flab." Etc.[…]

In 2010, fighting for my mental health, it was the last thing I needed[…]

The first time I saw this meme pop up in my social media feed, I have to admit, it hurt to breathe. But as with everything in life, I get to assign meaning. And the meaning I assign to this/my image is Strength. Healing. Forgiveness[…]

If you or someone you know is struggling, help is available. Reach out. Text. Send an email. Pick up the phone. Someone cares. They're waiting to hear from you. Much love. – W.M.
Miller signed the post with the hashtag "#PrisonBroken," and immediately people flocked to the actors side with kind-hearted comments of support. Writer Scott Stabile, Arrow star Stephen Amell, musician Samantha Harvey, hip hop duo Rubberbandits, and a variety of other celebrities and icons also responded to the post with sympathy.
The LAD Bible has caused controversy in the past, mainly for being accused of stealing other people's content, but they're not very well known for issuing apologies. However, due to the social media backlash in this situation, The LAD Bible decided to issue a statement.
Wentworth Miller,

We posted two pictures of you last night to our Facebook page, but today we want to say we've got this very, very wrong. Mental health is no joke or laughing matter.

We certainly didn't want to cause you pain by reminding you of such a low point in your life. Causing distress and upset to innocent or vulnerable people is simply not acceptable.

TheLADbible continues to cover how prevalent mental health issues are among our audience, as well as the damaging stigma that surrounds such matters.

We applaud your raw honesty and promise to now cover such matters in the responsible manner that our audience expects.

Responding head-on to our post is something we applaud as it will help others through similar challenges in their lives.

Once again, we got this very wrong, and we wanted to say sorry.

TheLADbible team
Charlie Nash is a frequent contributor to Breitbart Tech and former editor of the Squid Magazine. You can follow him on Twitter @MrNashington.