A group of liberal student protesters at Claremont McKenna College in Claremont, California accidentally released a list of campus minorities that they targeted for diverging from the group's political goals.
According to The Claremont Independent, the conservative student newspaper of Claremont McKenna, a student protest group accidentally leaked a document that included a list of "Shady Persons of Color" (SPOC). Just last year, the same student protesters released a list of demands that pressured the college's Dean of Students into resigning from her position.
SJWs have shady person of color (SPOC) list targeting students of color who oppose them. V honored to be Queen SPOC. pic.twitter.com/AR8rRTbiPW

— Hannah Oh (@hannahoh16) May 4, 2016
The list included several significant campus figures, such as Assistant Dean of Admissions Brandon Gonzalez, who the group referred to as "King SPOC" because of his role in a diversity initiative that the group criticized in their 2015 protests. The list also included former Claremont McKenna student and Claremont Independent Editor-in-Chief Hannah Oh.
Another minority student described as the "town drunk" by the student protesters wrote a Facebook post in response to the document in which he claimed that he has lived in "substance free housing" for his "entire college career" and that he hasn't ever been drunk. The student, Nathan Tsai, condemned the student protesters and called their behavior "shameful."
"It seems as though in this day and age, if I do not subscribe to a particular view or tactic of demonstration, I become someone who is 'ignorant' and 'shady,'" he wrote. "Someone who is not welcome to voice an opinion because it differs from their own."
In response to the leaked document, Tsai announced his plans to withdraw from Claremont McKenna "pending administration response" to the situation. Tsai contends that he does not "believe that the school administration nor student government fosters a safe environment for ALL students."
The document didn't mention Claremont Independent managing editor Jose Ruiz, but a recent Facebook post made by one of the student protesters mocked Ruiz, specifically calling him a "Shady Person of Color." After students accused the poster of harassing Ruiz, his name was removed but the post wasn't deleted.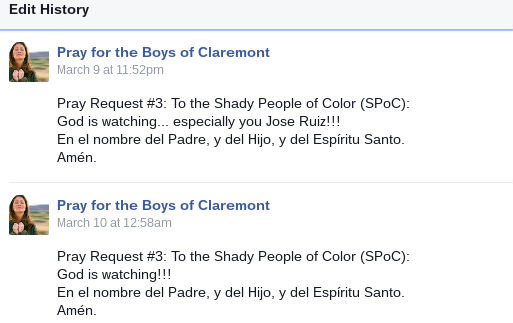 Tsai isn't the first student to leave Claremont McKenna over the community's lack of respect towards students with conservative viewpoints. In April, student Kate Hartman left the school after being harassed by her peers for posting a link to President Obama's speech about college students being "coddled." In an open letter to the school, Hartman's mother announced that her daughter would leave Claremont McKenna for a community that welcomed intellectual diversity: "The culture of inclusion has created a hostile environment for those who have a different opinion and who are not Persons of Color."
Tom Ciccotta writes about Free Speech and Intellectual Diversity for Breitbart. You can follow him on Twitter @tciccotta or on Facebook. You can email him at tciccotta@breitbart.com