In defiance of basic Hollywood economics, commentators desperate to see the success of Paul Feig's Ghostbusters (2016) reboot are trying to spin the movie as a financial success.
You might think Hollywood accounting is bad, but it has nothing on the mental gymnastics of Social Justice Accounting. An article in The Houston Press argues that because the movie has made back its production budget — its foreign and domestic box office total is currently $158 million against a $144 production budget — the film is a financial success. Take that, misogynerds!
Except Ghostbusters hasn't made $158 million — not for the studio, anyway. Cinemas typically take a cut of around 50 percent or more from ticket sales. In 2012, for example, cinema chain Regal Entertainment paid out more 51.8 percent of their box office takings to studios. By this metric, Ghostbusters has (at best) made about $80 million for Sony at the box office. That's not even close to its production budget — and it's already in its third week. That says nothing of the fact that studio executives usually place greater importance on domestic takings — especially in the case of a film that, like Ghostbusters, has performed so poorly overseas.
Then there's the marketing costs. The precise figure hasn't been released, but for Hollywood franchise films, they are typically at least over $100 million and increasingly as high as $200 million. It's also safe to say that Sony weren't exactly frugal in marketing Ghostbusters. Just look at what they put in London's Waterloo station.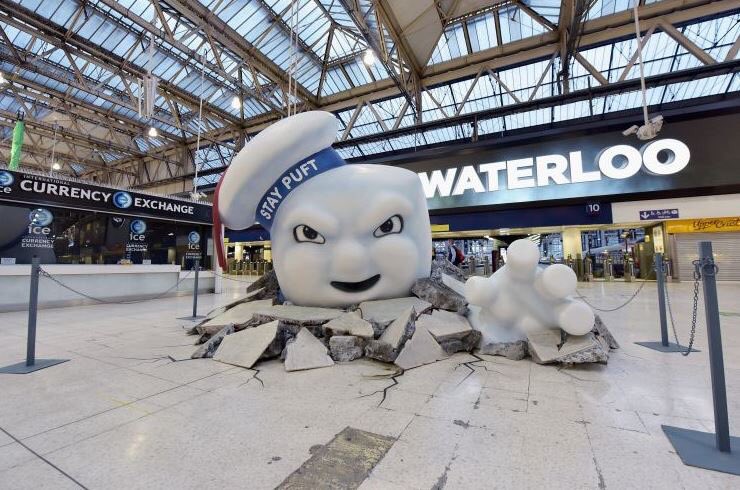 The reality of theaters taking a cut, combined with the marketing budget, is probably why Paul Feig himself said the reboot would need to make $500 million at the box office to be considered a financial success. If $80 million is a ways away from $144 million, it's several dimensions across from $500 million.
Also, Ghostbusters' box office revenue will only get worse from here. Its takings didn't just drop last weekend — they tanked 51%.  That is a clear message to theatre owners that continuing to show Ghostbusters will turn their establishments into a ghost town. They responded by cutting the number of screens showing the picture domestically by nearly 25 percent. By contrast, The Secret Life Of Pets has been out a week longer and has only lost 10 percent of screens.
The Houston Press points out that box office takings don't account for other forms of revenue, such as toys, DVDs, and download sales. This is correct. But the writer fails to mention that Ghostbusters toys were moved to the clearance aisles before the movie had even been released. Mattel says their line of toys has "exceeded expectations," but didn't say whether this had anything to do with the toys being sold at clearance prices before the movie's premiere. Given the disappointing box office returns, it's also unlikely that DVD sales will give the movie a second wind.
By Paul Feig's own standards, Ghostbusters is set to be a flop. Perhaps Feig should have considered that possibility when he decided to market the film as a referendum on whether women can be funny.
You can follow Allum Bokhari on Twitter, add him on Facebook. Email tips and suggestions to abokhari@breitbart.com.