Republican presidential nominee Donald Trump has unveiled his very own Snapchat filter for tonight's first presidential debate, which refers to his debate partner Hillary Clinton as "Crooked Hillary."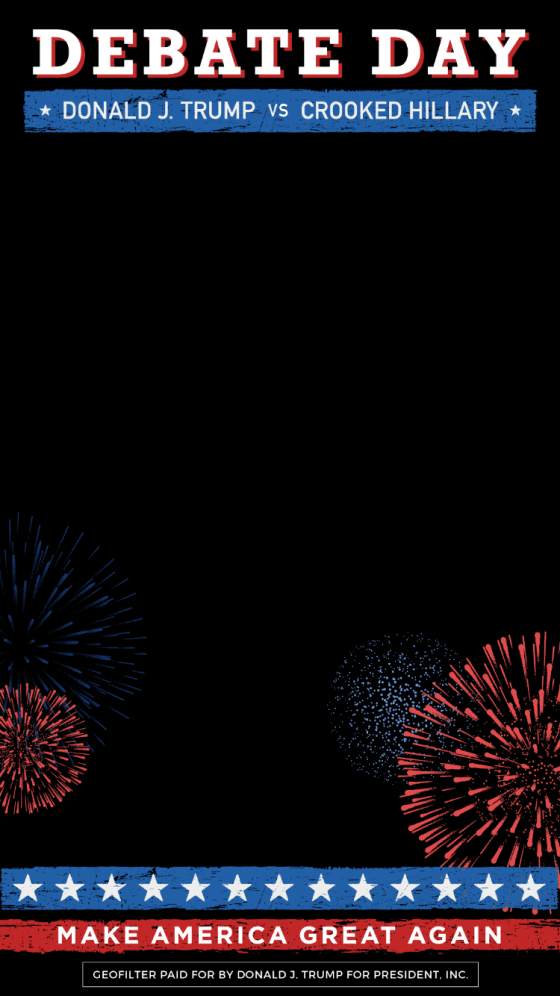 The filter, which places a frame around video content, displays the words "Debate Day, Donald J. Trump vs Hillary Clinton," and is accompanied by fireworks as well as Trump's campaign slogan, "Make America Great Again."
It has been praised as a smart move from the Trump campaign, who seek to broaden his appeal to millennials, by creating specialised content for Snapchat, a platform generally used by younger people.
Snapchat filters have previously been used by the Clinton campaign, specifically designed to target Trump voters by using a quote of his previously suggesting that Clinton would make a great president.
The first presidential debate between Donald Trump and Hillary Clinton takes place September 26 at 9pm Eastern.
You can follow Ben Kew on Facebook, on Twitter at @ben_kew, or email him at ben@yiannopoulos.net