Despite massive competition, Breitbart News was ranked #13 in the world amongst Publishers on Facebook in the latest rankings from NewsWhip, beating The Guardian, CBS, and The Hill.
The latest ranking from NewsWhip placed Breitbart News at #13 in the world amongst all other publishers on Facebook. NewsWhip ranked the top 25 publishers by the total number of Facebook engagements on stories published in July, with The Daily Mail and Bored Panda taking the top spots. Breitbart News was ranked #13, ahead of The Guardian, ESPN, CBS, and The Hill and just behind the Jeff Bezos-owned Washington Post.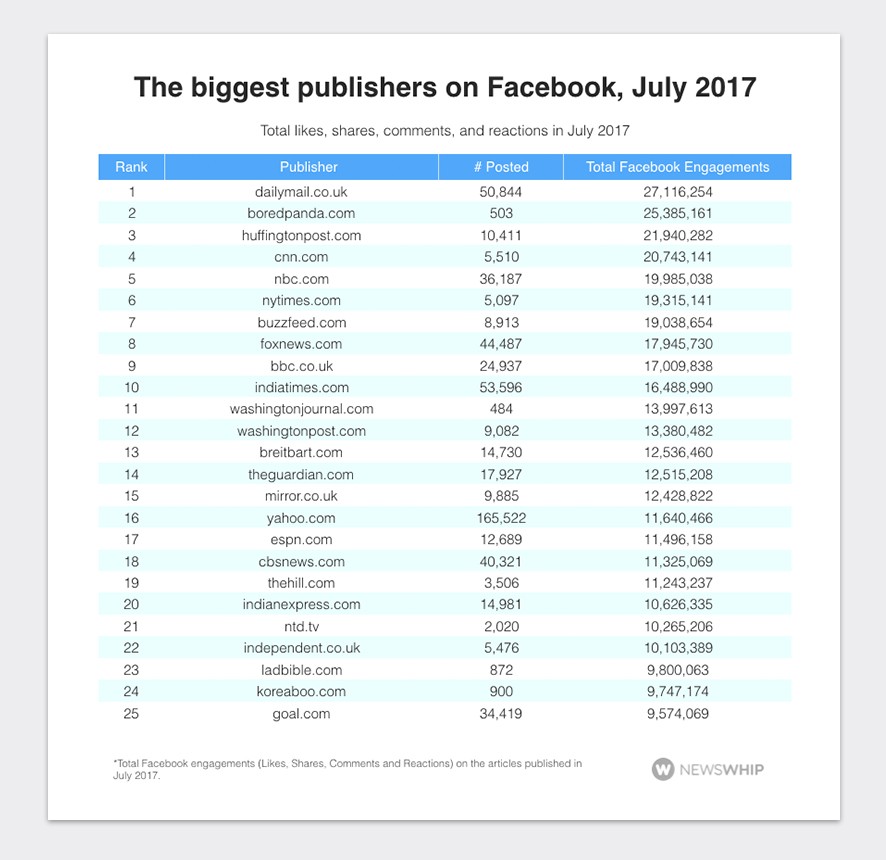 Newswhip states that engagement counts are measured by "shares from publisher pages, copy-and-paste shares, and use of social sharing buttons on the websites themselves." But Newswhip notes that the ranking doesn't include engagement on live or native videos published on the Facebook platform. Breitbart's highest ranking so far has been #12 in Facebook engagement.
Breitbart News currently boasts approximately 45 million unique visitors per month as reported in November of 2016. "Breitbart News' highly engaged community of readers seek first-in-class conservative news," said Breitbart CEO and President Larry Solov. "And that's exactly what we've given them."
Lucas Nolan is a reporter for Breitbart News covering issues of free speech and online censorship. Follow him on Twitter @LucasNolan_ or email him at lnolan@breitbart.com