Bitcoin owners and enthusiasts spent Tuesday night and Wednesday morning raging against Coinbase — one of the most popular apps for exchanging U.S dollars to blockchain-based digital currencies — after the trading platform unexpectedly began exchanging BTC's controversial rival "Bitcoin Cash," then quickly crashed as its new product became illiquid.
In case you're lost after that sentence, let us first take you through a primer on the situation:
What Is Bitcoin Cash?
Bitcoin Cash (BCH) is a "fork" of Bitcoin (BTC), essentially a carbon copy of the existing currency with distinctive structural changes — in Bitcoin Cash's case, an increase in the amount of data allowed in each "block" of recorded transactions. Bitcoin has seen many forks through its eight years, but BCH took the novel step of duplicating every user's existing balance — if you owned 3.3 Bitcoin at the time of the fork, you owned 3.3 Bitcoin and 3.3 units of Bitcoin Cash after. Some high-profile early Bitcoin advocates have switched allegiance to BCH, notably Roger Ver, the owner of Bitcoin.com, and Jihan Wu, the co-founder of Bitmain, which manufactures a large share of the devices used in Bitcoin/Litecoin/Dash/Bitcoin Cash mining.
Why Do BTC & BCH Hate Each Other?
Right now, sending Bitcoin is very slow and expensive because people are performing transactions much faster than the network can confirm them. BCH fans say that their coin can handle Bitcoin's transaction volume without high fees or long wait times because of the larger size of blocks in its blockchain. Bitcoin Cash advocates say that their coin is closer to the "original vision" of Satoshi Nakamoto, Bitcoin's pseudonymous creator, of peer-to-peer digital cash that can be used for everyday commerce like buying a cup of coffee.
NYT said it, WSJ said it, Ars says it, every academic had been calling it out. There's a big change and it's not good for Bitcoin. https://t.co/IJ5pRfwKnD

— Emin Gün Sirer (@el33th4xor) December 20, 2017
Bitcoin advocates attack BCH for what they perceive as misrepresentation — piggybacking off the popularity of BTC instead of trying to build up their project on its own merits. Ver often makes statements conflating the two projects' identities, such as: "Bitcoin Cash is the true Bitcoin." He went even farther Wednesday afternoon:
Bitcoin Cash is Bitcoin.
Bitcoin Core is not. pic.twitter.com/DAqKNKYRLr

— Roger Ver (@rogerkver) December 20, 2017
Critics believe that BCH is trying to capitalize on confusion, receiving money intended for Bitcoin; for instance,  the official Bitcoin.com mobile app creates a Bitcoin Cash wallet instead of a BTC one by default. A recent, unverified anecdote from a Bitcoin fan claims that he witnessed someone lose money trying to buy Bitcoin at an ATM,  not realizing that the wallet he created with Ver's app could not receive it.
https://twitter.com/benedictslaney/status/939142576845869062
What is Coinbase?
Coinbase is one of the biggest companies for people in the English-speaking world to convert their fiat currency into digital currency. Most "cryptocurrency" exchanges do not allow users to convert U.S. dollars, thanks to strict regulatory requirements, but Coinbase and its real-time trading platform GDAX have made the process simple enough for many users who are not technologically savvy. Until Tuesday, Coinbase only exchanged fiat currency for Bitcoin, Litecoin, and Ethereum.
Before we get further into the story, consider my biases: I am a Coinbase/GDAX user. I have converted less than $100 into the three digital currencies they sold before Tuesday: Bitcoin, Litecoin, and Ethereum. I use and have written positively about other exchanges, too, such as Uphold. I am not a Bitcoin "maximalist" — people who invest only in Bitcoin and aspire to use only Bitcoin for all of their financial transactions. I see merit in other digital currencies and decentralized apps for various uses, but I do want Bitcoin to succeed in the long term and tend to agree with Bitcoin maximalists' criticisms of Bitcoin Cash. Seeing how its big backers react to the nickname "BCash" makes me concede that it appears BCH's growth depends almost entirely on another coin's established brand name.
Why are people angry with Coinbase?
Bitcoin fans perceive Coinbase is stacking the deck against BTC so that it can boost demand for "altcoins," which it can sell more profitably while Bitcoin's mining fees are abnormally high. They cite Forbes' 2017 profile of Coinbase's CEO Brian Armstrong, which reveals that he owns more Ethereum than Bitcoin. They feel the company is dragging its feet on integrating SegWit, a code upgrade to reduce the cost and speed of BTC transactions which will also enable the use of an upcoming upgrade called Lightning.
The general reaction to Coinbase's BCH launch appears to be a widespread lack of trust and allegations of incompetence — or worse, market manipulation/crimes.
Let me get this straight:

Coinbase's main problems are keeping the exchange servers up and dealing with high BTC fees.

So instead of integrating Segwit, they add BCash and make both problems worse.

Right. Makes sense.

— Kevin Pham [BTC + SV] (@_Kevin_Pham) December 20, 2017
Is @coinbase smart enough to have timed this announcement w/ Bitcoin mining difficulty retarget period, peak mempool/tx fees right after @CMEGroup futures/bull run to maximize damage to Bitcoin (slow network+fees) to compound BCash trading gains with news cycle spin control?

— Francis Pouliot (@francispouliot_) December 20, 2017
My thoughts on today's events. pic.twitter.com/03AKYDJgMy

— James Jimmerson (@bigjim6464) December 20, 2017
"Insider Trading"
Coinbase launched its trading capability for Bitcoin Cash around 8:20 EST, with an announcement on GDAX's status page about 75 minutes beforehand. Several critics pointed out that trading volume on other exchanges — and thus the BCH price — curiously spiked in the hours before Coinbase made its announcement. That led to widespread accusations of "insider trading."
If this is not inside trading, I don't know what is!

Massive volume on #bcash hours prior to @coinbase announcement @SEC_Enforcement take notice!#Bitcoin #BTC #BCH #Crypto #hyperbitcoinization pic.twitter.com/ABKLH5DLSA

— DC ⚡️ (@bitcoinization) December 20, 2017
Very strange accumulation and pump on Bcash in the hours leading up to the @Coinbase BCH add. If I didn't know better, I'd think that was potential insider trading activity. @GDAX 'ed? #bitcoin #bcash #bch pic.twitter.com/leX8ro0MFf

— Whalepool (@whalepool) December 20, 2017
Advice to exchanges: when trying to tank #Bitcoin to pump an altcoin (eg #Bcash), at least try to look like you're not colluding or engaging in insider trading WHILE leaving a huge trail of anti-Bitcoin sentiment WHILE promoting every single contentious fork.

— Samson Mow (@Excellion) December 20, 2017
https://twitter.com/IamNomad/status/943278311509233664
https://twitter.com/TheJustinWade/status/943310988958420992
Armstrong vowed to internally investigate the matter in a blog post published mid-maelstrom: "If we find evidence of any employee or contractor violating our policies — directly or indirectly — I will not hesitate to terminate the employee immediately and take appropriate legal action," he wrote. Armstrong claimed that employees and contractors were forbidden from trading Bitcoin Cash on any exchange or disclosing the company's plans, even to "friends and family" — "over a month ago."
Yet given the semi-anonymous nature of BTC/BCH, it appears almost impossible for a private company to effectively investigate insider trading or enforce non-disclosure rules. Bitcoin exchanges without fiat support do not require identity verification, so we may never discover who acquired Bitcoin Cash right before the Coinbase launch. Bitcoin maximalists mocked Armstrong rather mercilessly for his statement.
Brian, you don't have the power to fire @rogerkver … Did HE know about the listing beforehand?! https://t.co/QuODc2lxgz

— John Carvalho (@BitcoinErrorLog) December 20, 2017
Brian, how many companies in the world that have been found guilty of fraud, market manipulation, insider trading, etc have had written policies that allowed them to do so?

— Richard Jenkins (@rjenkins_atl) December 20, 2017
A self investigation? Where have I heard this before? The responsible thing to do is announce to all in advance when trading will being instead of trying to hide information that can easily be capitalized on. @coinbase is becoming very shady, we will no longer recommend them.

— ɃitConsultants (@BitConsultants) December 20, 2017
Hey Brian, would you like to explain to the jury…https://t.co/9qtduiODXL pic.twitter.com/aQuop6HQa8

— Vortex [Still Not Giving Away ETH] (@theonevortex) December 20, 2017
— Crypto Yury [LTC] (@Zerobacan) December 20, 2017
Failure to Launch
Even as most traders were caught off guard by the launch, it seems Coinbase and GDAX were not prepared, either. The site quickly halted the ability to buy and sell BCH — after only four minutes of trading, according to GDAX's status updates.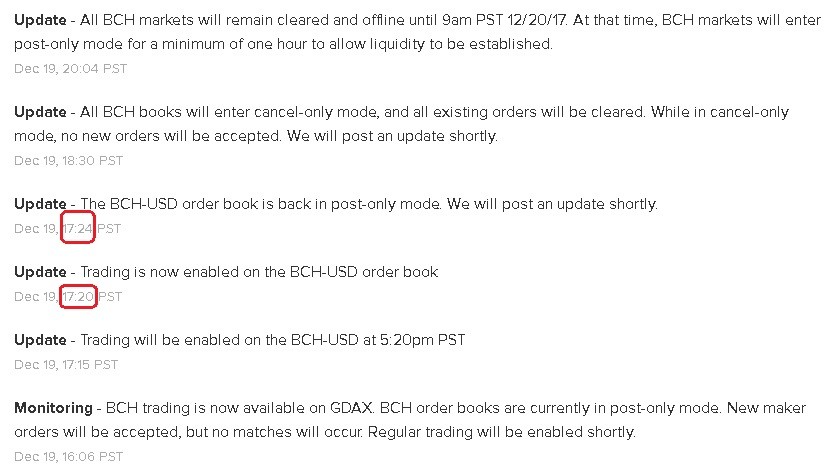 The sudden activation of BCH trades seemed to contradict multiple public statements from the company. Coinbase VP Dan Romero wrote just days before the BCH launch that "We are prioritizing security and performance over new features," promising customers that the company was more focused on integrating SegWit than adding new products to the service.
"In terms of our engineering priorities, securely storing customer funds remains our top priority," Romero said. "Our next priority is to ensure that our platform remains performant during periods of peak volume. Following security and performance, we are focused on adding new features for our customers."
Four days after publishing this blog, Coinbase launched a new feature that inarguably choked its performance.
"Surprise! We're launching a new market in 3…2…1…" pic.twitter.com/kDydHKQxDF

— Jameson Lopp (@lopp) December 20, 2017
In addition, most users expected the company to limit Bitcoin Cash functionality to withdrawals for at least a brief time period. Romero published a blog post on August 3, several days after the creation of Bitcoin Cash, promising to give users access to their forked coins by January 1, 2018. He seemed to suggest that trading support would come "at a later date" — after the creation of BCH wallets for all Coinbase users. That expectation was reinforced by a "road map" displayed on Coinbase's website just days before the launch (as seen in a December 13 archive here).
This was #Coinbase Roadmap published 4 days ago. this was totally a misleading practice. No announcement, fake roadmap. You just lost a shit ton of trust. Time to change exchanger. pic.twitter.com/6GapqvYJr1

— Andrea Disperati (@Andrea_Dispe) December 20, 2017
Don't forget they posted THiS on coinbase less then 5 days ago! Is he suggesting they didn't know about there own $BCH launch 5 days ago? pic.twitter.com/biZWouJ0jG

— SafteyFirst (@mononokeSnow) December 20, 2017
you had this plan a month ago? you launched 12 days early, changed your faq and introduced BCH trading when you specifically listed it would only be withdrawls. you want trust? lol start with doing what you say.

— BOXR`launders (@launders) December 20, 2017
Coinbase did not respond to an email from Breitbart News asking why the company launched trading with almost no advance notice — instead of first giving users time to withdraw and manage the BCH they gained during the August fork, then announcing a future date when trading would begin. Coinbase did not answer whether an apparent leak of BCH functionality in their API accelerated the decision to activate Bitcoin Cash trading.
At the time of this writing, the Coinbase website is still using placeholder images on the page containing its instructions for BCH purchases.
https://twitter.com/ezradulis/status/943536643356745729
"Price Manipulation"
After Coinbase and GDAX disabled Bitcoin Cash trades, users posted several screenshots of the interface showing the coin's price spiking way above $9,000, while on virtually all other exchanges it hadn't cracked $4,000. The Twitter account of a CNBC program used one of these screenshots to tease an interview with Roger Ver on Wednesday.
#BitcoinCash pic.twitter.com/LKthWUXJBQ

— CNBC's Fast Money (@CNBCFastMoney) December 20, 2017
BCH critics expressed concern that the appearance of such a dramatic price pump would give unrealistic expectations for investors.
Coinbase: "We've added Bitcoin Cash!"
Bitcoin Cash: [pumps]
…
Bitcoin Cash: [dumps]
Coinbase: "Bitcoin Cash sales are currently disabled."
pic.twitter.com/LfVWmQgrWp

— akira (@0xa59a2d) December 20, 2017
This is bizarre. #Coinbase introduces BCH, prices shoot up to over $8k USD. Thousands of sell orders. Suddenly, price drops back down by over $5k. Price manipulation at it's finest. #HODL $BTC.X #GDAX pic.twitter.com/FQrc0Asybr

— Makram (@makramkd) December 20, 2017
https://twitter.com/realsshrestha/status/943362046929915905
The morning after, that spike was no longer visible on the site's price chart for Bitcoin Cash.
funny how they are scrubbing right now trying to get rid of all the evidence pic.twitter.com/ltWkAH9Bmc

— ₿-rockin (@Cryp_walkin) December 20, 2017
At the time of this writing, Bitcoin's price has dipped to around $16,400 per full unit, down from a high earlier this week of about $20,000 but roughly the same as it was one week ago. Bitcoin Cash is currently trading about $4,000 per full unit, according to CoinMarketCap.
BOYCOTT
The Bitcoin community is doing everything it can to make Coinbase feel the heat for the events of the past 24 hours — with many of the company's critics urging others to boycott  or delete the app and promoting a rival exchange called Gemini.
https://twitter.com/PumpyBrewster/status/943320283137564673
Coinbase short-sighted money grab is @GeminiDotCom 's gain. Trust is the number one concern for new adopters and nobody can trust Coinbase after today. #bitcoin #Coinbase #Crypto https://t.co/k37K1lwufR

— WarriorPoets (@SurlyBull) December 20, 2017
Personally closing two millionaire accounts on @coinbase today and shutting off auto purchase. Goodbye @brian_armstrong I truly hope you become Myspace. #BoycottCoinbase #bitcoin #

— Adam Selene ⚡ (@green18bean) December 20, 2017
Personally, I'm not sure that I will stop using Coinbase's GDAX platform — which allows me to exchange small amounts of USD for Bitcoin without any fees. And I doubt that a Twitter campaign will make a noticeable dent in the company's bottom line; it has millions of users and processes billions of dollars in assets. But Coinbase users, like anyone buying from digital currency exchanges, should exercise extreme caution and make sure that you own your Bitcoin. The whole point of the technology is to have trustless exchange — and it's becoming clearer that any centralized store or exchange of assets should not automatically be trusted. Always remember to store your assets offline if possible, in hardware or paper wallets, or on a device that is only connected to the Internet when you need to use it.
This article should not be considered financial advice or a recommendation to buy or sell any assets as investments.
Ezra Dulis is Deputy Managing Editor of Breitbart News. Follow him on Twitter or on Steemit.