MISSION, Texas — Federal officers in this border city saved a baby's life during an unexpected delivery on the international bridge that connects this border city with the Mexican city of Reynosa. The child was not breathing at first, but the quick reaction of the officers and bridge employees helped save the baby's life.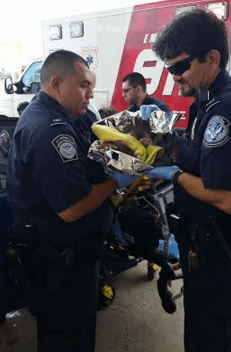 The incident took place this weekend when a U.S. citizen who had gone to Mexico ended up having to deliver her baby at the international bridge, information provided to Breitbart Texas by U.S. Customs and Border Protection revealed. 
"This is truly an outstanding depiction of the humanitarian side of our officers as well as the ability to remain calm and cool under pressure when faced with an emergency medical situation occurring in a field setting," said Acting Port Director Javier Cantu, Hidalgo/Pharr/Anzalduas Port of Entry. "Being prepared and having officers equipped with basic first responder skills enabled this young woman to deliver a healthy baby boy."
The surprise delivery took place when CBP officers received a call from the Mexican toll collectors' office about a car en route to the United States with a medical emergency, a woman possibly in labor.
Shortly after the call, a vehicle pulled up to the primary inspection area where CBP officers saw a young woman in the back seat and appeared to be "in obvious pain" as she claimed to have contractions. The officers moved the vehicle to a secondary inspection area where they called for an ambulance and verified everyone's citizenship.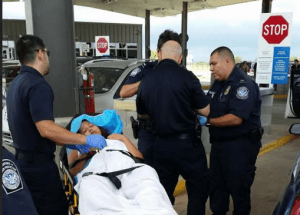 However, the woman's contractions got closer and closer and federal officers Julio Trujillo, Lizeth Villarreal and Daniel Rodriguez jumped in to help the woman as the birth became imminent. The group wore protective gear as they gathered blankets to make her as comfortable as possible.
The woman yelled out "I'm having the baby," and CBP officer Trujillo was able to see the child's head protruding so he got into position to assist and grab the baby as he was being born. With a slight adjustment of the baby's positioning, Officer Trujillo quickly took the baby and handed it off to Rodriguez, who wrapped it in a blanket and gave the baby a quick thrust, after noticing he was not breathing.
 Seconds after an ambulance arrived so that the medical personnel was able to stabilize the woman and her child before taking them to a local hospital where they both were listed as stable.  
Ildefonso Ortiz is an award winning journalist with Breitbart Texas you can follow him on Twitter and on Facebook.