***WARNING*** GRAPHIC PHOTO
A young woman criticizing US Airways on Twitter today got more than she bargained for when the airline's official Twitter account replied with a pornographic image of a model airplane ensconced in a naked woman's genitalia. 
Twitter user @thatkatzkat had an unfortunate incident flying US Airways for spring break and chose to notify the airline. US Airways and Alex exchanged a series of cordial tweets yesterday:
Alex lost her patience after this exchange today, and her and her mother appeared to still be stranded at the airport. "H8 YOU," Alex tweeted angrily at the airline. US Airways replied with this photo (warning: very graphic) of a woman with a model airplane in her vagina, and more platitudes about how they did not want to disappoint customers.
US Airways deleted the tweet about an hour after it initially surfaced and apologized to customers for the "inappropriate image recently shared as a link" on their profile. The company told Jalopnik that they were "aware" of the situation, but no new information has surfaced in the aftermath of the tweet being posted. Many have speculated that the person responsible for broadcasting the pornographic image will be dismissed from US Airways' social media team.
Tim Burke at Deadspin reports that the original image was tweeted at American Airlines by the account @ARTxDEALER little more than one hour before the US Airways tweet as part of a raunchy joke about a plane crashing in the relevant inappropriate location. That user is currently celebrating his newfound fame, both retweeting the US Airways apology and declaring, "THEY WROTE AN ACTUAL ARTICLE ABOUT MY TWEET. MOMMA I MADE IT." Multiple screencaps of the image also suggest that US Airways tweeted the link more than once, to several people.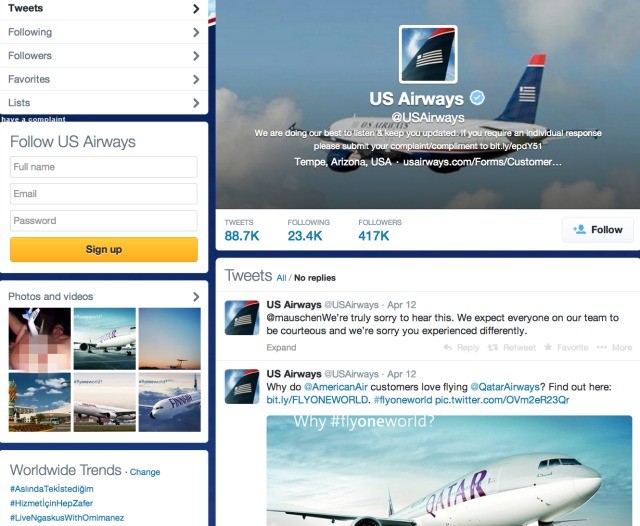 Twitter users informed about the incident reacted with an equal mix of confusion and whimsy, some lamenting finding out about the incident, others curious to know more. Some speculated that the response to the original complaint at the outline was the result of a social media expert at the company finally snapping at the incessant stream of complains and quitting in a spectacular way, or that someone intending to share the offending image with a friend accidentally pasted the wrong link into multiple tweets. Others noted that the airplane in the photograph is a model Boeing 777, the same model as Malaysia Airlines Flight 370. The crude jokes, apparently, do not write themselves.