On Sunday, Denver Broncos quarterback Peyton Manning was named Sports Illustrated's "Sportsman of the year." The honor was announced during halftime of the Sunday night football game between the Pittsburgh Steeler and the Cincinnati Bengals. Manning is on his way to his fifth MVP award and breaking "the NFL records for passing yards and passing touchdowns in a season."
According to ProFootballTalk, Manning "joins Pete Rozelle (1963), Terry Bradshaw (1979), Reggie Williams (1987), Joe Montana (1990), Tom Brady (2005), Brett Favre (2007) and Drew Brees (2010) as Sportsman of the Year winners from the NFL."
"For two decades Peyton Manning has methodically elevated the standards of everybody from NFL quarterbacks to video-room interns to offspring named in his honor — one film session, one spiral notebook, one dummy audible at a time," Sports Illustrated writes in its feature story about Manning.
The magazine then describes how Manning recovered from a debilitating neck injury that left him unable to even throw a football: 
Then he woke up. It was Sept. 11, 2011, and he was lying in a hotel bed in Marina del Rey, Calif. He had just undergone his fourth neck operation in two years, to remove a herniated disk from his spinal cord that all but killed the nerve running down his fabled right arm. The Colts were playing the Texans, starting somebody else at quarterback for the first time in 13 years. They lost 34-7. Nothing was perfect anymore. "It was hard to watch," Manning recalls. "I was disappointed, I was down, because I wasn't able to do what I love and I didn't know where I was headed. I didn't know if I'd ever be able to perform again. I had those thoughts. They were real." The nerve was so ravaged in the summer of '11 that he couldn't push himself out of bed. He couldn't lift a three-poud dumbbell. When he tried to play catch with Tennessee alum and former Rockies first baseman Todd Helton at Coors Field, he one-hopped him from eight yards away. "He walked different," Helton says. "He carried himself different. He had a hard time turning around to look at you."
On the very first day as a Bronco, Manning immediately sought out team staffers and ensured they would help him with his mail. Sports Illustrated describes how Manning personally writes to many of his fans who may be ill or are overcoming hurdles in their lives, qualities the outlet considered in naming him the Sportsman of the Year: 
To Charlie Johnson, a 63-year-old in Indiana nervous about neck-fusion surgery: "My neck pain went away immediately after my surgery. I believe you will be able to resume your normal activities rather quickly. I took it slow on doctors' orders, but I felt better right away. I can't give you a definite time frame. I would encourage you to be patient to avoid any setbacks. But you should be back lifting soon. Good luck and health."

To Jack Benson, an eight-year-old in California with cancer: "I just wanted you to know that you are in my thoughts and prayers. Your cousin, Skip Hanke, wrote to me and told me of the tough fight you are having. You have a lot of people pulling for you. I am glad to know you are a Bronco fan! Keep fighting, stay positive, and say your prayers."

To Clint Taylor, a high school quarterback in Texas who broke his leg: "I just wanted to encourage you to keep working hard and keep the faith. I have read your blog and I can tell you that your positive attitude and your strong work ethic will take you a long way. Keep it up."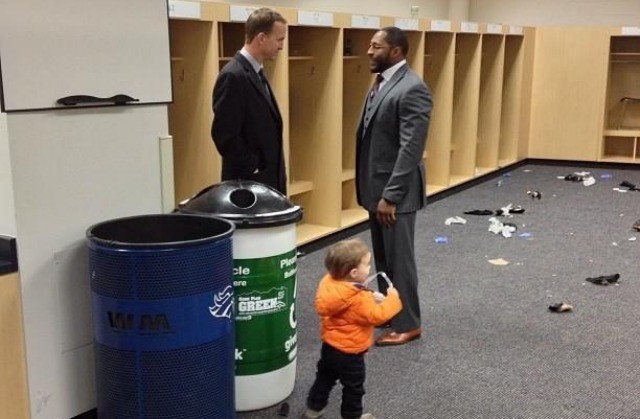 The magazine also mentions Manning's iconic–and classy gesture–toward Baltimore's Ray Lewis after the Ravens beat the Broncos last year in Denver in double overtime. Because it was Lewis's last season, Manning went to the Ravens locker room with his wife and son to congratulate Lewis on his victory even after such a crushing and deflating loss. Sports Illustrated also details how meticulously Manning keeps track of the fans with whom he corresponds:
Manning keeps a list of those he has contacted, with descriptions of the correspondence on the back of the their envelopes. "Letter from a woman whose best friend had cancer and is a big fan. . . . Husband has MS and they are naming their first born Peyton. . . . Sick man. Call ASAP." Sometimes, instead of a note, he picks up the phone on the 25‑minute drive home after practice. "I cold-call them," he says. "I block my number, and they don't answer, so then you have to call back at night. They think it's a prank call, but after that, you just take a moment and listen. I've always done that, but it is a little different this year." Many of the voices on the other end are struggling with neck injuries. "I have to be careful about giving medical advice," Manning says, "but these people are hurting and I was able to overcome the same thing. I tell them, 'These are my symptoms. These are the doctors I saw.' " He asks Antonopulos, the Broncos' trainer, for guidance. "If someone is from Texas, he will give me a doctor in Dallas."
Read more details about Manning in the profile.