Alibaba head and Chinese multimillionaire Jack Ma used remarks at his company's annual mass wedding to encourage Chinese couples to have sex six times a week for "marathon" sessions, outlets reported on Tuesday, a message in tune with the Communist Party's efforts to increase national fertility as the country faces a population death spiral.
After decades of imposing a brutal "one-child policy" where the communist regime routinely forced women to kill "illegal" fetuses and still blacklists children born without the blessing of the state, Beijing has found a lack of appetite among Chinese couples for becoming parents. Communist Party chief Xi Jinping has attempted to change the tide of population decline by expanding the policy to two children, but rather than triggering a baby boom, the national fertility rate fell.
Ma, who revealed his membership in the Communist Party last year despite his status as the wealthiest man in China, appeared to be doing his part to help the government promote fertility while officiating a mass wedding of his employees, a tradition that occurs every May 10, "Ali Day." Ma has previously promoted a "996" work week – 9 a.m. to 9 p.m., six days a week – a brutal schedule his detractors and human rights advocates have called abusive and deadly. He told newlyweds that marriage has its own rigorous "669" schedule: sex six days a week, "with duration being the key." He reportedly did not specify what the "9" stood for in his remarks, other than an extended session.
"At work, we emphasise the spirit of 996. In life, we should follow 669. What is 669? Six days, six times, with duration being the key," Ma said, according to a post on Alibaba's Weibo page. Weibo is a Chinese social media network the government controls. The page posted a meme image of Ma with the quote on its page, accompanied by a winking face emoji: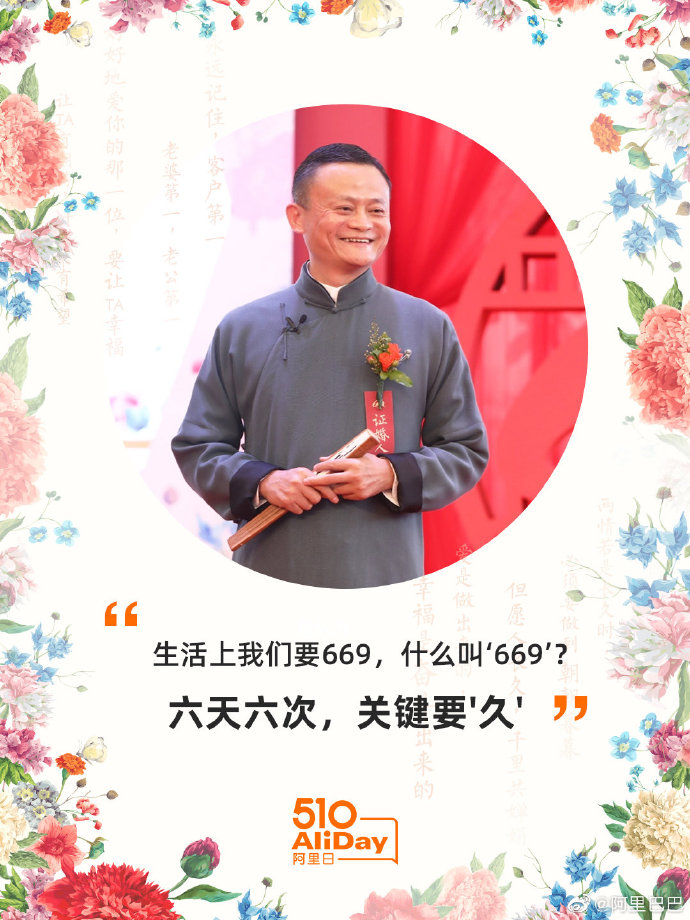 Jack Ma (via Alibaba Weibo page)
Ma reportedly urged "sex marathons" not for pleasure, but for procreation.
"The first KPI [key performance indicator] of marriage is to have results. There must be products. What is the product? Have children," he said. "Marriage is not for the purpose of accumulating wealth, not for buying a house, not for buying a car, but for having a child together."
Ma did not specify to his company's newlyweds whether he follows the 669 rule or not. Ma married his college sweetheart, Cathy Zhang, and has himself contributed two children to Chinese communist society. Zhang left her job at Alibaba to care for the children. She has publicly referred to her husband as "not a handsome man."
Ma's remarks triggered some outrage on social media given his promotion of the strenuous 996 schedule, which many noted leaves little time for family life, much less sex. In response to the controversy, an Alibaba spokeswoman issued a statement saying that Ma "offered lighthearted life and marital advice to 102 newlywed couples, saying the key to a successful marriage is to forget the negatives and embrace the positives of each other and that the value of love, unlike coding, can't be measured or calculated."
International observers wishing to claim that China has somehow become "capitalist" have long upheld Ma as an example of a self-made entrepreneur. Yet Ma, like every Chinese executive, is a lifelong member of the Communist Party, a revelation he made in late 2018. Chinese state media rapidly came to his defense, publishing pieces challenging centuries of Marxist thought by claiming "there is no conflict at all between being a Party member and doing business."
Ma now seems to be picking up the work the Communist Party began three years ago to maintain a stable national population. China imposed a "two-child policy" in 2016, expecting a massive population boom from parents longing to expand their families. Instead, the annual birth rate fell from 17.9 million children in 2016 to 17.2 million in 2017. Some estimates project that the birth rate could drop to as few as 16 million by next year. Communist Party central planners expected the birth rate to rise to 20 million by 2017.
Two major factors are contributing to the population decline: decades of indoctrination urging families to limit themselves to one child and the inevitable result of that indoctrination in a sexist society, 70 million fewer women than men nationwide. Even if women wanted to have more children, the mass killing of female fetuses has not left enough women of child-bearing age alive to sustain the population.
In late April, the official newspaper of the Communist Party, the People's Daily, used the Weibo hashtag "Why Aren't You Getting Married?" to inquire why young people in China seem to have a distaste for starting families. In addition to couples not having children, "statistics show that more and more people are less willing to get married every year," the newspaper reported, according to the site What's on Weibo. The marriage rates for 2018, the site noted, hit a new five-year low. Social stigma surrounding older marriage is also partly to blame, the site stated, citing a survey that found that, despite the stark disparity in male to female population, half of Chinese men "think that women who are still single at the age of 25 are 'leftovers,'" meaning their single status is attributable to something undesirable about them and thus makes them a poor match.