Bradley Manning took the stand in a pre-trial hearing Thursday to recount what his legal defense has described as

"unlawful pretrial punishment," an attempt aimed at avoiding trial in the WikiLeaks case.
 

It was the first time the army private — who stands accused of perpetrating the

biggest

leak

of classified information in U.S. history — has spoken in public about his arrest and the conditions of his confinement.  A military judge has also accepted his offer to plead guilty to some of the charges through a rare process known as "pleading by exceptions and substitutions."  The move is key to the defense's strategy to assert that Manning acted as a whistle-blower.

The pre-trial hearing at Fort Meade military base in Maryland began on Tuesday and is expected to continue to Sunday.  Manning's legal defense has argued this week that Manning's treatment in confinement has been harsh and should warrant dismissal of the case.  On Thursday, Manning described having had thoughts of suicide while first being held in Kuwait following his May 2010 arrest.

"I remember thinking I'm going to die. I'm stuck inside this cage," Manning said in response to questions from Coombs. "I just thought I was going to die in that cage. And that's how I saw it — an animal cage."

Manning went on to recount in detail his experience in a windowless 6 foot by 8 foot cell where he'd been transferred to Quantico Marine Base, which he demonstrated by stepping into a life-sized representation drawn on the courtroom floor by his defense attorney David Coombs.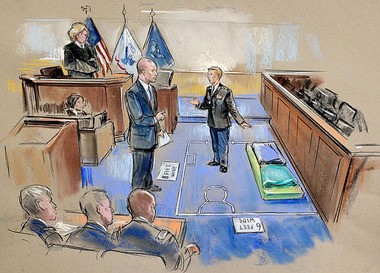 A United Nations Special Rapporteur on Torture who examined Manning's treatment described it as "cruel, degrading and inhuman," but stopped short of calling it "torture."  The issue of torture is an important one to the pre-trial hearing, as military judges can dismiss charges if pretrial punishment is particularly egregious.  But many military legal experts believe the chances of dismissal in Manning's case are unlikely.
Military judges can dismiss all charges if pretrial punishment is particularly egregious, but that rarely happens. The usual remedy is credit at sentencing for time served, said Lisa M. Windsor, a retired Army colonel and former Army judge advocate now in private practice in Washington.
"I think the likelihood of him getting any charges dropped is extremely remote," she said.
If the military judge refuses to dismiss the case, defense attorney David Coombs has requested 10-for-1 credit for 258 days of supposedly punitive confinement. That would knock a little more than seven years off Manning's sentence if he is convicted. He faces the possibility of life imprisonment if convicted of the most serious charge, aiding the enemy, and 162 years on the 21 other counts.
Manning's defense has claimed that the treatment he received while confined for nine months at Quantico was politically motivated and was at the direction Lt. Gen. George Flynn, commander of Quantico's Marine Corps Combat Development Command.  But retired colonel Daniel Choike, who was installation commander of the Quantico Marine Corps base during the time that Manning was confined there, denied the accusation Tuesday during five hours of testimony.
Choike indicated that Flynn's concerns were based both on Manning's odd behavior and concerning comments, and added that Manning arrived at Quantico under suicide watch.  Manning himself confirmed in today's testimony that he had suicidal thoughts at that time.
Choike acknowledged that Flynn had expressed interest in Manning's confinement due to the nature of the charges and international media attention to the case. Choike said Manning was under suicide watch when the soldier arrived at Quantico from Kuwait, and Flynn wanted assurance that everything was being done to keep him safe. Another prisoner had committed suicide in the brig the previous December.
Choike said Manning's custody status was determined in part by his odd behavior, including licking the bars of his cell, "erratic dancing" and lifting invisible weights. Coombs suggested that the bar-licking occurred during sleepwalking and that the other behaviors were merely exercise.
An important development in this week's pre-trial hearing was the military judge's acceptance of the language proposed in a partial guilty plea by Manning's legal defense, as noted in the The Guardian.
Colonel Denise Lind approved the language of the offences to which Manning would admit. She said those carry a total maximum prison term of 16 years.
The Associated Press reported that the judge's ruling on his plea language does not mean that pleas have been formally accepted. That could happen in December.
In the proposal, Manning admits to leaking a battlefield video file, some classified memos, more than 20 Iraq war logs, more than 20 Afghanistan war logs and other classified materials. He would also plead guilty to wrongfully storing classified information.
Manning had made the offer as a way of accepting responsibility for the biggest leak in US military history. Government officials have not said whether they would continue prosecuting him for the other 15 counts he faces, including aiding the enemy, which carries a maximum penalty of life in prison.
The offer by Manning is not a plea agreement or government deal, nor does it mean that he is pleading guilty to all of the charges against him, as his civilian defense attorney David Coombs explained.
PFC Manning has offered to plead guilty to various offenses through a process known as "pleading by exceptions and substitutions."  To clarify, PFC Manning is not pleading guilty to the specifications as charged by the Government.  Rather, PFC Manning is attempting to accept responsibility for offenses that are encapsulated within, or are a subset of, the charged offenses.  The Court will consider whether this is a permissible plea.
PFC Manning is not submitting a plea as part of an agreement or deal with the Government.  Further, the Government does not need to agree to PFC Manning's plea; the Court simply has to determine that the plea is legally permissible.  If the Court allows PFC Manning to plead guilty by exceptions and substitutions, the Government may still elect to prove up the charged offenses.  Pleading by exceptions and substitutions, in other words, does not change the offenses with which PFC Manning has been charged and for which he is scheduled to stand trial.
PFC Manning has also provided notice of his forum selection.  He has elected to be tried by Military Judge alone.
Manning's military trial is currently set to begin on February 4th.