The Boston Globe reported on Tuesday that Boston Marathon bombing suspect Dzhokhar Tsarnaev has now admitted that he and his older brother Tamerlan were indeed behind the bombings: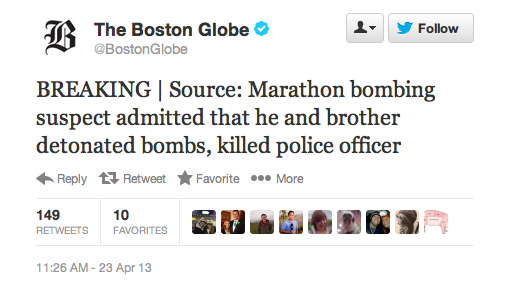 Dzhokhar was read his Miranda warnings on Monday.
UPDATE: The Boston Globe now reports that accourding to a source, Dhokhar Tsarnaev admitted on Sunday that he and his older brother Tamerlan were responsible for the two bombs planted at the Boston Marathon last week. According to the Globe, he told the FBI agents this while in the Beth Israel Deaconess Medical Center for treatment for his gunshot wounds, obtained during his flight from authorities. Because Tsarnaev had not been Mirandized before the confession, his lawyers will likely argue that the admission is not admissible.
Tsarnaev apparently also told authorities that he and his brother had no outside help, and that his brother became an Islamist thanks to the US actions in Afghanistan and Iraq.
Despite the possible lack of admissible evidence, the Globe reports that the authorities will have the same information: a witness carjacked by the brothers, whom they told about their misdeeds. "We just killed a cop. We blew up the marathon," Tamerlan apparently told the witness. 
Ben Shapiro is Editor-At-Large of Breitbart News and author of the New York Times bestseller "Bullies: How the Left's Culture of Fear and Intimidation Silences America" (Threshold Editions, January 8, 2013).