WORCESTER, MA—A snowfall expected to reach nearly two feet by early Tuesday morning blankets a community still recovering from a blizzard dropping almost three feet of white last week.
"Our biggest challenge right now is where to put it all," John Hill, a spokesman for the city of Worcester, tells Breitbart News. "By the end of this current storm we will be close to seven feet of snow in the last sixteen days."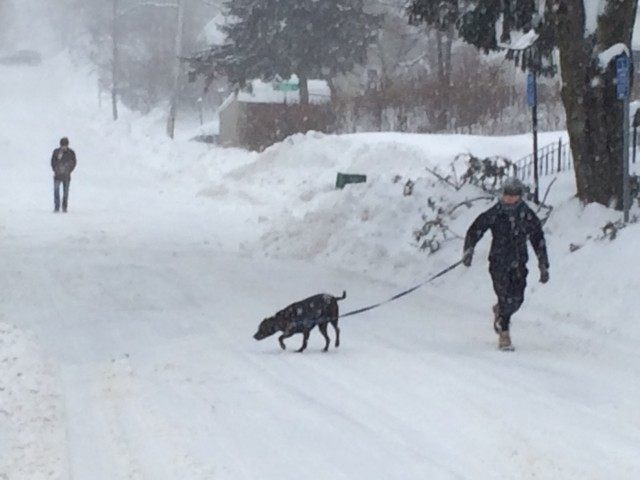 The city reported a normal year's worth of snow (64 inches) in the last two weeks before the current storm hit. In other words, snow the height of Rod Serling has descended in a mere fortnight upon Worcester, providing a Twilight Zone look to Central Massachusetts, whose denizens huddled in place only to have emigrated to the North Pole. Given the necessity to clear sidewalks, the Rod Serling-worth of snow ascends to Rob Gronkowski heights beside some concrete footpaths. Walkways occasionally take on a claustrophobic quality with the thin white corridors appearing ready to cave in upon pedestrians. Parking lot mounds outside of supermarkets and malls rival Godzilla's height.
The current storm pushes Worcester past Erie, Pennsylvania, as America's snowiest city this season. Hill calls the recent stretch "unprecedented."
Even normal activities have yielded deadly results in the abnormal series of storms. Portland, Maine, endured three snow-removal deaths, Chicago eighteen, and Milwaukee five when the sudden activity overwhelmed older people wielding shovels and mechanical blowers. At the onset of snowmageddon, a Long Island teen perished in a sledding accident and later a Massachusetts woman died after a snowplow hit her. Worcester reports no deaths, but in nearby Rutland, authorities found a snowmobiler dead this weekend.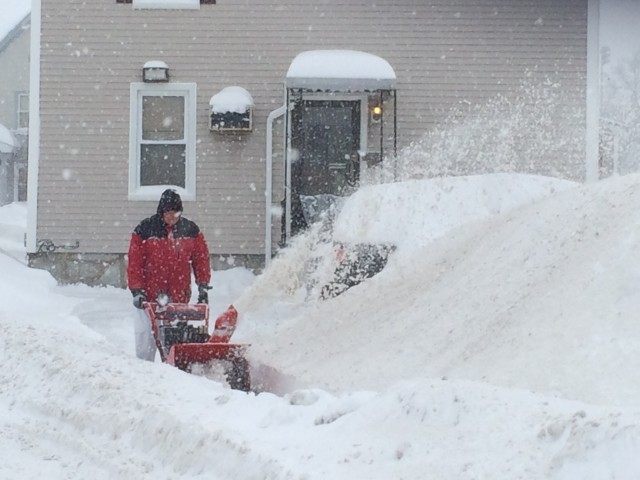 For most, the winter wonderland presents concerns of a more pedestrian variety. Impeded sidewalks in front of rental homes, government-owned property, and the dwellings of residents too lazy or too tired or too old to shovel force walkers to uneasily share streets with automobiles. This man-machine roadway truce came to a violent halt on Saturday night as a motorist put one Worcester walker in critical condition. But conditions persuade most walkers and drivers to stay put, giving normally bustling streets a ghost town look.
That's the way Bob Morris, who plows for an Eastern Massachusetts town, would prefer it. "Joggers," he tells Breitbart News, act as the biggest menace facing snow-removal crews. "This morning we were out at 8 o'clock. There were probably ten joggers that ran by me. They just run right in the street." He says that during the storm that started a week ago snow fell so fast that when he circled back to replow his route the streets appeared as though they had been untouched. "We were out for 24 hours the first storm," the beleaguered driver confesses. "I slept for an hour with no breaks."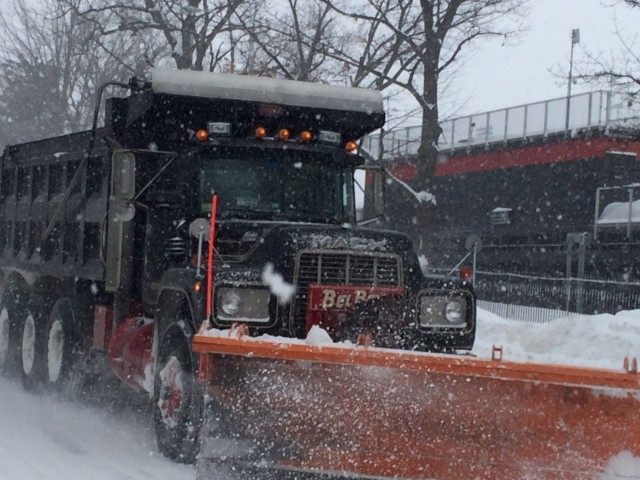 "This one is probably going to put us over our annual budget of $4 million," Worcester spokesman Hill says of the storm's impact on the city's snow-removal funds. "We're hopeful we're going to get some FEMA reimbursements for the initial blizzard."
Vehicles parked on the side of the road compelled plows to avoid clearing all of the street during the January 26 blizzard. With the curb now effectively pushed ten feet from the curb after the series of storms, cars parked there now make plowing especially difficult and side streets more like barely navigable paths. Indeed, one Worcester street hosted a worker using a snow blower instead of a plow because of the narrowed path. Worcester government's John Hill said the city towed 100 cars yesterday and 200 in the initial "Juno" blizzard.
And transportation remains just one hurdle locals endure as a result of the unceasing storms. Citizens out of supplies, already facing a difficult trek on those barely navigable paths to supermarkets, encounter depleted shelves for some goods as a result of mad, pre-storm rushes. The homeless, normally turned out of shelters during the day, remain inside during the storms. "They're not turning anyone away," Hill says of the city's shelters. "They're taking in whoever needs a shelter." School cancellations—today marks the third consecutive week that snow kept kids home for at least a day in Worcester—propel the academic calendar ever closer to July, when, presumably, the white piles will have mostly melted.
But the scorching sun seems a long way off amid the powdery snow. The Weather Channel forecast calls for more flurries on Thursday and for the mercury to drop to -5 on Friday.