MATAMOROS, Tamaulipas – Mexican Federales responding to a serious car crash just south of this border city ended up seizing 25 kilograms of cocaine hidden in the vehicle's airbag compartment. The suspected smugglers died as a result of the crash.
The weird seizure took place this week near the town of San Fernando, when Mexican Federal Highway Patrol officers responded to an area known as La Coma that connects this border city with Ciudad Victoria, information provided to Breitbart Texas by Mexico's National Security Commission revealed.
Authorities at the scene of the crash had the driver and passenger transported to a local hospital, where they later died from their injuries. Inside the vehicle, cops found 23 bundles of white powder that had been wrapped in aluminum and plastic.
The bundles were seized in Matamoros by federal investigators who weighed them at approximately 25 kilograms of what turned out to be powdered cocaine.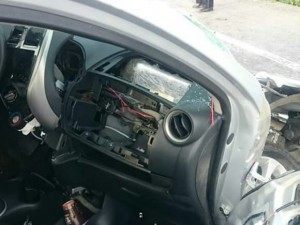 San Fernando lies along the main highway that connects the border cities of Reynosa and Matamoros with the state capital and other cities in the southern part of the state. Historically, San Fernando has been a hotspot for cartel activity as both Los Zetas and the Gulf Cartel use the region as a springboard to the border.
Since 2010 when the two criminal organizations went to war and in recent years when the Gulf Cartel began to go through a series of internal quarrels, San Fernando became the scene of many firefights. Convoys of cartel gunmen roamed the many rural roads surrounding the town and set up cartel roadblocks in an effort to keep control of the coveted territory.
The San Fernando area is the same one where, as previously reported by Breitbart Texas, authorities in 2011 found close to 200 bodies buried in shallow clandestine graves. Some of the bodies had been passengers on buses who had been kidnapped by Los Zetas, which feared that their rivals might try to sneak in that way.
San Fernando is the same area where just months before in mid-2010, Mexican marines found the bodies of 72 illegal immigrants who had been executed by Los Zetas at a cartel stronghold.
Ildefonso Ortiz is an award winning journalist with Breitbart Texas you can follow him on Twitter and on Facebook.